The Circle Jump Exercise
by Karen O'Neal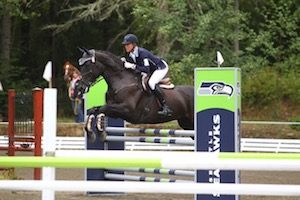 Winter is a great time to work on jumping responsibilities. There are four rider responsibilities when jumping: direction, speed, rhythm, and balance.
The most important components of jumping are control and being precise about your direction as you ride your horse to a fence. To be precise means having your horse go exactly where you want it to go. This month's exercise will focus on direction, stride length, adjustability and accuracy. This exercise will help you see a distance to a jump or ground pole and make your horse easier to ride. For this exercise, you'll need 8 jump standards and 12 poles (4 jumps with 3 poles each).
Depending on the size of your arena you can make this exercise easier or harder by adjusting how far apart you put the jumps. If you have a big enough area, start out easy by making the exercise wider.
To build this exercise, stand in the center of the arena and place a marker where you are standing. Walk 45-60 feet from where you are standing and place a jump. Then return to your marker and go straight in the opposite direction the same distance you went the first time and place another jump. Do this two more times, placing jumps on a huge circle. We call this the circle jump exercise. Your jumps should be placed like the points of a compass — north, south, east and west.
To start the exercise, simply make all the "jumps" a pole on the ground. Set aside the extra poles until you make actual jumps. This exercise may be easier for more trained horses; in that instance you can start with small fences instead of poles on the ground.
Start by trotting the center of each pole in the circle.
While you are doing this exercise, make sure to stay in the middle of each pole while riding a curved line between the poles and then go straight over the poles.
Next, you will make all the poles into small vertical jumps. Depending on your horse's level, start with fence heights from 1.5–2.5 feet high. There is no need to jump big fences for this exercise, the focus should be on direction, speed, rhythm, and balance.
Next, jump one jump, go around the outside of the following one, and then jump the next one, so you are jumping every other fence. Do this for two or three complete trips around the circle until you get a good canter rhythm. Finally, add all four jumps in the sequence, counting your strides between each fence.
Once you're able to stay in a good canter with the same speed and stride length to the middle of each fence and maintaining balance, then start to go to the inside of your line as well as going to the outside. Each time you change your line, work on getting the same number of strides between the fences on each line. This exercise is difficult, so don't get frustrated!
Make sure you change direction each time you master one of the lines and stride lengths. You will notice that one direction is easier than the other. Practice this exercise a few times per month and it will really improve your precision.
Riding this exercise challenges you to maintain the same line (direction), speed, rhythm, and balance to each jump as well as maintain your position. Once you've mastered it, you will have a good start on having the rider responsibilities well in hand when jumping. Good luck, and see you next month.
A lifelong horsewoman, Karen O'Neal bases herself and her business in Kent Washington, where she and Sarah Matuzweski train and operate Freedom Run Equestrian. Karen has brought multiple horses and riders up the levels of eventing to the advanced level. She is also a successful trainer and competitor in dressage, jumpers, and equitation. She is well-known as the trainer of True Avenue, who was USEA top 10 mares in 2010 and 2012, and Markus. Known for her ability to take less-than-average horses to the top of the sport, Karen is also an experienced USEA Level III Certified Instructor. She is in the process of finishing her USHJA Instructor Certification. Karen enjoys getting the most out of her students and is an accomplished instructor and clinician. To learn more about Karen or to contact her anytime, visit www.onealfarms.net, (541)-3503797 or onealfarms@gmail.com