An organic treat always makes the day better!
Santa Barbara, CA – As the Sherpa Fire raged in Santa Barbara County consuming over 7,900 acres, horses were frantically evacuated to areas of better air quality and away from the threat of the flames. From private polo ponies, to mules, to trail and show horses, animals were steadily trailered out of the rugged canyon area as the fire gained strength due to high winds and abundant dry plant fuel.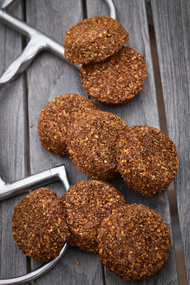 With their bakery and offices 6 hours north of the fire, but still on the California coast, the Winnie's staff sprang into action baking and assembling sample packs for over one hundred horses. Each pack contained three Organic cookies and came with a note wishing everyone a safe return to their home pastures. The box was shipped overnight to one of their representatives near Santa Barbara and cookies were hand delivered to many of the evacuated animals. As the horses happily gobbled up their Winnie's Cookies, fire fighters were getting the blazes contained and all horses were able to eventually return home.
Evacuation is very stressful for horses and Winnie's wanted to provide a little comfort that best way they know how – through yummy, healthy Non-GMO, Organic cookies!
Winnie's Organic Animal products are available for equine and canines and can be purchased online via their website www.winniescookies.com. Winnie's has been baking whole-food, preservative free cookies for over 15 years, is 100% Made In America, and is based in Benicia, CA. For product inquiries please contact us at 1-800-810-9466.