Experience a clinic just for handling your trailer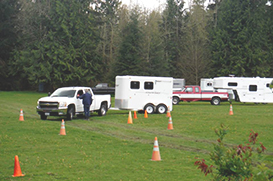 I'd never heard the term "trailer rodeo" before but soon I was deeply entrenched in all the information about maneuvering a trailer. I've been pulling horses for most of my life but I quickly realized I had much to learn (and unlearn). While a trailer rodeo sometimes involves a competition, this weekend's participants were just happy to learn new skills.
Glen McGoff, Director of North Cross Commercial Driving School in Mt. Vernon, WA taught a clinic this past Saturday, April 11th at Fire Mountain Trail Course in Sedro Woolley. Quite a day, but wow did I come away with great information and more confidence in my ability to back and maneuver my 33' living quarter! Glen carefully guided me as I maneuvered this big, heavy trailer between the cones.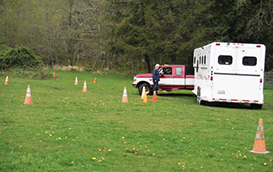 Having a clutch adds to the skill level required to do all this without wearing out that clutch and running over all the cones. Glen explained that you NEVER ride a clutch or adjust your speed with your clutch. Engage and go. To slow things down, drop your truck down to low range so your reverse is much slower. This way you can guide your truck safely without racing backwards. Those with automatic transmissions really have it made!
I watched, as all the other drivers were able to successfully maneuver around the cones with Glen's instruction. Half the day was spent in a classroom format, and the rest of the day was spent practicing the techniques Glen shared with us. Everyone came away with more skills and confidence.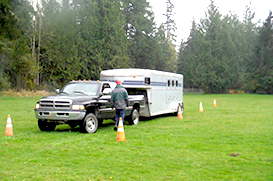 For such a small investment it's really worth spending a day learning techniques to safely and accurately back and maneuver your truck and trailer. We backed straight through cones (and that's more difficult than you might think), backed around a corner and finally maneuvered around a cul-de-sac. Glen teaches drivers to use your hand on the top of the steering wheel for driving forward and the bottom of the wheel for backing. The back end of your trailer will go in the direction of your hands. That was a tough one for me.
We learned about safety: understanding GVWR (gross vehicle weight rating), how much your truck is capable of hauling, techniques for going downhill and climbing. We also got a great buy on safety triangles through Glen. All in all the day was a great experience.
Keeping your precious cargo safe and your vehicle free of dents made this clinic well worth the investment. Fire Mountain Trail Course is the perfect place to host these events, as the ground is firm, has lots of room and it's easy on trailer tires and axles to make tight turns.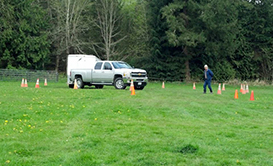 I would invite you to contact Glen McGoff of North Cross Commercial Driving School at 360-424-0373 or visit his website at www.northcrosscdl.com. You can also visit www.firemountaintrailcourse.com for more fun events and activities at the trail course. Fire Mountain Trail Course hosts a show series, obstacle training and clinics. It's one of my favorite places to camp and show during the summer months. Visit her website or Facebook Page for clinic and event dates.

<!-comments-button-->