By Jennifer Roberts
With the hustle and bustle of the holidays, trying to fit in all of the parties and select the perfect gifts, it can be hard to make time for the barn. But, let's face, any time spent with our four-legged best friends helps to de-stress and truly enjoy the holiday season. So, while you're out shopping, don't forget to pick up a special present for your equine companion.
To make things easier, we've chatted with our own experts in the barn to see what is on their list this year.
A New Saddle: While it may be a heavy hit on your pocketbook, a well fitting saddle provides a comfortable ride for you and your horse. If a new saddle isn't in the budget, consider having a professional saddle fitter out to reflock your saddle for optimal fit.
A Spa Day: Pick up a brush and give your horse a lovely spa day to refresh their coat as well their muscles. Make it even more special and pick up some new grooming supplies! A few extra hugs and kisses certainly wouldn't hurt either…
A Special Treat: Everyone loves a nice holiday treat and, let's face it, your horse is no exception! Whether you pick up a container of horse treats, buy a bag or carrots, or spend some time in the kitchen whipping up a perfect batch of equine cookies, your horse will appreciate it!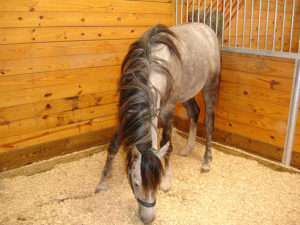 A Fresh Bed: You know that lovely feeling of crawling into new sheets at the end of a long day? Your horse feels the same way! Strip your horse's stall and bed it a little heavier than usual for the holidays. Add in Sweet PDZ Horse Stall Refresher to remove the ammonia from the stall and keep your horse breathing easy.
Some Entertainment: Winter can be a bit boring, especially if your horse is spending more time inside than usual due to the snow. Consider picking up a toy for your horse to ease the winter blues, or… if you're feeling especially altruistic, what about rescuing a new friend?
However you choose to celebrate with your horse, we hope that you enjoy the happiest of holiday seasons. Happy holidays from all of us at Sweet PDZ Horse Stall Refresher!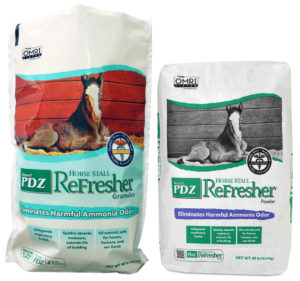 Sweet PDZ has been keeping stalls healthy for over 32 years and continues to be the leading horse stall freshener on the market. This organic (OMRI Listed), non-toxic compound captures, neutralizes and eliminates harmful levels of ammonia and odors.  Sweet PDZ is a far superior alternative to lime products for ammonia removal and moisture absorption. For more information, as well as a dealer locator, visit SweetPDZ.com.