Answering Questions about a New Discipline
by Michelle Binder, Relational Riding Academy
Just what is "western dressage?" This developing discipline is very exciting to many riders, trainers, breeders and exhibitors, who choose horses of all breeds as partners, and who, for various reasons, prefer to sit in stock type saddles. Good dressage training benefits any horse/rider combination in any discipline and western dressage (WD) will open doors for education and increased understanding of the classical training previously closed to many, especially western riders. WD promises to find common ground between the two disciplines, educate riders from all backgrounds, and make dressage concepts accessible to western riders without minimizing the importance of the training pyramid or sacrificing the principles that are fundamental to classical dressage. It is hoped that WD continues to develop into a unique discipline in this country and around the world, one that is distinct and differentiated from other western riding styles as well. 
Western dressage answers the desire for a venue in which western riders ride, train and even show horses traditionally thought of as "western" but that perform in the manner of a classically trained dressage horse. Dressage training, with its focus on relaxation, rhythm, balance, connection, suppleness and finally collection, is one avenue via which riders can improve communication with their horses. 
Bringing the idea of western dressage to life has been a process. There were and continue to be many questions to answer. The first of these—what is western dressage— is the most important as it provides the foundation from which all other points of development arise. They include the following: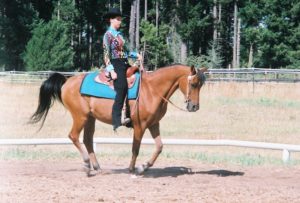 Should western saddles be put on dressage horses? Probably not.
Should western pleasure horses be put in dressage saddles? Certainly not! 
Should trained western pleasure horses be put in the dressage arena and ride dressage figures?  Hmmmmmmmm
Should an attempt be made to blend these seemingly different disciplines into one new thing? This will certainly be the most challenging solution to the problem of defining western dressage.
How can the discipline stay true to either foundation, and if one is chosen, which one? Good horsemanship is good horsemanship through the centuries and around the world… surely common ground can be found!
Who will teach and coach western dressage riders? Industry professionals, including trainers and instructors who demonstrate a clear grasp of both classical dressage training principles and familiarity with western breeds and discipline.
How will a "correct" western dressage horse be judged? USEF credentialed judges fluent in BOTH western work and dressage must be located.
Should the tests reflect dressage language or western terms and vernacular? Ideally, a blending of language and concepts throughout the test series will give western riders a progressive training pathway to the upper levels.
Blending of the two disciplines is both possible and desirable. That means that western dressage riders will embark on a progressive training project in which horses of any breed are brought along slowly and are developed along classical lines. They will cultivate relaxation, rhythm, balance, suppleness and the rest of the concepts located on the training pyramid and they choose to do the work in stock type saddles. Here's what some people in the western dressage community are thinking:
"WD for me is an opportunity to take my western pleasure champion who has been on the rail his whole career and now do movements off the rail. And my horse LOVES it. It is also an opportunity to make me a better rider as well as a wonderful bonding experience for me and my horse…"
"I think WD is for all horses, especially horses whose natural way of going favors softer, slower, more relaxed paces. WD is no reason not to have a horse working in good balance, tracking up, in front of the leg, round, etc…"
"Very simply, with WD I'm hoping to find a preservation of a natural progression to the training of ANY horse regardless of breed that I feel is lacking in the current dressage arenas."
Simply put, dressage training is good for your western horse. ..and that's western dressage!
Published September 2013 Issue
Michelle Binder is the founder of Relational Riding Academy, a program that utilizes dressage as fundamental training for all horses performing in all disciplines. A rider for 40 years, Michelle first competed English and Western rail horses in Washington, then Thoroughbred Hunters in Kentucky. In 1987 she began pursuing Combined Training though USCTA Novice and Training levels. She settled into dressage in the Pacific Northwest in 1995. Over the years Michelle trained extensively with Sue Sherry of Michigan. She has participated in clinics and instructors workshops with many well known instructors, including Sally Swift, Mary Wanless, Gerhard Politz, Jeff Cook, Dr. Rudolph Vlatten and, most recently, Claus Bergener, Grand Prix Judge for the GNEF.
In addition to being an ARIA certified instructor since 1989, Michelle has been a professional trainer since 1994. In the 1997 show season, Michelle finished "V.P. Medly" 5th in the nation in USDF All Breed Awards for Arabian Sport Horses and 26th in the nation for all breeds. In 2006, "A Perfect Mr. Re" finished 8th in the nation in the AACAP Awards for Appaloosas in dressage. In 2007, King of Broken Hearts, a four year old Appaloosa stallion qualified for the ApHC World Show, trained and ridden almost exclusively by Michelle for Vision Quest Ranch.
relationalridingacademy.com