FOUR NEW CDI AND NATIONAL SHOW SERIES KICKS OFF 2018 WITH UNIQUE OPPORTUNITIES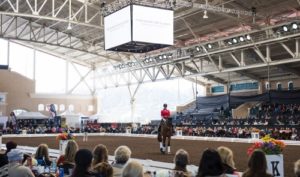 Del Mar, California (September 7, 2017)— Four new Western U.S. CDI and national dressage competitions will kick off the 2018 show season, complementing the burgeoning FEI dressage calendar in the United States.
The Adequan® West Coast Dressage Festival show circuit will run from January 3 through February 17 with a Concours de Dressage International (CDI) competition at each of the four shows ranked by the Federation Equestre Internationale (FEI) as the following: CDI-W, CDI1*, CDIJ, CDIY, CDIU25, CDICh, CDIAm, and CDIYH.
Each competition also will include a three-star national show with recognition by U.S. Equestrian Federation, U.S. Dressage Federation, and the California Dressage Society. Website launch is slated for September 15, 2017, at www.westcoastdressagefestival.com
The schedule is as follows:
AWCDF I, Temecula, California, Galway Downs, January 3-7
AWCDF II, Del Mar, California, Del Mar Fairgrounds, January 18-21
AWCDF III, Del Mar, California, Del Mar Fairgrounds, February 1-4
AWCDF IV, Del Mar, California, Del Mar Fairgrounds, February 14-17
Following the first competition at Galway Downs, competitors are less than one hour's drive from the Del Mar Fairgrounds where they can then move in for a six-week stay. Stabling opens January 7, 2018.
"Competitors never have to leave for the duration of the six weeks," exclaims Festival Director Scott Hayes who confirms that the shows expect to offer substantial prize money.
"We have such a unique opportunity for the Western North America dressage community. For the first time in many years, the Del Mar Fairgrounds is available for an extended period of time. We will have all-inclusive stabling packages that feature access to all arenas for schooling and training during the down days between the competitions. The race track will be open for hacking during specific hours each day. We will have 24-hour security, secure office-style tack rooms, and even apartments for grooms for rent."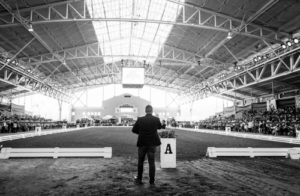 "Trainers and competitors from out of town can bring their clients and their horses to the Fairgrounds to stable and chose which shows to compete in. They don't need to find alternative stables or facilities between shows," says Hayes. "Our director of stabling will be at their service for any needs they might have during the festival."

Many vendors, including Mary's Tack and Feed of Del Mar, will staff popup stores in the stabling area at the festival for the complete duration of the circuit.

After the difficult weather experienced this past winter in Western U.S. and Canada, West Coast riders of national and FEI levels have greeted with enthusiasm the Adequan® West Coast Dressage Festival situated in the more moderate Southern California climates of Temecula and Del Mar.

To complement the venues, SH Productions has brought together an experienced show management team covering each of the important elements of the show. In addition, a community advisory board consisting of local owners, trainers and professionals in the horse industry will provide additional input and expertise to make sure the inaugural event is as successful as possible.

Show secretary and co-manager Heather Petersen and co-manager Joe Coleman bring their vast experience at Colorado Show Park and elsewhere to the organization of the AWCDF as do the carefully chosen directors that include stable and customer care officials.

"Whether you're a competitor, supporter, spectator or official, we want the level of service and fun to be extremely high," says Hayes.

A crowd pleaser will be the Saturday evenings FEI-level freestyles preceded by Master Classes conducted by guests from the Equestrian Team of the U.S. and other countries.

"I am incredibly honored to be a part of SH Productions' amazing team and bring these world class shows to the West Coast," says AWCDF's director of VIP Services Jessica Eaves Mathews. "After years of experience creating high-level, VIP events for my companies, I am thrilled to help create a wonderful experience for the VIP guests at each of the four Festival shows."

"The new show series put on by SH Productions is such a wonderful idea! Scott is bringing a new level of competition to Southern California – the perfect place for a horse show!" adds Steffen and Shannon Peters.

Sponsors of the new dressage circuit include Adequan® (polysulfated glycosaminoglycan) as title sponsor.

"We are excited to support the Adequan® West Coast Dressage Festival and help the dressage community on the West Coast grow. I have attended other SH Productions events, and I can't wait to see what Scott has planned for these 4 CDIs," says Deven Vespi, territory manager, Luitpold Pharmaceuticals, manufacturers of Adequan®.

In memory of the Westfalian dressage mount Weltino's Magic, competed by Shannon Peters, Bruce and Jen Hlavacek will sponsor the CDI1* through the duration of the Festival in his name. Arroyo Del Mar, home to Steffen and Shannon Peters training, and Akiko Yamazaki's Four Winds Farm join the sponsorship roster, as well as Mary's Tack and Feed, Leverage Legal Group and Reiten Right Equestrian Footing and more.

Sponsorship opportunities are available.

Judges panels for the Adequan® West Coast Dressage Festival are:

Temecula Jan 3-7 Mike Osinski 4* USA Janet Foy 5* USA Adrian Hamoen-4* NED Lee Tubman 4* CAN
Stephan Clarke 5* GBR Natalie Lamping – National show
Peter Storr 4* GBR- Live Stream Commentary Lorraine MacDonald – National show

Del Mar January 18-21 Cesar Torrente 4* COL Isobel Wessels 5* GBR
Thomas Lang 5* AUT William Warren 4* USA
Freddy Leyman 4* BEL Joan Macartney – National show
Alex Steiner – Live Stream Commentary Charlotte Trentelman – National show

Del Mar Feb 1-4 Gary Rockwell 5* USA Maria Colliander 5* FIN Peter Storr 4* GBR Francisco Guerra Diaz 5* ESP
Hans Christian Matthiesen 5* DEN Lorraine MacDonald – National show
Alex Steiner – Live Stream Commentary Cara Whitham – National show

Del Mar Feb 14-17 Mike Osinski 4* USA Raphael Saleh 5* FRA Lee Tubman 4* CAN Mary Seefried 5* AUS
Sandra Hotz 4* USA Margaret Freeman – National show
Alex Steiner – Live Stream Commentary Carter Bass – National show

<!-comments-button-->