Doing it Right is Money Well Spent
by Allison Trimble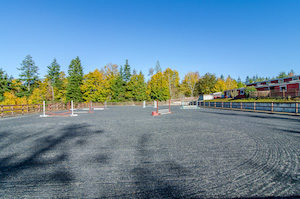 One of the best parts of my job as a Realtor is seeing a wide variety of horse properties. One of the worst parts of my job as a horsewoman is dealing with my own horse property. My passion for our equestrian clients is driven by my frustration from years of dealing with mud, winter turnout, drainage, and the endless money spent on remedies. As lovely as the PNW seasons are, winter can pose problems.
I always encourage buyers to look at horse properties in the winter months, because everything looks habitable in the shine of summer. The purchase price of a property for a horse person is not the only cost consideration. How much will have to be spent to make a given property good for the winter? Little market value is added for a property done well, but for a horse person looking at a prospective property, that is money that won't need to be spent.
Very few properties are as well thought out as one I recently visited on Camano Island. This is a 5-acre boutique horse farm with an indoor arena, outdoor arena, barns, turnouts with shelters, and a residence. It was crystal clear from the moment I arrived that in the middle of winter I could have navigated the entire property in flip-flops. I developed an immediate crush, and found myself making mental notes of how we could incorporate some of these things into our new property.
Layout: The entire property is on probably a 6% grade from east to west. The property was terraced from the road, with the indoor arena set into the hillside with a retaining wall. The indoor arena and barn are on a level terrace at the top of the property, separated by a gravel driveway from the house. The home is a modest manufactured home, but there is plenty of room for a large custom home and landscaped yard. Access to the house is from a separate driveway than the barn entrance.
There is an access road on the northern side of the indoor arena that leads to the compost bin, back side of the barn and arena, to the outdoor arena, and down to the bottom turnouts. There is a perimeter fence with pedestrian pass-throughs that don't require opening large gates for access. All pathways are wide and graveled.
Indoor arena: The 70' x 100' covered arena receives wind break from the retaining wall and the barn, but feels open and bright. The arena features halogen lighting and excellent footing of sand and rubber mix. Between the arena and barn is a large graveled area.
Barn: The 8-stall barn includes a large tack room with radiant heating in the floors, hot water wash rack, hay storage, office, and separate feed room. The manure bunker is just outside the barns for easy stall cleaning. There is a half bath outside of the home for barn use.
Outdoor arena: Set on a second terrace is the 100' x 207' outdoor arena. The base of the arena is on a 1% grade, sloping west with sand and rubber footing. We visited the morning after a huge rainstorm, and there was not a drop of water on the arena. Sunset rides are enjoyed, and there is even a viewing platform that has peek-a-boo views of the water.
Drainage: Approximately $200,000 was spent on the design and implementation of a drainage plan. This property was planned before it was executed, which is a rare thing. Most people would not be able to spend that to create the perfect private facility, but over time, that does get spent. I found it helpful to observe the results so that I can implement them over time on my own property.
Turnout: There are multiple turnout paddocks, each with its own shed. The runs at the bottom of the property are on a grade and graveled. The three pens that are on the same terrace as the outdoor arena have Hoof Grid throughout, topped with gravel. I have seen Hoof Grid at a couple of properties lately, and though costly, it is something I will be incorporating into our next facility.
I had two additional observations about this property. When our clients purchased it, they were savvy and realized how much added value they were gaining from the investment of the previous owners. Second, they take immaculate care of the property. Thoughtful additions and changes have been made in their ownership, but they also maintain the gravel areas, and keep the turnouts, arenas and grounds in great working condition. I love being inspired by a property that houses happy horses.
Originally Published December 2017 Issue
Allison Trimble has a Bachelor of Science in Animal Science from Cal Poly, SLO. After her graduation in 1999, Allison started Coastal Equine and has been training and competing in cowhorse, reining and cutting events. She has had marked success in the show pen boasting many titles and championships.
Willfully Guided is an educational program based on Allison's training process. For more information visit: www.willfullyguided.com
Allison is also a Realtor specializing in horse properties, hobby and commercial farms, and family housing. She combines her experience in the horse industry with her lifelong involvement in real estate to help clients find their perfect property. Learn more at www.coastalrealtywa.com