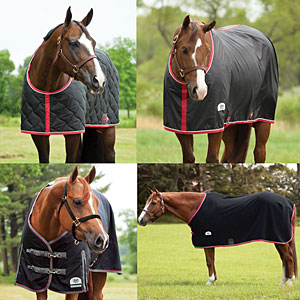 As the days get shorter, and the nights get cooler, it's time to start thinking about your horse's fall and winter wardrobe. At SmartPak, we've got all of the facts you need to make smart blanketing decisions.
Blanket shopping is exciting and fun, but it can also be a daunting task. With so many different types and styles of blankets, it can be tough to know where to begin. We've got you covered with the blanketing basics, with smart tips for everything from deciding to blanket to how to ensure your horse's blanket is the perfect fit.
To blanket or not to blanket?
Every horse is an individual and the decision to blanket should be based on their unique needs. Your horse's environment, along with other individual factors like the length of his hair coat, amount of body fat, and how well he tolerates the cold should all be taken into account when deciding if, when, and how much to blanket.
If your horse is clipped and has a short coat all winter, he'll need blankets to make up for the warmth he isn't getting from a thick winter coat. On the other hand, if you look outside and think there's a woolly mammoth in your pasture instead of a horse, his winter coat may be thick enough to keep him warm by itself.
Horses use calories in the winter to keep themselves warm. If your horse is a hard keeper who already has a tough time maintaining his ideal weight, you don't want him to burn all his calories staying warm. In addition to providing a steady supply of quality forage to make up for the calories he's burning, adding a blanket for an extra layer of warmth may be appropriate.
If your horse lives outside and has a shelter to go into when the weather gets windy and wet, his winter coat, as long as he's not clipped, may be enough to keep him warm without a blanket. But if your horse can't get out of the elements when he's turned out, a waterproof turnout blanket will help him stay warm and dry through rain, sleet, and snow. You should also consider that someone will need to check your horse regularly to make wardrobe changes as needed, make sure that the blanket isn't shifting or tangling, and remove the blanket to check his skin underneath.
Just like with people, some horses tolerate cold better than others. A horse who is less tolerant of cold temperatures may benefit from the extra warmth a blanket will provide. On the other hand, horses who don't show signs of being cold (such as shivering or their hair standing up) as soon as other horses may need to be blanketed less heavily or not at all.
By keeping these factors in mind, you're on your way to making smart blanketing choices this season.
Blanketing 101
If you're new to blanketing, the different types of blankets and the pieces that make them up may seem like a foreign language. With such a variety in the types of blankets available, it can be hard to know which one your horse is supposed to wear when. To get started, it is important to understand the basics of blanket types: the difference between a "sheet" and a "blanket" and the difference between "turnout" and "stable" sheets and blankets.
A sheet is the lightest piece of apparel in your horse's wardrobe. It doesn't have any fill, so its purpose is to keep your horse clean and protected. A blanket has filling, like the comforter on your bed, to keep your horse warm. Blankets come in a range of fills, or weights, offering different levels of warmth so that you can dress your horse according to the weather.
Sheets and blankets come in two varieties: turnout and stable. Like the name suggests, a turnout sheet or turnout blanket is designed to be worn when your horse is turned out (or if your horse lives outside). The exterior material is waterproof and breathable to keep your horse warm and dry through the worst winter weather. On the other hand, stable sheets and stable blankets are intended to keep your horse clean and warm when he's inside the barn. Because they're meant to be worn inside, these blankets aren't waterproof, so your horse shouldn't wear them outside.


Don't forget that the SmartPak Blanketing app is also a great tool to use when blanketing this winter. Not only does it provide a glossary of blanket types and information on the difference between turnouts, sheets, and blankets, but it also provides blanket recommendations based on weather and temperature predictions, as well as the horse's weight and coat length. The suggestions from the app are customized to the horse's specific location and profile information. To get started, download the SmartPak Blanketing App today for FREE from the iTunes store or Google Play.
Finding the perfect fit
A well-fitting blanket will keep your horse warm, cozy, and comfortable, but an ill-fitting blanket can restrict movement, cause rubs, shift, or get tangled. Be sure to evaluate the fit in these three key areas: the shoulders, the withers, and the length at the side.
Shoulders – The top of the front closure should line up with the point of your horse's shoulder and the neckline of the blanket should lie smoothly above his shoulder without pulling.
Withers – A blanket that's pulled tight across your horse's withers is a recipe for rubs. You should be able to slide one hand between the blanket and your horse's withers.
Length – A blanket shouldn't look like a mini-skirt or a bed skirt. If your horse's belly peeks out, he's not getting the full benefit of the warmth. If the blanket falls more than halfway to the knee or hock, it's probably too big overall. Ideally a blanket should cover your horse's barrel entirely, ending just below his elbow and stifle.
Buying that Blanket
Whether your horse is a tricky fit or just a little rougher on blankets than one would hope, you can shop confidently from the wide selection of blankets at SmartPak. SmartPak offers free shipping on orders over $75 and free return shipping on sized items, like blankets, making it easy to find the perfect blanket for your horse! Visit www.SmartPak.com to view the entire selection of turnout blankets and to place a risk-free order.
About SmartPak
From the feed room to the tack room, SmartPak offers innovative solutions to help riders take great care of their horses. SmartPak was founded in 1999 with the introduction of the patented SmartPak supplement feeding system. The revolutionary, daily dose SmartPaks are custom-made for your horse, individually labeled and sealed for freshness. With the success of this simple and convenient feeding system, SmartPak has continued to expand its offering of quality products, including its own line of more than 60 supplement formulas called SmartSupplements, and a wide variety of tack, equipment, and supplies. The company has grown rapidly each year and is now the largest retailer of equestrian products in the United States. SmartPak's success has been powered by a passion for delivering an unbeatable customer experience, and the company has been recognized with a Bizrate Circle of Excellence award as well as an "Elite" rating from STELLAService. A nine-time Inc. 500/5000 honoree, SmartPak is the only equine company ever named to the Inc. 500 list.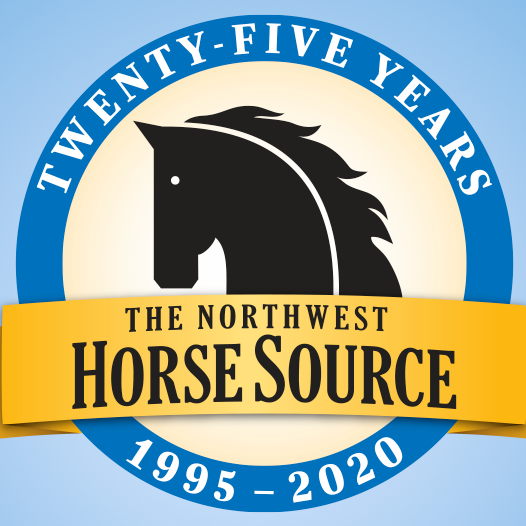 News from the horse industry. Sharing today's information as it happens. The Northwest Horse Source is not responsible for the content of 3rd party submissions.