Northwest Volunteers Making a Difference for Horses in Need
by Michaela Eaves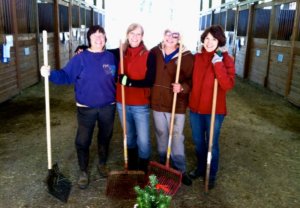 It's not every day a county needs a large team of trained volunteers to help support a large herd of neglected horses while their owner awaits trial. When Pierce County Auditor Julie Anderson needed help, she called in the Washington State Animal Response Team, an all-volunteer, all-donation supported 501(c)(3) non-profit organization trained in the rescue of animals in emergency situations such as floods, fires, and earthquakes as well as one-off rescues such as a horse trapped in a well, or a dog stranded on the ledge of a mountain top. Founded in 2008, WASART has performed hundreds of rescues for companion animals and livestock in perilous situations. Many members have honed skills including swift water rescue, rope work and the use of pulleys and rappelling. Gretchen McCallum, J.D., and Greta Cook originally conceived of WASART in response to Hurricane Katrina.
"A third of the people in New Orleans wouldn't leave their homes when Katrina approached…because they weren't allowed to bring their pets with them," said McCallum. "We were determined not to let that happen in our state."
WASART's training and existence is a fortunate fact for thirty-nine neglected horses in Graham, Washington. Seized on September 26, 2012 some of the horses didn't know how to eat a carrot and struggled to adjust to the brightness of daylight. Eighteen were believed to be stallions. All of them presented health and behavioral issues and needed help recovering from long periods of time standing in their own feces with little interaction or outdoor exposure.
The biggest seizure of its kind, Pierce County Auditor Julie Anderson faced the logistics of how to care for these horses in a manner that would preserve them as evidence as well as keep them safe and nurse them back to health. Anderson contacted WASART to see if they could assist.
Shifts for the first few days were staffed by WASART volunteers and King County's Northwest Horseback Search & Rescue, but soon over a hundred volunteers responded to the call for help.
"This is what we train for," said Gretchen McCallum, who recruited, screened and scheduled all the volunteers, not just WASART's. "We are here for exactly this reason, to help in a crisis."
McCallum scheduled two shifts a day and each shift was composed of four or five volunteers. No one ever worked alone. One volunteer distracted a horse by feeding it a carrot while another ducked into the stall to take care of the mucking, cleaning, feeding and watering. The sheltering lasted until December 11 with volunteers contributing services worth over $97,000 to a county strapped for cash.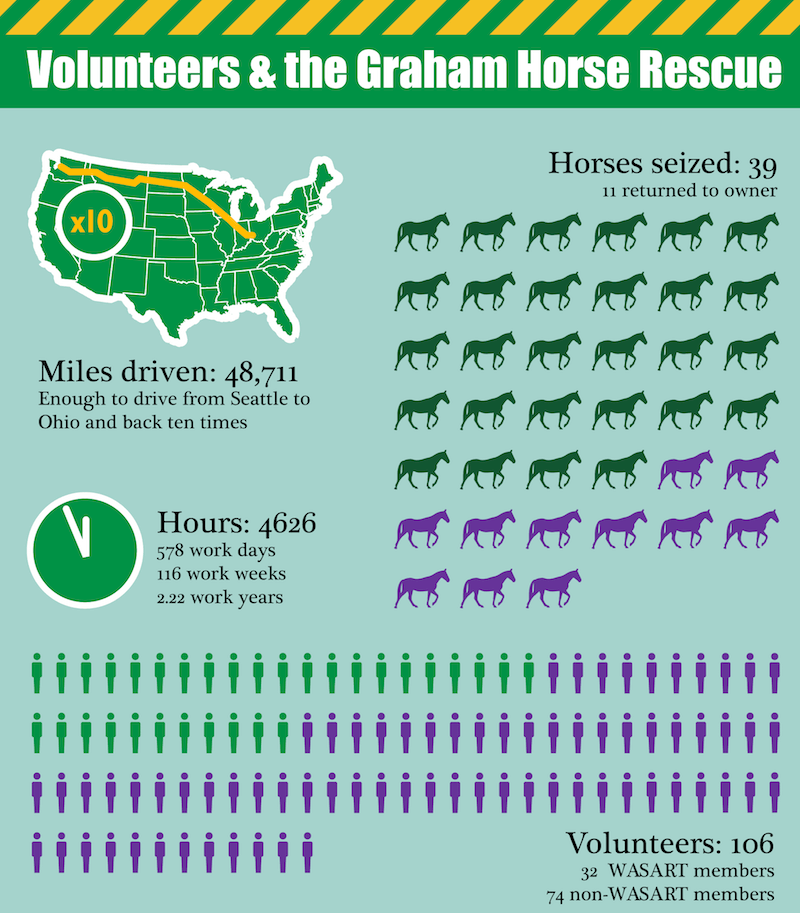 At a volunteer appreciation event, Anderson said "In the past, auditors have been reluctant to seize large numbers of horses, due to the expense and lack of equine services. But, we have come to the conclusion that we simply can't turn a blind eye or leave horses in harm's way. It's hard work, as well as costly, but it saves us time and money in the long run. We'd prefer to have negligent horse owners voluntarily reduce their herd size. But in cases like these, we'll see the horses simply traded to other hoarders or spend years supervising property improvements."
The volunteers were what made it feasible to take a stand against the abuse. In an economy that puts increasing pressure on everyone, finally the county had a way to do what was right and do it in a way that would set the horses up for success in life post-seizure.
On November 9, a few horses, deemed in a healthy enough condition, were ordered returned to the owner. The rest have been sent into rescue or are up for adoption through the auditor's web site at www.piercecountywa.org/pets. In addition, the rescue effort won the Pierce County Outstanding Achievement Award.
WASART also promotes education by training other groups as well as individuals, helping families, ranches, and farms prepare for disasters. Learn more about WASART at http://www.washingtonsart.org or write info@washingtonsart.org for other enquiries.
Published March 2013 Issue
I'm a UX and visual designer working in the Seattle and Bellevue areas. I have experience working on various platforms – desktop online services, mobile apps, and experimental hardware. I have a BFA in Graphic Design, and I do a bit of illustration when a fun project comes up. In my free time, I hang out with my dog, mountain bike, and volunteer to rescue animals though rarely all at the same time.