There's a Chapter for Everyone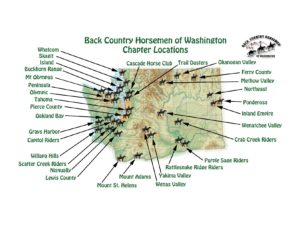 Back Country Horsemen of Washington has many chapters to choose from. No matter where you live in this great state, you can find a group of trail riders to have fun with. Here's the fourth installment in this series.
The Skagit Chapter has much to share with local equestrians! In cooperation with the Washington Department of Natural Resources (DNR), Skagit BCHW leads the way for maintaining and improving the beautiful trails in the Harry Osborne Forest and the Les Hilde Trailhead located at 6998 Medford Road, Sedro-Woolley. The Harry Osborne is a working forest with logging activities ongoing throughout the year. Although there may be some trail changes due to logging, there is a basic map for riding the hundreds of miles located on DNR lands in this area. It can be found at www.trailmeister.com.
Our fundraiser for 2017 was a prize ride and tack sale at the trailhead on August 19. All proceeds from this fundraiser are dedicated to supporting access to recreational lands, maintenance of trails, and educating riders how to protect recreational lands for future generations.
Skagit BCHW meets on the 2nd Tuesday of each month at 7:00 p.m. in Sedro Woolley. Our regularly scheduled trail work parties are held on the Saturday following each monthly meeting. We encourage you to bring the young members of your family to our activities and events — their involvement is the future of our recreational lands! skagitbchw@gmail.com
The Grays Harbor Chapter meets in Brady, located between Elma and Montesano. Members ride all over the state, often with friends from other BCHW chapters. We mainly work in three local surrounding areas: the Porter Creek Trail on the west side of Capitol State Forest, near the town of Matlock on the privately owned Green Diamond properties, and in the rainforest on the West Fork Humptulips Trail in the Olympic National Forest, not far from the towns of Humptulips and Quinault.
Some members may work at only one, maybe two locations, others work at all three. Others who can't get away from their busy schedules support the chapter and the BCHW in other ways, such as helping with our annual Fund Ride, our Christmas Party, potlucks, or just by joining and offering their friendship and numbers. We are a fun group of friends. Several very active members don't even have horses or mules. They just love the outdoor life and want to ensure it is available for future generations. www.bchw.org/GraysHarborChapter.
Pierce County Chapter of BCHW meets the fourth Wednesday of every month, except November when we have our meeting and turkey dinner at Sahara Creek Campground in Elbe State Forest. On this day, we ride the trails we keep open for public use, and dine on a feast.
We have almost-monthly trail cleaning projects in Elbe State Forest, removing any debris on the trails, maintaining drainages and hardening these non-motorized trails. We also work on all the campgrounds and trailheads in this forest and participate with other chapters across the state on their projects.
Guests are always welcome to join us at our meetings, trail clearing projects, day rides and campouts. Our meeting place is at the Elk Plain Grange on Highway 7 in Spanaway, Washington. Find out more about our monthly events on our website, www.pccbchwa.org.
We are located in the northeast corner of Washington State and meet in the Clayton Grange building in Clayton, Washington. We meet on the third Saturday of the month and always have a potluck dinner at 6:00 p.m. and a meeting at 7:00 p.m. We are a very active chapter with around 80 members and growing. We are active in trail riding, trail maintenance, and advocating to keep the trails open for stock use. Our website is www.nebchw.com. Come and join us!
Originally Published November 2017 Issue
This article sponsored by:
Genetic Testing Kit (55+ Traits) to Identify Equine DNA
Back Country Horsemen of Washington (BCHW), is a 501 (c) (3) organization with 32 chapters across the state dedicated to: keeping trails open for all users; educating horse users in Leave-No-Trace practices; and providing volunteer service to resource agencies.