Seven Tips for a Safe Ride
by Alayne Blickle, Horses for Clean Water
During the 20+ years of living in Washington State I lived on beautiful forested land and trails and we rode year around. The land was state owned, which meant that at certain times of the year hunting was allowed. We had to take certain precautions, beginning in September, when out on the trail.
While weather is cooler and often more pleasant for riding in the fall, if you live or trail ride in rural areas it is extremely important that you are aware of hunting season safety points. For many people, hunting season is a celebrated event each fall, usually beginning in September and extending into February. So before you ride, research where hunting is allowed and what the specific dates are. You can do this through your state's fish and wildlife department.

Here are a few tips we've acquired over the years to keep horses and riders safe:
Be visible—this is a good time to wear orange! Lots of reflective orange riding paraphernalia is available such as vests and helmet covers for riders. For horses there are orange split boots, neck collars and quarter sheets for starters. Cyclists also have night-time equipment available that can be useful such as blinking LED lights you fasten to your ankles or to your horse's bridle.
Make noise—put a sleigh bell on your horse's breast collar or your stirrups. Or you might sing or talk to your horse.

Carry a whistle should you need to sound an alarm.

Don't ride alone—you'll be more visible and make more noise if you go out with a buddy. If you do ride alone, it is always a good idea to let someone know where you're going and when you will be back.
Keep dogs safe—leave your dog at home during the hunting season. A wandering dog during this time is a tragic accident waiting to happen. Otherwise, orange vests for dogs help make them more visible.
Carry a cell phone on you—not on your tack.

 

If you and your horse part ways you'll want your phone within reach, not heading down the trail.
Choose your route–avoid riding in known hunting areas. Stay in open fields where you will be more visible. A horse traveling through the trees might be mistaken for an elk, but is more obvious in the open.
Avoid riding at peak hunting times—such as early morning or sunset. The lower light of dusk and dawn makes it more difficult for everyone to see.
I have met hunters while riding and while this is un-nerving it is important to keep communications open and be friendly. I always talk with hunters, tell them my planned route and find out their plans. Most hunters are conscientious sportsmen who follow the rules. If we equestrians are respectful and courteous hopefully they will respond in kind. We are lucky enough to be able to enjoy our sport year-around, but hunters only have the legal right to enjoy theirs for a relatively short time.
To learn more about horse keeping and ways to make your horse property mud-free and chore-efficient join Alayne Blickle and Horses for Clean Water at upcoming events listed at www.horsesforcleanwater.com.
Published October 2013 Issue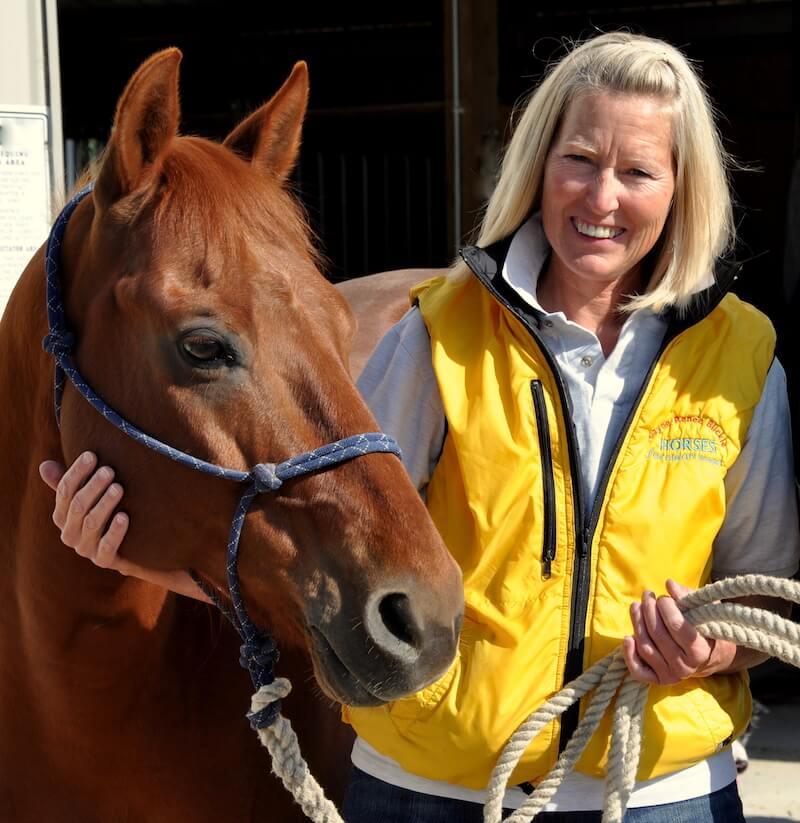 Alayne Blickle, a life-long equestrian and educator, is the creator/director of Horses for Clean Water, an award-winning, nationally acclaimed environmental education program that "wrote the book" on caring for horses and land. Known for her enthusiastic, fun and down-to-earth approach, she is an educator and photojournalist who has worked with horses and livestock owners for over 20 years. Alayne teaches and travels throughout North America and abroad, and also runs Sweet Pepper Ranch, an eco-sensitive guest ranch and horse motel in Southwestern Idaho where she and her husband raise top-notch reining horses and beautiful grass hay. For more information contact Alayne at alayne@horsesforcleanwater.com or 206-909-0225.