By Jennifer Roberts
You carefully plan the footing in your arena and paddock areas, but how much time have you put in selecting the appropriate bedding for your horse's stall? It may not seem like much, but the bedding choices that you make can have a dramatic effect in your horse's health and well-being.
It's important to look at a variety of factors when you consider which bedding is the right choice for your barn.
Availability- It's essential to make sure that your bedding choice is readily available in your location. Even if the bedding is a perfect fit, if it is hard to obtain in your area or if quality bedding is not consistently available in your area, you may want to look for alternatives.
Cost – Ensure that the bedding choice fits within your budget. You want to feel comfortable using adequate amounts of bedding, and not trying to skimp in order to pinch pennies. However, don't feel like you need to use too much bedding, Robert Coleman, PhD, Equine Extension Professor at the University of Kentucky, advises moderation. "You need enough bedding to be absorbent while allowing the horse to stand comfortably, because they spend more time standing than lying down," he said. "Horses standing outside don't usually choose deep footing. And remember, the more you put in the stall, the more you have to take out."
Storage – Take a long look at your facilities and determine how and where you will store your bedding. You may decide that you need bagged bedding or that you prefer to have a bedding pile somewhere around the farm.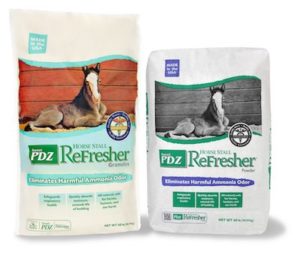 Absorbency- Don't forget to look at one of the main purposes of bedding, absorbing urine. You will want to make sure that it contains the wet spots and do not allow them to spread. For increased protection against ammonia, use a liberal application of an ammonia-eliminating product, such as Sweet PDZ Horse Stall Refresher. This will prolong the life of your bedding as well.

Dust- Any bedding that you select should be relatively dust free, however if you have a horse that is sensitive to dust and respiratory distress you should be even more sensitive to this.

Disposal- Make a plan for what you will do with the used bedding. This may be as simple as bringing it out to the manure pile or as complex as composting it for garden use. Make sure that any bedding or additives work with your end plan for the used bedding, Sweet PDZ Horse Stall Refresher will not affect the composting process.

Sweet PDZ has been keeping stalls healthy for over 33 years and continues to be the leading horse stall freshener on the market. This organic (OMRI Listed), non-toxic mineral captures, neutralizes and eliminates harmful levels of ammonia and odors.  Sweet PDZ is a far superior alternative to lime products for ammonia removal and moisture absorption. For more information, as well as a dealer locator, visit SweetPDZ.com.

<!-comments-button-->