Turning Passion into Profession
By Allison Trimble
Numerous horse owners dream of turning their passion into their profession. Many people don't have interest in becoming a horse trainer, farrier, or veterinarian, but it's common as a Realtor to see people seeking out boarding facilities.
The notion usually starts with a desire to take a mortgage that a horseperson already has, and make it work for them. If a horse owner has been boarding more than one horse for any length of time, they begin to see that they could own acreage and keep their horse for what they are spending.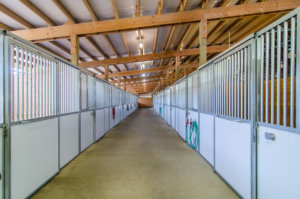 There are many different levels of horse boarding, from small private facilities, to large commercial operations facilitating many trainers and events. Here are a few things to keep in mind about buying a boarding facility.
Magnitude: Determining the size of a boarding operation is important. Is the goal to board a number of horses that a property owner can manage alone without help, or to try and run a more substantial business? There is a tipping point for profit margin that occurs when hiring help becomes necessary.
Suitability: Carefully examine the day-to-day operations of any existing facility. Where does the manure go? How do they handle turn-out? What equipment is needed to run the facility, and is any of it included with the sale? Will the property adequately handle the number of intended horses and will it do so within local regulations? If the property has a conditional use permit, it's important to make sure that transfers as a condition of the sale. Typically, conditional use permits don't automatically transfer with property ownership and this can become very problematic after the fact if not done properly.
Business Plan: Even if the goal is to have a handful of friends' horses to help eat the grass and pay the mortgage, a business plan is important. Knowing overhead and fixed expenses as well as variable expenses is crucial. I always found that boarding ended up being a lot of cash flow, but not a lot of profit. A horse that is messy or hard on fences or stalls can really eat into expenses. Over the years I settled on a dollar amount that I needed to profit each month to make it worth having a horse on the property, and then charged actual expenses above that to determine boarding cost. Could the facility generate additional income from events, horse shows or clinics held there?
Financing: I often find buyers have the misconception that they'll be able to use income from the property they're buying to purchase the property. This is true only if the buyer has a pre-existing business that can support the purchase, or if there's a current business in place that's being purchased as well which can support the purchase with the previous 2 years tax returns. This then becomes a commercial or agricultural loan which has a different set of guidelines for lending. For example, a recent appraisal fee for a commercial boarding facility was $7500, while the appraisal fee for a similar size was $1,000. Horse facilities typically have a higher price tag, and a buyer can anticipate a down payment of no less than 20% in this instance.
Inspections: Home inspections don't usually cover outbuildings. If the intent is to use the facilities for boarding outside horses, I strongly recommend having a thorough inspection of all outbuildings, particularly for structural integrity and electrical wiring. These can be costly problems to correct, and at the very least, a buyer should know what to include in a budget.
Ownership, Insurance and Liability: Most equestrian operations are owned by a Limited Liability Company (LLC) which is a business entity that helps to isolate liability to only that property. Once a property owner opens the gate to horses that they do not own, it is advisable to get additional insurance that protects against liability. A well-designed contract with boarders that limits liability and outlines expectations is very important. Washington State has laws that protect against injury in horse related activity, but as a professional, it is prudent to have additional layers of protection.
Be sure to have a big-picture plan so nothing is left to chance. Expect the unexpected and have a plan for dealing with non-payment, difficult personality types, and problem horses. It's easy to keep a facility with an indoor arena at capacity in the Pacific Northwest, but as with many things, the devil is in the details. Management is the key to success in any boarding operation.
Allison Trimble has a Bachelor of Science in Animal Science from Cal Poly, SLO. After her graduation in 1999, Allison started Coastal Equine and has been training and competing in cowhorse, reining and cutting events. She has had marked success in the show pen boasting many titles and championships.
Willfully Guided is an educational program based on Allison's training process. For more information visit: www.willfullyguided.com
Allison is also a Realtor specializing in horse properties, hobby and commercial farms, and family housing. She combines her experience in the horse industry with her lifelong involvement in real estate to help clients find their perfect property. Learn more at www.coastalrealtywa.com