Riding and camping in the backcountry are the ultimate ways to experience the wilderness. Knowing what to expect in the backcountry helps you decide what to bring. Good preparation helps if your plans unexpectedly change. After all, you can't jump in your car to solve a rainy-day tent failure or a minor medical emergency when you're 20 miles from the trailhead. Here are our preparation guidelines for overnight treks into remote areas.
Try a practice run at home. Test out new equipment before your trip. Learn how to set up that new tent and use new saddles and tack before you leave. Before you hit the backcountry, take a few rides with the same load you'll carry into the field. It's better to adjust things at home than on the fly. In fact, taking a few rides with a real load before your trip will help you gauge the fitness levels of both yourself and your animal.
Do the research. Now is the time to start learning about an area to see if it fits your plans. I always start with an online search where a few quick clicks will return a lot of information about great horse camping areas. Use www.TrailMeister.com for info on what to expect at a given area including pictures, accurate directions to the trailhead, trail maps of the area, weather, links to land managers, and even GPS tracks.
Know the weather and terrain. A major factor to consider is the forecast and season. You need to pack and prepare for just about any weather, and it's important to have realistic expectations before you go.
Check a topographic map to see what altitudes you'll encounter. Remember that the weather can vary widely with elevation. A warm summer day at 700 feet can be a snowy wonderland at 7,000.
Make a mental note of your expected route and destination point. How far will you be from your truck or base camp? Will you be riding a loop or have an out-and-back route? What alternate routes are there?
Check the terrain. Will there be ample grazing and water for your animals? Is it open space, heavily forested, or marshy?
Know the rules. Knowing an area's regulations beforehand will make your trip much smoother. Are permits required? Are there fire restrictions? Bear restrictions?
Get Geared Up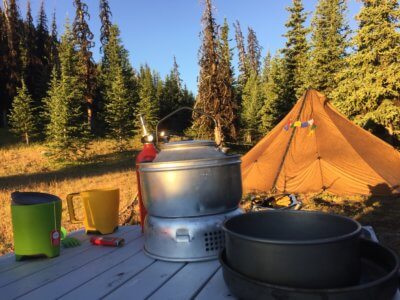 Pack right. What you bring is determined by your destination and the weather you'll likely encounter. All of your equipment should be as practical, comfortable, and as lightweight as possible. Your pack animal will thank you! Quality gear comes at a premium, but the pounds not carried are worth their weight in gold.
Organize gear into two groups; human and equine.
Human Needs
Clothing – jacket, stocking cap and gloves, camp shoes, insulating layers, etc.
Shelter – tent, hammock, insulation pad, sleeping bag, etc.
Cooking – stove and fuel, pots, cooking utensils, cup, water filter, etc.
Emergency/10 Essentials – Remember to keep the 10 essentials (trailmeister.com/the-10-essentials) on your person in case you separate from your riding animal. Bring a few days extra of any medications you need.
Equine Needs
Saddles – Make sure that they fit well and that you have good saddle pads.
Panniers – Options include hard boxes that can deter a hungry bear to soft bags that are more forgiving to your pack animals. Balance is everything, so be sure to load with the same weight and volume on each side.
Equine first aid kit – Check with your veterinarian for suggestions about what to take and how to treat minor issues.
Grooming supplies – Brush, curry, hoof pick, insect repellent, collapsible bucket, etc.
Containment options – There are several good options for keeping your animals in one place during your trip. I use the following three. Get your horses used to them at home first!
Highline: The gold standard. A strong rope strung between two sturdy trees protected by tree savers will ensure that you'll be riding instead of walking the following morning.
Hobbles: Will nearly immobilize your horse—at first. Where grazing is permitted, hobbles are an excellent way to allow your animals to graze while under your strict supervision.
Electric fencing: Another excellent way to allow your animals to graze and relax while under supervision. Electric fencing is not a substitute for a highline. Your animals may believe in the bite of the fence, but the local elk or deer population doesn't; they're apt to bolt and tear down the thin line if you're not careful.
Additionally, if you're in bear country, carry bear spray. It's better to have it and not need it than the alternative.
And one more thing: There are no bathrooms. Bring biodegradable toiletries and a trowel or shovel for digging catholes.
Sleep setup – Sleeping gear must be matched to the weather conditions. A three-season tent is fine for most camping trips. A good sleeping pad is essential. Not only does a pad add comfort, it provides insulation from the ground. Finally, regarding sleeping bags, it's fair to say you should find one that's temperature-rated below what you expect.
When embarking on a multi-day trip into the backcountry, a certain level of discomfort is to be expected. Prepare your mind for this and embrace it. Sleeping in the backcountry will never be as comfortable as a night at a Hilton, but with proper planning and the right equipment, it can be quite acceptable. It's a necessary skill to master for those wanting to head away from the beaten path. Ride hard enough, and a bed of granite and tree roots can feel like a pillow-top mattress.
Who's Hungry?
Whether it's a quick overnight trip or a multi-day adventure, you want meals that will nourish and strengthen you (and also taste good)! You'll also want to factor in meals for your animals. Here are some meal planning considerations for backpacking trips:
How long will you be out? Factor in meals you'll eat at the trailhead and when you're done with your trip.
What is the size of your group? Meals can be much simpler if you're going solo. If you're camping with others, decide in advance if you want to share meals. A larger group can split the weight of food as well as fuel and cookware.
What's your meal plan? It helps to make a meal plan to know how much food to take. This could be as simple as writing it out on paper or as complex as creating a spreadsheet. Start with dinners, which generally are the biggest meals of the day and the ones you're likely to sit down for.
Test out recipes at home. Just as it's good practice to test out your stove or tent at home first, try new potential camping recipes before you leave. Although food always magically tastes better on the trail, practice gives you an idea of how much effort it is to make, cooking time, and adjustments you might want to make for taste.
For the ponies: At 2% of body weight per horse per day you won't easily be able to take enough feed for your animals. Period! Instead, you'll have to allow time during the day for your animals to graze. Hand grazing is relaxing for everyone. Portable electric fences are also a good option.
Safe food storage: If you're camping in bear country, remember that smelly things (including toothpaste) can attract unwanted attention. And all kinds of animals raid food, not just bears. If your food supply is picked through by rodents or raccoons, it could be a trip-ender. For that reason, we always store our food in bear canisters (see last month's column for more on this).
One Last Thought
Like most outdoor adventures, you need to be ready to change your plans. Mother Nature doesn't care if you traveled many miles for your backcountry trip, so don't let that factor into your own decision making. Remember, it's not a failure if everything doesn't go according to your plan. Improvise as much as you can and have a good time camping! One of the many appeals of backcountry rides is the challenges they bring and the memories that remain afterward.
See this article in the 2020 December online edition:
This article sponsored by:
Genetic Testing Kit (55+ Traits) to Identify Equine DNA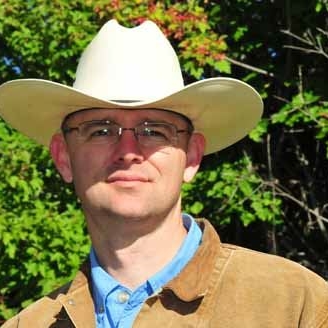 Robert Eversole, "the trail meister," owns www.TrailMeister.com, the largest database of horse riding and camping areas in the U.S. with free trail and trailhead information, trail maps, and much more to help horse enthusiasts experience the joys of trail riding. Robert is a registered riding instructor with PATH International, a mounted search and rescue team member, and a U.S. Marine who has served on the board of the Backcountry Horsemen of Washington (BCHW). He is enjoying his new career helping fellow trail riders stay found and safe on the trail. When not on the trail, The Trail Meister resides near Spokane, WA and teaches land navigation to a wide variety of outdoor groups across the nation. For North America's largest horse trail and camping directory, trail tips, and more, visit www.TrailMeister.com.