Important Considerations When Purchasing Equestrian Property
by Allison Trimble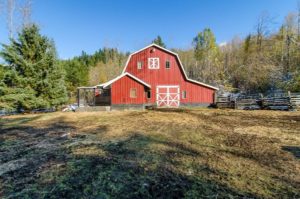 Equestrian properties and hobby farm purchases come with many considerations. Typically, the acreage will be five acres or larger and comes with outbuildings and other improvements that have housed animals for previous owners.
Farm ownership can be overwhelming and it is not unusual to see varying levels of deferred maintenance, both on the house and outbuildings—particularly if the asking price is reasonable. It's expensive to maintain outbuildings, pastures and fencing in pristine condition, and if that is paired with a big, nice house, the price can be limiting for most folks. Properties in an affordable price range usually have something that could use some tender loving care. Here are some considerations if you want to purchase such a property.
House. In the inspection period of an offer a home inspector will be hired to go over the home and red-flag any potential problems. Homes on acreage, especially nice acreage, can often be turn of the century homes. These homes can present expensive updating needs such as electric, roof, foundation, plumbing and heating systems. Even mid-century homes can have issues such as asbestos and lead-based paint. Home inspectors will help bring these potential problems to light, but a buyer will need to bring in specialists in each of these fields. It can be difficult to find contractors able to give additional inspections and bids in less than two weeks, so it is prudent to plan ahead for that possibility.
Pest Activity. Any time there is feed present, rodent and insect activity can be prevalent. Rodents can cause destruction in homes, as can insects such as carpenter ants and powder post beetles. The home inspector will notice any potential activity in the house and crawlspace, basement, or surrounding area. On a farm property it is prudent to hire a pest inspector to come and evaluate the home and the barns. It is a reasonable expense compared to the potential damage and it can be requested for the seller to do in an inspection response.
Outbuildings. Most home inspectors do not inspect outbuildings as a part of the regular home inspection package. This is something that must be requested. In the Northwest, heavy rain or snow can cause incredible damage to an outbuilding in just one season. A failing roof or rot in structural areas can be devastating. Outbuildings are not assigned substantial value on an appraisal, but are very expensive to replace and are a driving reason for most horse property purchases.
Does it appear that professional fixes have been made over the years, or are walls held up with bailing twine? Is the electrical safe and professionally installed? A home inspector can help point out problems, but it would be advisable to have a contractor give bids on the cost of repairs or specific improvements. Uncover the pressing maintenance issues so that repairs can be asked of the seller, or budgeted for after purchase.
Fencing. Sometimes failing fencing is obvious. But other times, especially on large acreage, it can be difficult to see all the fence lines. Sometimes rot needs close investigation to uncover. If there is any question on the condition of fencing, have a fencing contractor give a bid, or at least price out the cost of replacement materials.
Drainage. Many farms are purchased in the summer months when the sun is high and the ground is dry. In the Northwest, mud season is long and surface water can become a problem in a hurry. What kind of soil does the property have? Ask specifically about what the property is like in the winter. Stand on the property and imagine where water will flow given the topography and landmarks. Is there material already added in areas that will have high impact in the winter, or will that need to be improved? Have drainage ditches, catch basins and gutters been maintained?
Some buyers are handy (or are connected to someone handy), can foresee potential issues, and will only need their own labor for highly specialized projects and the cost of materials for the rest. More often buyers are not in this position. They are equine and animal enthusiasts looking to enjoy farm life. In these instances, it's crucial to have a clear understanding of the condition of all aspects of the home and property to make sure that the start of life on a new farm is prosperous.
Originally Published October 2017 Issue
Allison Trimble has a Bachelor of Science in Animal Science from Cal Poly, SLO. After her graduation in 1999, Allison started Coastal Equine and has been training and competing in cowhorse, reining and cutting events. She has had marked success in the show pen boasting many titles and championships.
Willfully Guided is an educational program based on Allison's training process. For more information visit: www.willfullyguided.com
Allison is also a Realtor specializing in horse properties, hobby and commercial farms, and family housing. She combines her experience in the horse industry with her lifelong involvement in real estate to help clients find their perfect property. Learn more at www.coastalrealtywa.com