Learning Opportunities Abound at Oregon Facility
By Catherine Madera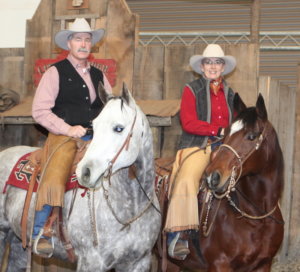 Tracy Stout understands the importance of a sound equestrian education. When this horse woman from Sister's, Oregon wanted to advance as a competitive trail rider she enlisted the help of professionals. The resulting relationship with veteran trainers JoLinn and Mitch Hoover evolved into something much bigger than weekly lessons. A joint venture between two like-minded couples was birthed in 2010 and includes 220 acres of breathtaking scenery and a vision to promote trail horse competition. At this Redmond, Oregon ranch, rental facility, and educational center, the sky's the limit for serious equestrians.
The Hoovers are no green horns when it comes to both ranching and stock horse disciplines. For over 35 years the couple has managed ranches, offered ranch consulting to potential and existing owners of rural properties, trained horses, and offered instruction in ranch horse versatility, cutting, roping, and mountain trail horse. The Hoovers have a lifetime of championships between them on horses they've owned and trained. Their APHA gelding, Another Legacy, holds the title of 5x World Champion Mountain Trail Horse, Open Division. He also holds championships in Versatility Ranch Horse, Working Cowhorse, Roping, and Reining. A wedding gift to JoLinn from Mitch, the gelding was purchased as a three-year-old and trained and shown entirely by the couple. Their students have topped all premiere trail competitions west of the Rockies.
Originally the owners of MJRising H Ranch, the Hoovers were called upon to professionally assess a property for customers Bob and Tracy Stout in 2010. The pristine location, set against a majestic backdrop of Central Oregon's mountain peaks, beckoned with promise. As they discussed the particulars of necessary renovations both couples got excited about joining forces to create a unique facility. Reconstruction began in 2010 and the property was dubbed Sky Hawk Ranch in reference to the sky-full of hawks hovering overhead the day they walked the land.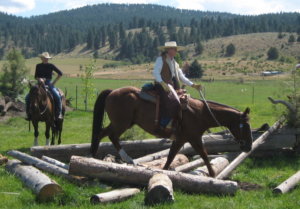 Construction projects include new fencing, a boarder's and trainer's barn, cutting pen, two full-size outdoor arenas, a covered 60' Castlebrook round pen, an outside 60' round pen, and an indoor arena with conference center that seats 60. An extreme trail course is being constructed on the grounds, along with a practice trail course, and the ranch accommodates those wishing to haul in and camp and offers RV hook-ups and stalls. Both couples hope the Ranch's focus on advancing the increasingly popular discipline of mountain trail horse and Sky Hawk's many other amenities can be enjoyed by people both local and out of state.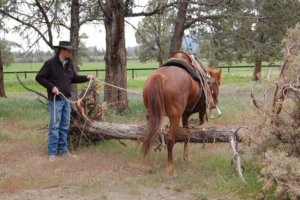 The ranch offers learning opportunities all year round and is available to rent for clinics, competition, or even just to ride the miles of surrounding mountain trails. It hosted several clinics and seminars last winter and was chosen as an audition site for America's Favorite Trail Horse, a new TV show premiering in the fall.
"It's kind of like the horse version of 'Dancing with the Stars' or 'American Idol'," shares JoLinn. Sponsored by the ACTHA—American Competitive Trail Horse Association—20 sites around the United States were selected for auditions with a thousand riders signing up to try out.
The ACTHA competition at Sky Hawk Ranch in April was the facility's first big event and drew 40 participants and their families. Tracy Stout and several other students of the Hoovers—"Team Hoover"—were selected to go to Texas for filming. A panel of judges that included Monty Roberts, Pat and Linda Parelli, and Lynn Palm, among others, officiated. Winners will be selected by viewers when the show airs.
The facility is booked for major events in 2011 including a Cowgirl-Up All Women's Camp August 4—10 and the AQHA Oregon State Trail Ride in September, but is available for smaller events such as 4H shows and seminars. The Stout's passion for supporting trail and stock horse competitive events, combined with the Hoover's expertise in equine event management, offers an experience like no other in a place of stunning natural beauty.
The Sky Hawk Ranch is affiliated with the Western States Stock Horse Association. To find out how the facility can serve your horsemanship and learning needs or to register for upcoming clinics, visit www.skyhawkranch.biz.
Published August 2011 Issue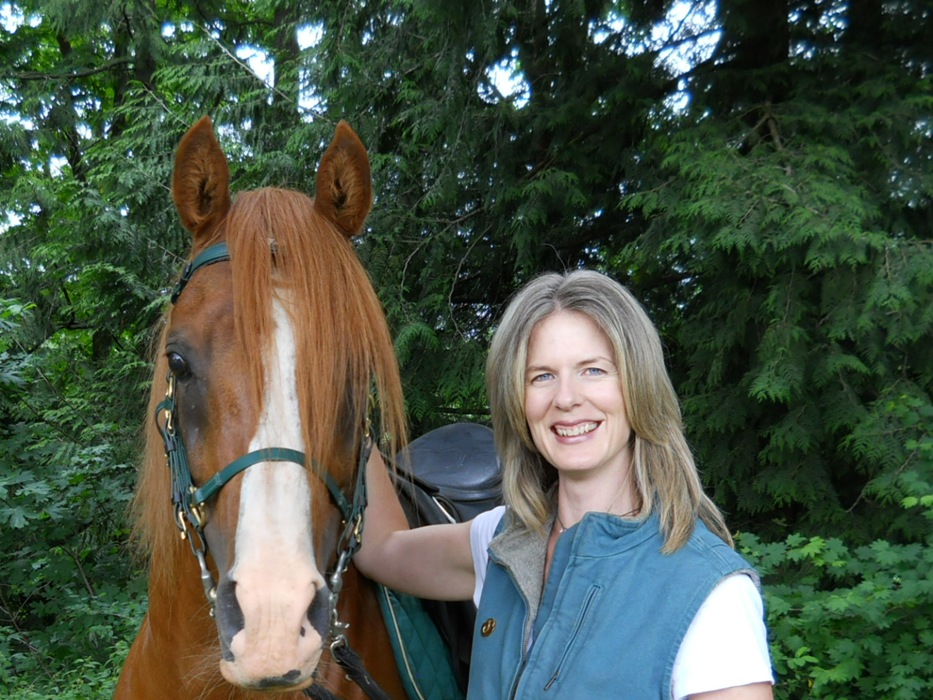 Catherine Madera served as editor of the Northwest Horse Source for five years. She has written for numerous regional and national publications and is a contributing writer for Guideposts Magazine and the author of four equine-related books. She has two grown children and lives with her husband and three horses in Northwest Washington.