Rainier Therapeutic Riding Center Partners with Mark Bolender
by Nicole Zanakis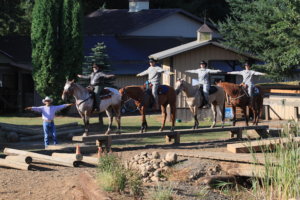 On a clear, crisp Cascade Mountain morning, horseman and trainer Mark Bolender is holding the reins of a chestnut gelding named Gunner while its rider, Aaron, listens carefully to Bolender's instructions.
"Just tap his flank, ever so subtly," coaches Bolender. Automatically the horse moves in the desired direction and around some pretty big rocks. Aaron smiles widely.
Aaron is riding on one of the finest extreme trail courses in the country, located at Bolender Horse Park in Silver Creek, Washington. For those unfamiliar with extreme trail riding, think of mountain trail riding but with more and complicated obstacles to negotiate. Extreme trail is a relatively new equestrian sport that has been promoted largely by Bolender since its inception. He is a three time national grand champion in the sport.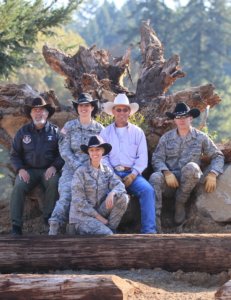 But Aaron isn't trying to become the sport's next great competitor. He's a wounded American soldier who has come to Bolender Horse Park to participate in therapeutic riding. This is a unique method to help physically and emotionally wounded individuals recover from a wide range of dysfunctions such as amputations, back injuries, traumatic brain injury, post-traumatic stress, depression, and anxiety disorders, just to name a few. Healing is attained because therapeutic riding's specific goals increase body strength, improve balance, memory, and cognition, as well as sharpen motor abilities and fostering social skills and independence.
"The skills we develop to excel in extreme trail competition are almost identical to those developed in therapeutic riding," says Bolender. "Patience, focus, and self-control are all part of building extreme trail champions as well as healing physical and emotional injuries," he maintains. "Good horsemanship is created by developing a partnership between horse and rider. Extreme trail training can create a championship horse and rider and can also help heal the physically and emotionally disabled—it's the same process with different results."
Bolender has spent significant time working with wounded soldiers in the last year, helping them develop a special partnership with their horses. He explains that training for extreme trail requires that the horse and rider create a partnership in order to negotiate the difficult obstacles. The rider must be keenly attuned to the horse and its natural instincts. And most importantly, Bolender says, "The rider must establish a leadership role in the horse's mind. This takes focus and physical control because you're asking the horse to accomplish a difficult task in negotiating daunting obstacles."
Rainier Therapeutic Riding (RTR) of Yelm, Washington is the nation's premier therapeutic riding organization with programs specially created for America's wounded military personnel.
"Horses have a unique ability to help these heroes heal," says Elisia Mutter, RTR's Executive Director. "These soldiers come to us from a very dark place, and the relationship they build with their horse leads them back to a joy for living," she says. RTR is completely non-profit, and works directly with the military and VA. It has over 50 volunteers and certified PATH instructors, as well as 14 specially trained horses. Their curriculum guides riders from basic skills, such as horse grooming, up to more advanced endeavors such as trail riding on extreme trail courses.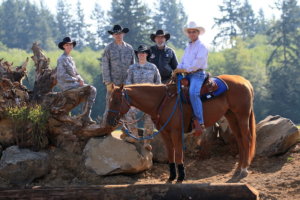 Bolender not only participates directly with wounded soldiers through RTR, but he has helped raise money for the organization—over $10,000—at Bolender Horse Park through his Bolender's Mountain Trail Challenge Buckle Series, an American Competitive Trail Horse Association event. Silver buckle donations by Tracy and Bob Stout from Sky Hawk Ranch and ribbons by Mare Magic made the event popular. 
"It's wonderful that we can support our American heroes this way," says Bolender. He highlights the fact that every day more American military heroes need special help to overcome their physical and mental disabilities. Sadly, over 30% of returning service men and women are diagnosed with post-traumatic stress disorder, and 25% of all suicides are service members.
RTR and Bolender have partnered to help wounded soldiers rise up from that "dark place" and into the light of health and healing. Good horsemanship is the key and as more and more soldiers seek help that partnership will flourish along with the well-being of our heroes.
To learn more about Rainier Therapeutic Riding visit their website: www.rtriding.org or call Debbi Fisher at 360-704-9895.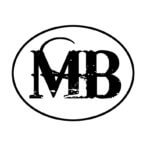 More information on Mark Bolender Horsemanship,  Bolender Horse Park, and the sport of mountain trail and extreme mountain trail can be found at www.bolenderhorsepark.com.
Published November 2012 Issue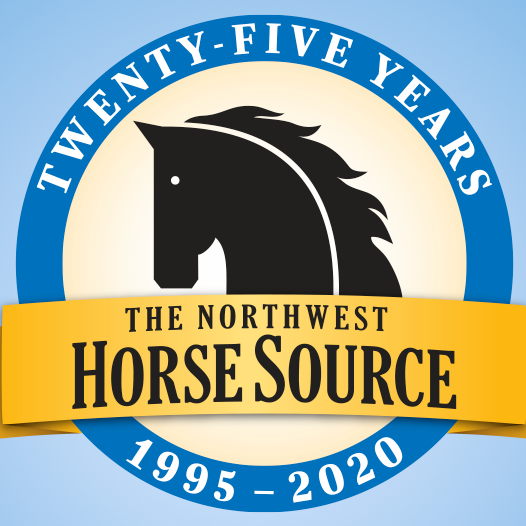 The Northwest Horse Source is an independently owned and operated print and online magazine for horse owners and enthusiasts of all breeds and disciplines in the Pacific Northwest. Our contemporary editorial columns are predominantly written by experts in the region, covering the care, training, keeping and enjoyment of horses, with an eye to the specific concerns in our region.