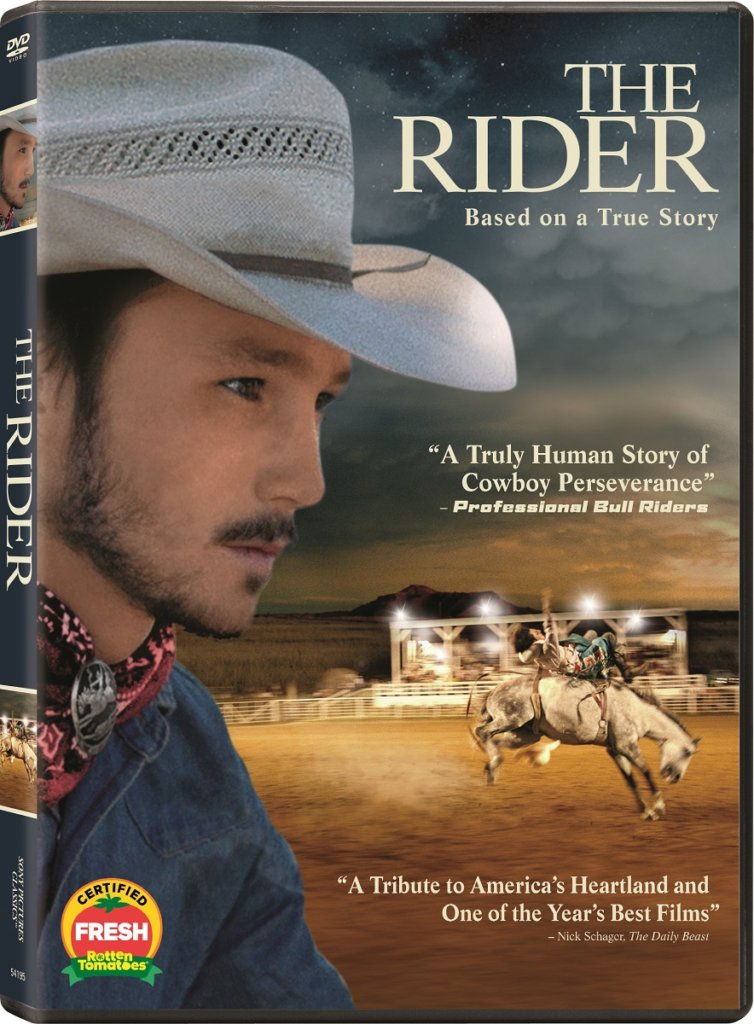 Winner C.I.C.A.E. Award – Cannes International Film Festival
Winner Grand Prix Award – Deauville Film Festival
"A dazzling surprise. One of the most astonishing achievements of recent cinema – a poetic vision of the American West" ~ Godfrey Cheshire, ROGEREBERT.COM
"A truly human story of cowboy perseverance" ~ Professional Bull Riders
THE RIDER
Based on a True Story
Written and Directed by Chloé Zhao
On DVD and Digital August 7
Includes Deleted Scenes and Two Q&As
---
CULVER CITY, Calif. – Directed and written by Chloé Zhao, the critically-acclaimed, film festival darling THE RIDER gallops onto DVD and digital on August 7 from Sony Pictures Home Entertainment. Based on his true story, THE RIDER stars breakout Brady Jandreau as a once rising star of the rodeo circuit warned that his competition days are over after a tragic riding accident. The cast also includes Brady's father Jim Jandreau and his sister
Lilly Jandreau. Named one of the best films of 2018 (so far) by Variety, THE RIDER won the C.I.C.A.E. Award at the Cannes International Film Festival and Grand Prix Award at the Deauville Film Festival in 2017. Additionally, the film received five Independent Spirits Award nominations including Best Picture and Best Director, with Chloé winning the inaugural Bonnie Award.
The film is certified fresh on Rotten Tomatoes with an impressive score of 97% as of 6/11/18 and an 8.4 average score (from over 100 outlets). Even the Professional Bull Riders have fallen under its spell and have qualified it as "a truly human story of cowboy perseverance." Not only is this real story of modern cowboys riveting, but its photography has been noted as "almost unbearably lovely" (Indiewire) and "Spectacular, The Rider marries the majestic vistas with a deeply interior story of a cowboy having to renegotiate his identity, intimate and grand" (The Wrap).
Bonus features on the DVD release of THE RIDER include five deleted scenes, a Q&A featuring Chloé Zhao, Brady Jandreau, cinematographer Joshua James Richards and editor Alex O'Flinn for an in-depth discussion about the filmmaking process, and a Q&A with Brady Jandreau from the South by Southwest Film Festival.
Synopsis:
After a tragic riding accident, young cowboy Brady (Brady Jandreau), once a rising star of the rodeo circuit, is warned that his competition days are over. Back home, Brady finds himself wondering what he has to live for when he can no longer do what gives him a sense of purpose: to ride and compete. In an attempt to regain control of his fate, Brady undertakes a search for new identity and tries to redefine his idea of what it means to be a man in the heartland of America.
Based on Brady Jandreau's real life story, THE RIDER was written and directed by Chloé Zhao. The film was produced by Chloé Zhao, Bert Hamelinck, Sacha Ben Harroche and Mollye Asher; and executive produced by Michael Sagol, Jasper Thomlinson, Yuji Zhao, Dickey Abedon and Daniel Sbrega.
DVD Bonus Materials Include:
Deleted scenes
Q&A with Chloé Zhao, Brady Jandreau, cinematographer Joshua James Richards & editor Alex O'Flinn
SXSW Q&A with Brady Jandreau
 

THE RIDER has a run time of approximately 103 minutes and is rated R for language and drug use.

ABOUT SONY PICTURES HOME ENTERTAINMENT

Sony Pictures Home Entertainment (SPHE) is a Sony Pictures Entertainment (SPE) company. SPE is a subsidiary of Sony Entertainment Inc., which is a subsidiary of Tokyo-based Sony Corporation. SPE's global operations encompass motion picture production, acquisition, and distribution; television production, acquisition, and distribution; television networks; digital content creation and distribution; operation of studio facilities; and development of new entertainment products, services and technologies. SPE's Motion Picture Group includes film labels Columbia Pictures, Screen Gems, TriStar Pictures, Sony Pictures Animation, and Sony Pictures Classics.  For additional information, visit http://www.sonypictures.com.

CONTACTS:

<!-comments-button-->