Twenty-five years ago, a young woman with a passion for horses had a vision. Karen Pickering, publisher and owner of The Northwest Horse Source, started something special—a horse magazine that offers an educational resource to horse people specifically in the Pacific Northwest region.
Karen's vision for The Northwest Horse Source was to connect horse people to events, resources, and products in the northwest corner of Washington State. Over time, the magazine has grown to serve the horse community that ranges from British Columbia to Northern California and east to Idaho and Montana.
Karen's dream while still in high school was to work with horses in some capacity. Necessity and forethought found her working in the corporate world where she discovered her affinity for working on computers while creating company newsletters.
So in December of 1995, along with her friends and family, Karen published the very first Northwest Horse Source as a local newsletter out of her home—originally working weekends and evenings while still maintaining her "real" job. Within three years the publication evolved from a newsletter format into a magazine. Karen was fulfilling her vision.
But it takes more than vision to keep something like The Northwest Horse Source going for two and a half decades. It takes grit, hard work, belief in yourself and others, determination, and a gregarious open heart that can pull in advertisers, writers, and readers alike. It takes someone with the generosity to give people a chance.
Northwest trainers and writers like Mark Bolender and Robert (TrailMeister) Eversole got a big boost having their articles published in this magazine. Writer/editor Catherine Madera and I (someone who'd always been "just a horse trainer") learned the editing ropes and the publishing business while being led by Karen. I will always be grateful to Karen for the opportunity she's given me—for her patience for my many mistakes, and for all I've learned along the way. In the end, Karen Pickering showed us she has as much a passion for people as she does for horses.
Thank you, Karen! You've shown us that dreams can come true and something beautiful can be created when you have a vision and are willing to work for it.
---
From Karen's sister, Sharon Aller
I have always cherished the opportunity I had to work with my sister for a couple of years and watch firsthand as she worked to make a lifetime goal become a reality.
She was a horse-crazy girl for as long as I can remember. If it had four legs and a mane and tail, she wanted to ride it. She went from a rocking horse to her first real pony in her early teen years.
During my time at The Northwest Horse Source, Karen had a very well-established magazine and I worked alongside on the editorial portions. I saw Karen's values lived out on a daily basis, whether it was with employees, advertisers or readers. She enlisted our mom's help for years to proofread the final version before it went to press. Few mistakes passed by our mother. Karen made sure mom was part of the production process even when in her late 80s, though she wasn't quite as sharp. This is just one example of Karen's commitment to people first.
I look back on our time together at The Northwest Horse Source with fond memories and gratitude to be part of her dream.
---
From Publisher Karen Pickering:
When I started the magazine in December 1995, I knew nothing about graphic design and I had no journalism background. But I did have a love for horses and horse people and a dream to create a horse magazine.
In the beginning, my friend and coworker, Barb Willmore, did my editing (at no charge of course). My best friend, Theresa Buck (Crume), wrote many of the articles in the first year or so. My boss, Dick VanderYacht, wrote some great articles and stories. My mom, Esther, helped everywhere she could from in-house editing to filing. Mary Trout, my first graphic designer, gladly put the magazine together for me. Sadly, all these people have passed away, but I will never forget their support and contribution.
Mike French encouraged me from the beginning and gave me the courage to create the magazine. Several writers like David Sauter, DVM (1996) and Alayne Blickle (Horses for Clean Water, 2000), have been with me since the early years. Cherie from the Bony Pony in Mount Vernon has advertised with me since the beginning as has Westlyn Feed in Lynden. Maria Danieli has been advertising every month since 2000 and Whatcom Conservation District started writing on and off since 1996. The Northwest Horse Fair & Expo has been advertising since 2000.
There are many more people who still support the magazine. Allison Trimble-Paparoa has advertised since 2006 and writes for us every month. My sister, Sharon, edited the magazine for years and has always been there whenever I needed help. My current team has been with me for quite a while. I'd be lost without them. Kim is an incredibly gifted writer/editor, Randy is an amazing designer, and Doug my IT/web guy is helping me make the online shift. There are too many to list, but I am eternally grateful.
See this article in the 2020 December online edition:
This article sponsored by:
Genetic Testing Kit (55+ Traits) to Identify Equine DNA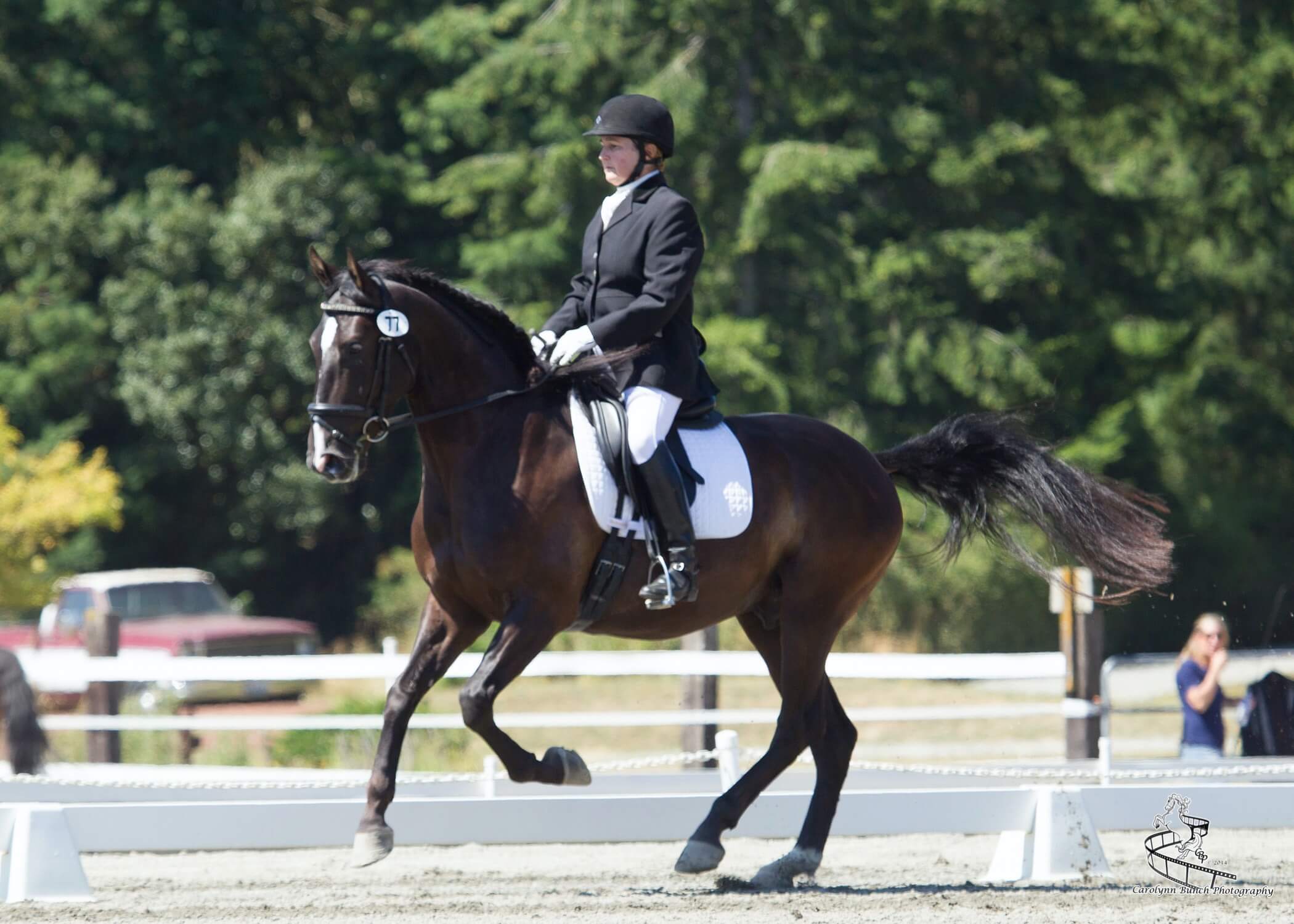 Kim Roe grew up riding on the family ranch and competed in Western rail classes, trail horse, reining, working cow, and hunter/jumper. She trained her first horse for money at 12 years old, starting a pony for a neighbor.
Kim has been a professional dressage instructor in Washington state for over 30 years, training hundreds of horses and students through the levels. In recent years Kim has become involved in Working Equitation and is a small 'r' Working Equitation judge with WE United.
Kim is the editor of the Northwest Horse Source Magazine, and also a writer, photographer, and poet. She owns and manages Blue Gate Farm in Deming, Washington where she continues to be passionate about helping horses and riders in many disciplines.