Bringing Classical Education to the Pacific Northwest
by Jack Kintner and Jackie Braverman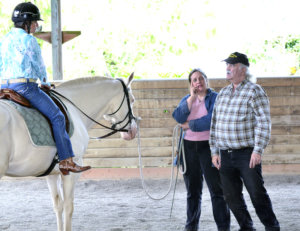 If price were no object, what kind of training would you look for to improve your riding experience? If the answer has anything to do with European traditions as practiced in an arena, you might be surprised to learn that some of the best in classical training available anywhere, including overseas, can be found much closer to home on a 10-acre complex just outside Seattle called the National School of Academic Equitation.
The lofty title has you expecting to meet some spit-and-polish ramrod, but trainer Craig Stevens is more like a friendly guy you might have a beer with after work, a gregarious and chatty native of New York City. His partner, Mary Anne Campbell, is from Portland and is equally appealing—kind, soft, and smiling. Though he may not look the part, Stevens is one of the most sought-after trainers in Europe, someone that legendary Swedish trainer and jumping star Dag Natterqvist said is "the first really good riding teacher to teach dressage in Sweden since the nineteen-fifties."
Stevens has spent much of the past 15 years training overseas and leading clinics in England, France, Sweden, Italy, Portugal and Germany. His students include world class competitors and Olympic medalists.
Locally, Mercer Island rider Diana Kramer, who's been at NSAE for six years, said that because of Stevens she has what she wants, "a horse that's truly light on the hand, light on the leg and, above all, trustworthy."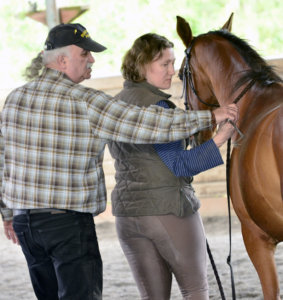 Campbell explained their approach as "matriarchal, based on cooperation, not coercion, ideas that originated around the shores of the Mediterranean Sea [that] made their way through equitation to become high school – haute ecole – dressage. [It's] not [about] what to 'do' with our horses, but an exploration of how we can better 'be' with our horses."
This is why, she said, that their method applies to everything, "regardless of the discipline we follow in training. Mediterranean work is the heart of the aids and the aids are an expression of tact, of timing, and of harmony."
This resembles natural horsemanship, but goes much farther than that in emphasizing its ancient historical roots.
"The Mediterranean work teaches a student the habit and science of slow, mindful, habitual, listening gentleness such that the horse is brought willingly and calmly to its highest level," said Campbell.
"Riding at its best is an art practiced for its own sake. It's not about winning something," Stevens said, "because who cares what a judge thinks? Success is not in winning a trophy, but in pursuing the best kind of rapport between horse and rider, and the ultimate judges of that are you and your horse."
That said, his students have typically excelled in competition, the horse and rider doing things together because they're comfortable, not forced or fear-induced.
"Why does a horse move forward?" Stevens asked. "Because he wants to. Other methods will work, of course, but nothing else works as well as this in producing the result you want from a horse that remains calm and willing."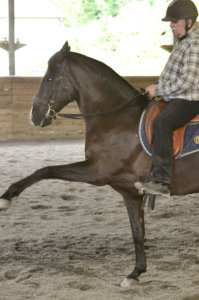 This leads to a lightness he called 'wonderfully addictive' for the rider. Stevens said that one's touch can be lightest when it mimics what happens to the rider when the horse does a given movement. He then demonstrates by showing what happens to the muscles in your legs when, for example, the horse does a turn on the haunches as you sit there, legs dangling out of the stirrups, while Stevens gives the cue. Sure enough, when the horse moves it causes your own outside leg to tighten just a little, while your inside leg comes away from its side. When the rider does it first, the horse will turn because it's easier and more comfortable than not turning. And like dancing, the touch only needs to suggest the movement, not force it.
"In this, as in virtually every instance, the rider's movements come from and are therefore synchronized with those of the horse," he said, making it all very light because it's making what the horse naturally wants to do a little easier and more comfortable."
Upcoming NSAE events:
September 8: A day about the Mediterranean Ideas: the basis for Latin Classical Work.
September 14-16: Clinic near Denver, CO
September 29-30: The Work in Hand
November 10 – 11: Old World Horsemanship: the Mediterranean Method
December 8 – 9: The Work in Hand
For more information go to www.classical-equitation.com
Published August 2012 Issue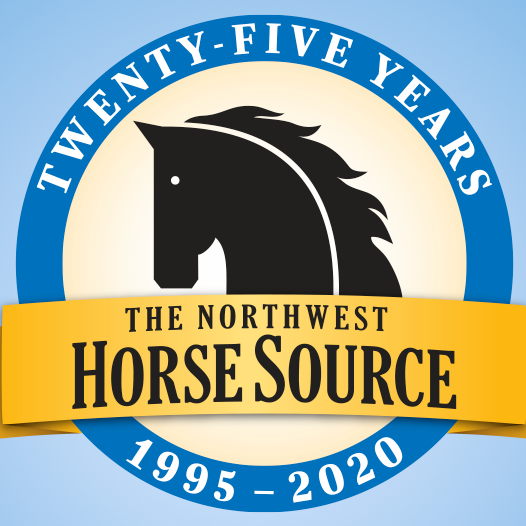 The Northwest Horse Source is an independently owned and operated print and online magazine for horse owners and enthusiasts of all breeds and disciplines in the Pacific Northwest. Our contemporary editorial columns are predominantly written by experts in the region, covering the care, training, keeping and enjoyment of horses, with an eye to the specific concerns in our region.