The Havasu Horse Project: Where Compassion is a Natural Wonder
by Catherine Madera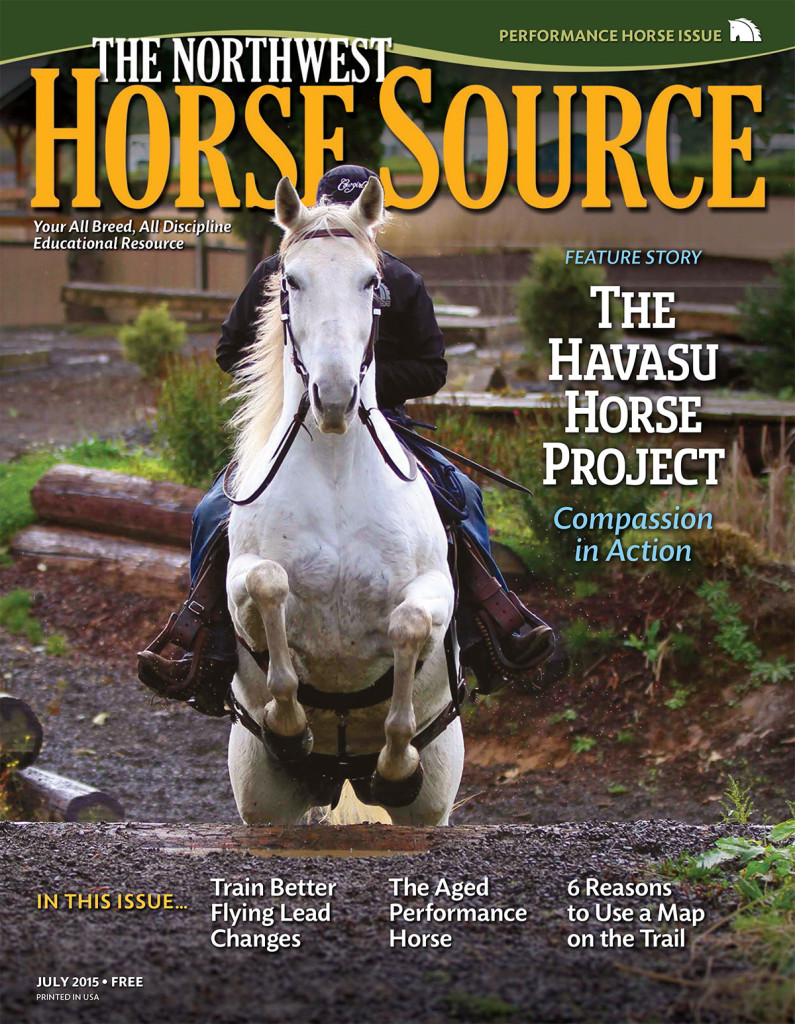 When Shea Carpenter first visited the southwest corner of the Grand Canyon she came for the awe inspiring beauty: stunning waterfalls of Caribbean blue set against sheer, red canyon walls jutting into the Arizona sky. What she also found—unspeakable suffering—changed her life forever and birthed a mission, the Havasu Horse Project (HHP).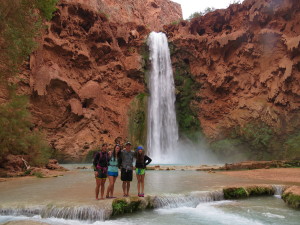 Each year thousands of tourists flock to a remotely accessed area of the Grand Canyon, hiking 10 miles in to view spectacular Havasu and Mooney Falls, onto lands owned by the Havasupai Indian Tribe.
"It (Havasu Creek and falls) is a natural wonder of the world," says Carpenter of the region. "You just can't believe it exists in that canyon."
Known as the "people of the blue green water," the tribe's only real source of income is from providing services to visitors. These include campsites, rooms to rent at the tribal lodge and horses to ride and/or pack equipment in and out of the canyon. The story for Carpenter began as day dawned on her first visit to celebrate daughter Bailey's 16th birthday. With only the moon for light, she vividly remembers hearing the hoof beats of approaching horses. A longtime horsewoman, Carpenter immediately reached out to one of the horses as it passed by, recoiling in horror when her fingers brushed a gaping, oozing saddle sore at the animal's withers. The horse never stopped or acknowledged her.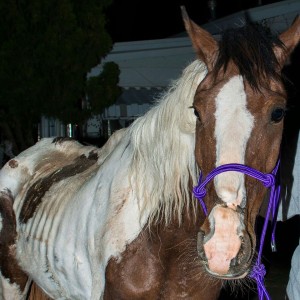 As sunlight illuminated the desert, the reality of the condition of the resident horses came sharply into focus. While hiking, Shea and her family encountered a lone paint gelding, standing by the trail. Emaciated, and covered in cactus spines and saddle sores, it had a grossly disfigured nose from an ingrown halter.  With daughter Ella helping, Carpenter worked to remove the halter and imbedded cactus spines and fed the horse apples from their backpacks.

"It was so hard to walk away," remembers Carpenter, "the whole thing put a heavy, dark cloud over me for the rest of the trip."
Before she left for the beauty of Havasu Falls, Carpenter made a promise to the paint horse that she would be back. In April of this year she made good on that promise, returning with a group that included daughter Bailey, farrier Dave Richey and veterinarian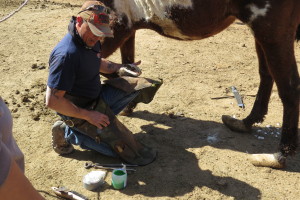 Jen Johnson. They joined AZ based Wild Horse Ranch Rescue (WHRR) to care for the tribe's neglected animals and provide education for the people. The working horses endure an extremely difficult life. Most get minimal food and water yet are expected to run a 20 mile round trip course over rocky terrain, loaded with 135# of gear, in extreme heat. Some do the trip twice a day. Overwhelmingly the horses are in emaciated condition and suffer from infected, bleeding saddle sores and grotesquely overgrown hooves.

Though in every situation there is apathy, the story of the Havasupai Indian tribe runs as deep as the canyon itself and is filled with its own share of sorrow. Poverty plays a larger role than lack of compassion, in most cases, and ignorance on how to provide proper health care is a problem as well. Due to numerous complaints from tourists, the Supai have recognized the problem of animal neglect and are seeking ways to remedy the situation. They have reached out to HHP and WHRR for help and these groups appreciate the Supai welcoming them into their unique culture and personal lives.

Interested in helping and/or learning more? The Havasu Horse Project can be found on Facebook. HHP is raising funds for a return trip in October to provide farrier and health care workshops for the Havasupai tribe. They will bring de-wormers, vaccines and other basic supplies as well. Purchase a t-shirt, tank top or hoodie—all proceeds to benefit the trip. Donations by check can be sent to: Havasu Horse Project, 458 E. Laurel Rd. Bellingham, WA 98226. For a fascinating look at tribal life watch this video: http://www.cbsnews.com/news/special-delivery-mail-by-mule/

<!-comments-button-->