Celebrating Equine Community in The Last Frontier
by Catherine Madera
The state of Alaska is easily described in superlatives: It is the largest state in the nation—twice the size of Texas, contains the highest mountain peak (Mt. McKinley), and has the largest national forest (Tongass), and that's just for starters. Though the state boasts spectacular natural wonders, it also has the lowest population density in the nation. Those that call Alaska home—and love it—are a tough, independent, and passionate group. This extends to everything, including equestrian lifestyle.
In The Last Frontier, horse ownership is not an undertaking for the faint of heart. With only around 700,000 people state-wide, it is hard to say how many horses call Alaska home, but rugged terrain, extreme weather, and remote location make their care a hardship. This hardship is, nonetheless, embraced by Alaskan horsemen and women and breeds an uncommon level of dedication and spirit. 
Northwest cow horse trainer and Alaska native, Allison Trimble, knows first-hand both the splendor and difficulties of growing up a "horse girl" in the Land of the Midnight Sun.
"It's not an area that draws many equine professionals. It's especially challenging to make a living so getting instruction or education is very difficult," says Trimble. "Most Alaskan horsemen are pretty much self-taught."
Trimble grew up on horseback, fondly remembering pack trips into the wilderness beginning at the age of five and summers attending horse camp at Kenai Peninsula Fair, one of the few equine events she enjoyed yearly in a state where horses are sometimes ferried to shows and competitions. 
"Due to the hardship and cost, horse owners are probably more committed, as a whole, than those in the lower 48 states," says Trimble. "We had no arena to practice in; we had to navigate a cliff just to get to the beach to practice barrels!"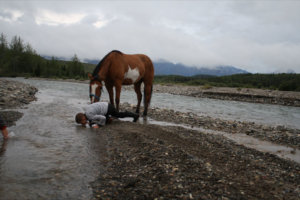 After getting an animal science degree from Cal Poly and growing her training business in the Pacific Northwest, Trimble found her thoughts returning to her home state as well as a growing desire to give back to the equine community where she got her start.
"I have always been passionate about figuring out a way to bring more horsemanship and education back to Alaska."
From June 22-24 Trimble will join an impressive group of equine professionals dedicated to doing just that for the state's first horse expo, to be held on the Kenai Peninsula. For three days the expo will provide a learning opportunity for a special group of equestrians as well as celebrate a unique lifestyle in a place like no other.
The Great Alaska Horse Expo will feature clinicians Allison Trimble, Kade Mills, Raye Lochert, Kimberly Barber, Barry Cox, and Mark Plumlee from Mission Farrier School for farrier science and saddle fit. Topics include The Problem Horse, Western Dressage, Colt Starting, Conquering Obstacles, and Ranch Sorting (with Allison Trimble). The expo will have vendors and shopping and is planned to best accommodate attendees—many coming from a distance—by staggering the clinics so spectators/participants can enjoy them all. Nothing will run concurrently.
For many the highlight of the weekend will be the Great Alaska Cowboy Race, an event arranged to showcase the talents of the Alaska horseman. Competitors will race against the clock through a series of obstacles that are found in Alaska. It will be hosted by Alaska's own Atz Kilcher—homesteader, artist, musician, and father of popular singer Jewel—and judged by GAHE clinicians. Participants will be competing for prizes as well as the title of "The Great Alaska Cowboy" There will be a BBQ, campfire, singing, story-telling and cowboy poetry, led by Atz, following the race on Saturday evening. 
"Extreme Cowboy Racing' is what all Alaskans have to do just to get to the arena!" says Trimble. "There is no 'trail riding' in Alaska, it's pretty much all outdoor riding."
This first expo has a two-fold goal: bringing a horsemanship opportunity to Alaskan horse owners and the celebration of a hardy and spirited group of equestrians.
"Would I trade living and owning my horse in another state where the winters aren't so long and cold? Ask me when I'm enjoying a glorious day of long Alaskan daylight while riding with friends along a glacier fed river," says Alaska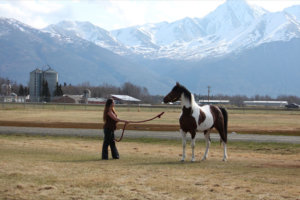 horse owner Karen Erickson. "No way!"
Spoken like an extra tough Alaska cowgirl.
For more information on attending, volunteering, or participating in The Great Alaska Horse Expo visit: www.greatalaskahorseexpo.com.
Published June 2012 Issue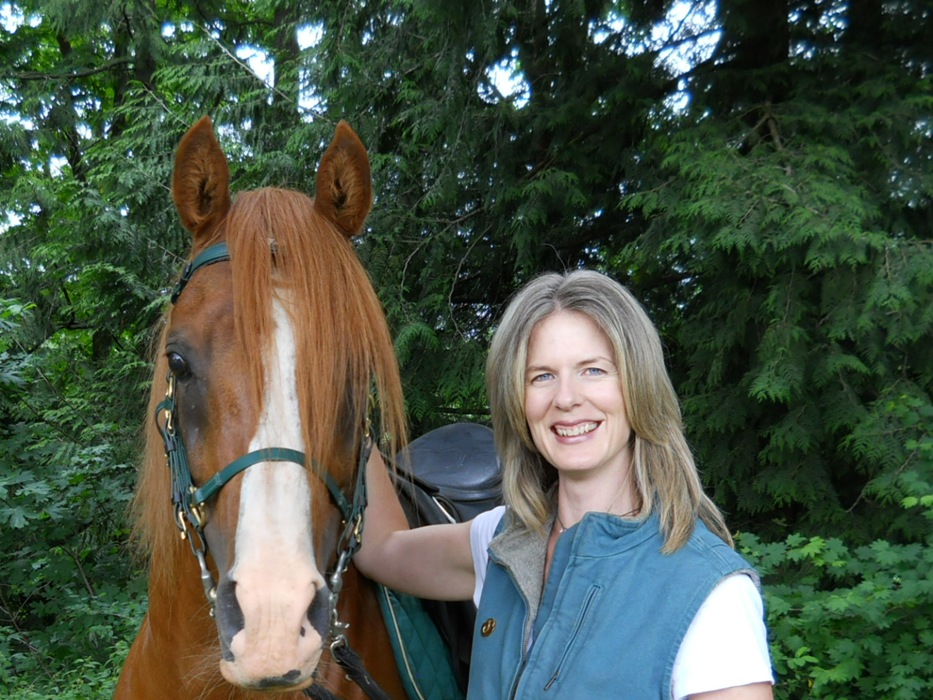 Catherine Madera served as editor of the Northwest Horse Source for five years. She has written for numerous regional and national publications and is a contributing writer for Guideposts Magazine and the author of four equine-related books. She has two grown children and lives with her husband and three horses in Northwest Washington.