It may be on your bucket list. If it isn't, it should be.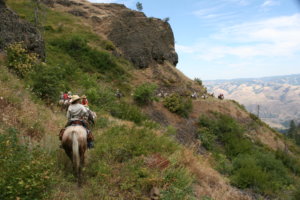 The Chief Joseph Trail Ride is one of the longest-running historic rides in the United States, having been hosted by the Appaloosa Horse Club (ApHC) since 1965. It retraces the route taken by Chief Joseph and his people as they fled capture by the U.S. Cavalry during the Conflict of 1877. A progressive ride, it covers an average of one hundred miles each year, with the next year's ride beginning close to where the previous one concluded. This process continues annually, requiring a total of thirteen years to complete the entire journey from Joseph, Oregon to the Bear Paw battlefield in Montana.
It would be a disservice to declare that the Chief Joseph is merely a trail ride. While it does provide access to scenic and mountainous riding adventures, it's also accompanied by historical presentations, cultural experiences and social gatherings. The Chief Joseph brings out the best in its participants, teaches them true grit, and touches their hearts.
Attempts to describe the riding experiences on the Chief Joseph are difficult, as the scenery and terrain encountered will vary from year to year and the conditions are dependent upon location and influenced by weather extremes. The ride that occurs along the Continental Divide will be accompanied by awe-inspiring views and technical mountainous challenges, while the ride through Yellowstone, no less scenic, wouldn't be complete without obstacles of resting bison and boggy marshes. High temperatures or persistent thunderstorms will add their own complications.
Each year takes on a personality of its own and leaves those dedicated to the ride craving more. This year's ride is the fourth leg in the cycle and will take place on the wooded trails of the Lolo National Forest. Riders can expect lengthy ascents and descents to access viewpoints and historically significant locations such as Indian Post Office.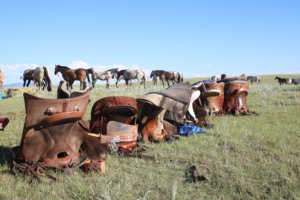 Regardless of ride location any given year, participants are promised an approximate 100-mile ride over the period of five days. A steady 3 to 3 ½ mile-per-hour pace is set to accommodate all levels of horsemanship and riders should be prepared to be astride from as little as 11 and up to 32 miles in a day. The support provided on the trail is second to none. In addition to a scouting team well-versed in backcountry riding, the ApHC also supplies a physician, a nurse, a veterinarian, and a farrier. Satellite phones maintain a lifeline with the camp and nearby hospitals so emergency services can be obtained for horse or human, if needed.
After a long day of riding, participants need not worry about preparing meals. The Chief Joseph Trail Ride is fully catered. Hot breakfasts are served every morning, sack lunches are assembled for the trail and dinner is provided every evening. Tired, hungry riders have found themselves enjoying salmon with mango salsa, Thai curry with egg rolls, and Indian fry bread tacos.
The ApHC also makes a great effort to provide evening entertainment at dinnertime. History experts are invited to give presentations on the Nez Perce war, offer colorful stories of local families in the region, and communicate their own personal tales as they relate to the Conflict of 1877.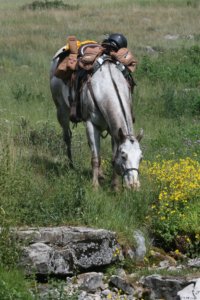 The Nez Perce in attendance invite participants to experience their culture and observe ceremonies where their children and horses are dressed in full, beaded regalia. They share heartbreaking and heartwarming stories that have been passed down through their generations and provide a more personal approach to history than can be learned in a book. In addition to the evening speakers and activities, a portable, raised plywood stage is available and heavily used for dancing to music supplied by a DJ/musician.
Whether you're looking for an epic trail ride, a cultural experience or a new friendship, the Chief Joseph Trail Ride won't disappoint. This year's ride will be held August 2 – 8, 2020. Further ride information, as well as details on registration and costs, can be found on the ApHC website at www.appaloosa.com/trail/ChiefJoseph/htm. The Facebook page "Chief Joseph Trail Riders" (or www.facebook.com/groups/156251690240), is an excellent resource for networking, communication and mentorship. As always, calls can be directed to the trail coordinator at the ApHC office at 208-882-5578, extension 264.
View the full May 2020 edition here.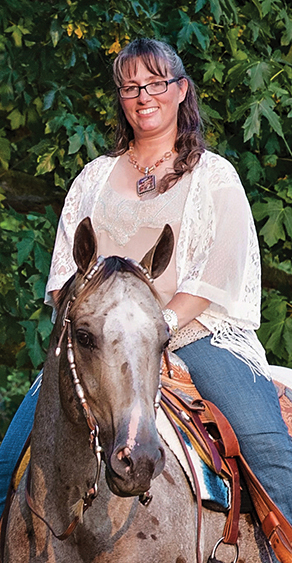 Kristen Reiter is a national Director for the Appaloosa Horse Club and a 16-year veteran of the Chief Joseph Trail Ride. She has been a regular contributor to the Appaloosa Journal for over 13 years and has had multiple images grace its cover. In addition to the Appaloosa Journal, her photography can be found in Horse and Rider magazine and several books on the Appaloosa horse. While Kristen enjoys being creative, her true calling is that of a veterinarian, practicing small animal medicine at Useless Bay Animal Clinic in Freeland, Washington.