Serving Northwest Equestrians for 27 Years
By Kim Roe
In the late 1980s Cherie Geerdes was working as an accountant in Seattle. Recently married to farrier Jack Sims, she'd made him a promise that she'd move back to the Skagit Valley soon. While searching for a tack store in the area, Geerdes found there weren't any in this part of Washington State. Realizing a need, the business-savvy Geerdes put a plan together and gave us The Bony Pony. The doors opened in 1991 and the store has been a go-to destination for horse people ever since.
Located in Mount Vernon, The Bony Pony provides everything we need: show and barn apparel, tack and horse-care items, and unique gifts. There's stuff for non-horse people too. They carry a huge selection of shoes, boots and stylish clothing that will be enjoyed by people who've never thrown a leg over a horse.
Cherie Geerdes is a life-long horsewoman. She grew up riding horses on San Juan Island in Washington State where she rode performance horses in both English and Western tack. Geerdes and her family still own horses today. Jack Sims passed away in 2007 and Geerdes is now married to Michael Geerdes. Son Devon Whitney is an avid rider and is featured on our cover this month.
Both Western and English
The Bony Pony is a unique tack store in that it offers equestrians both Western and English tack and apparel. There really is something for everyone in this store. The place is packed to the gills, and if they don't have what you need they'll get it.
When I asked what their best seller is Geerdes responded, "Really, there isn't just one thing. It depends on the time of year. We sell a lot of blankets in the fall and winter, show clothes and tack in the spring and summer, and boots are popular all year around."
And of course, during the holiday season they sell a lot of gifts. They carry everything from jewelry to slippers, and whatever you need for your horse-friends (both the four-legged and two-legged ones) can be found there. They also provide custom saddle fitting and western felt hat cleaning & shaping.
Joys (and Some Sorrows) of the Business
Geerdes is proud of the service she and her staff provide to horse people in the area. They spend lots of time helping people find that perfect thing, and they have tons of experience and knowledge to share.
She loves new horse owners who come into the store and ask, "Where do we start?" Geerdes enjoys the satisfaction of helping a person find something, the right boots for instance, and see them go away happy with their purchase. "I feel like a coach on the sidelines when I hear about their success with their horse. It makes me really happy to know we had a part in that."
On the downside is the reality that many independent tack stores are struggling these days. People come in to browse, ask questions, and get advice, then purchase the item from some other online retailer. These people forget that the service they received is worth something. We horse owners all need these independent tack stores. They are a hub of information and service that we will never get from large internet companies.
Geerdes is a fixture in this community. She knows many of the local trainers, knows their tastes, and can help guide their clients to the right product by knowing who they lesson with. This goes above and beyond in the realm of service!
The Bony Pony continues to be an emblem of the perfect all-around tack store in the Pacific Northwest by providing information, offering great products, and most importantly good old-fashioned friendly service.
You can visit The Bony Pony in person at 2415 Old Highway 99 South Road, Mt. Vernon, Washington. Learn more, order items, or browse at www.bonypony.com. Call 1-888-317-7513 or 360-424-3500.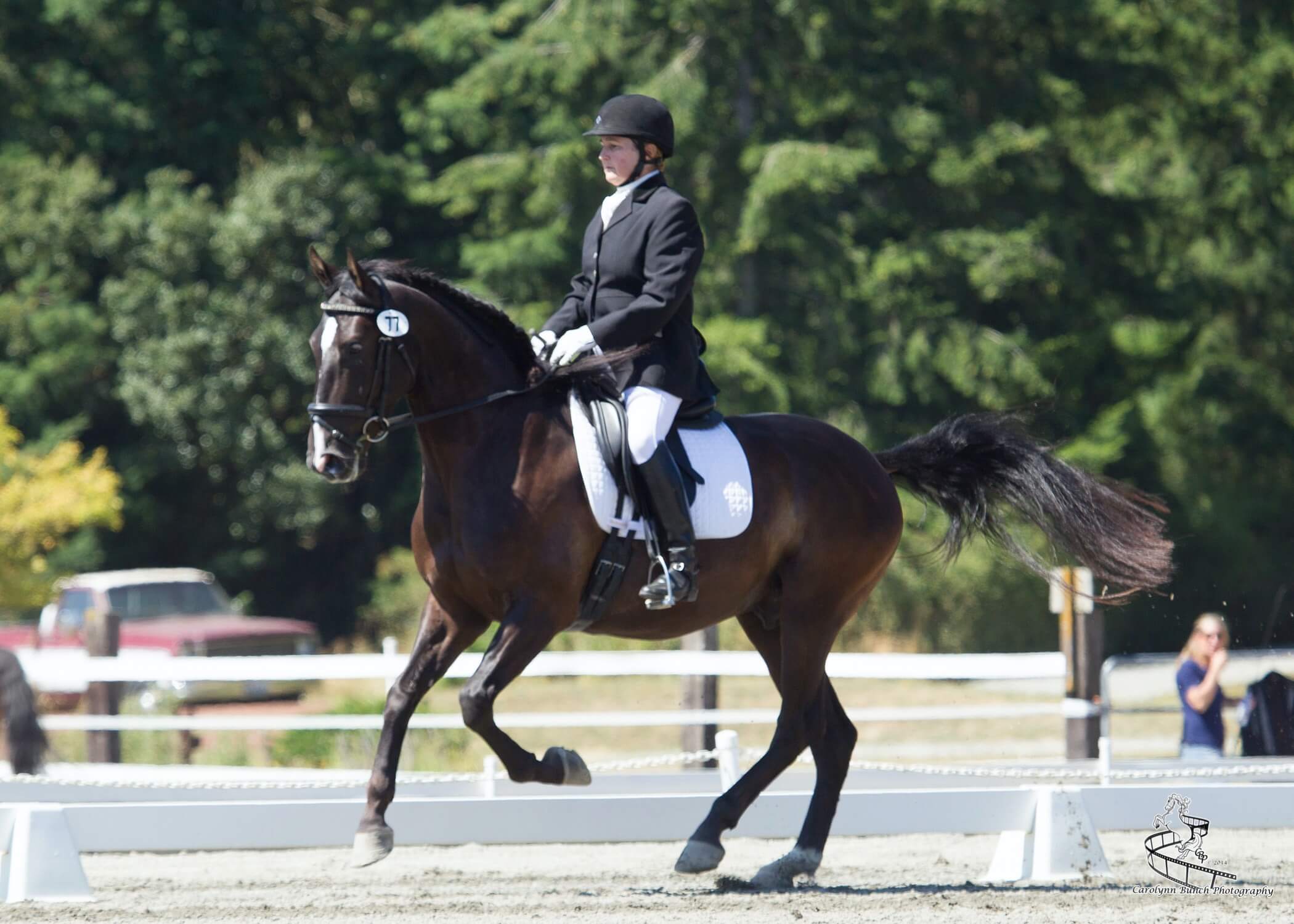 Kim Roe grew up riding on the family ranch and competed in Western rail classes, trail horse, reining, working cow, and hunter/jumper. She trained her first horse for money at 12 years old, starting a pony for a neighbor.
Kim has been a professional dressage instructor in Washington state for over 30 years, training hundreds of horses and students through the levels. In recent years Kim has become involved in Working Equitation and is a small 'r' Working Equitation judge with WE United.
Kim is the editor of the Northwest Horse Source Magazine, and also a writer, photographer, and poet. She owns and manages Blue Gate Farm in Deming, Washington where she continues to be passionate about helping horses and riders in many disciplines.