Coordinated Effort Creates
Greenline Climbing Trail
By Dick Booth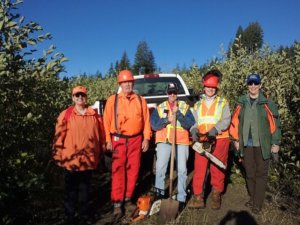 Scatter Creek Chapter recently celebrated the completion of a new trail in Capitol State Forest. The Forest is located approximately 15 miles Southwest of Olympia, WA. Capitol Forest is comprised of 110,000 acres and is administered by the Department of Natural Resources (DNR) Black Hills District. Named the Greenline Climbing Trail, it was constructed to resolve a safety issue between mountain bike riders and horseback riders. This bypass trail is located above the Fall Creek Horse Camp and Trailhead.
Picture horseback riders slowly plodding up a steep, slick, and narrow trail and encountering rapidly descending mountain bike riders. This section of the trail was dangerous, and many horseback riders avoided the Greenline Trail because of this issue. This was unfortunate, as the trail provides access to scenic and popular trails above the Fall Creek area. In response to this issue, a new trail was proposed which would allow horseback riders to bypass the steep section of the old trail.
To take the proposed trail from a plan to reality required a coordinated effort between the DNR and the non-motorized user groups. This included hikers, runners, horseback riders, and mountain bike riders.
Phil Wolff, the Black Hills District Manager, determined the scope of the project and required that the trail be constructed to United States Forest Service (USFS) standards. The equine user group was represented by Scatter Creek Chapter BCH member Joan Fleming. Phil Wolff says of Joan, "She is an amazing person, a tireless advocate for the equestrian community."
Indeed, Joan took the lead to organize and schedule 15 work parties and coordinated volunteers from BCH Chapters, Scatter Creek, Capitol Riders, and Oakland Bay. Other equine groups involved in the project were the Southwest Washington Appaloosa Club, the Washington Association of Competitive Mounted Orienteering and The Stockman's Coalition.
The mountain biking user group was represented by members of the Friends of Capitol Forest. Also contributing to the construction of the trail were several youth groups, including the Washington Conservation Corps and Northwest Youth Group. Joan appreciated the kudos but points out that without the volunteers who turned out for all these work parties, the trail would not have been built.
Construction on the new trail started in May 2017. One of the obstacles the trail builders faced was that while many volunteers had experience maintaining trails, few had the necessary skills to site and build the trail to USFS standards. Volunteers would flag a route through sections of the forest, and then the DNR would approve or change the trail route accordingly.
Parts of the trail required builders to crawl through tangles of thick brush and work over and under fallen timbers and logging slash. The DNR provided heavy equipment when required, which was operated by forest technician Ben Holcomb.
The trail is constructed to be sustainable as it traverses up the hill. The trail is one-way for mountain bikers as they are allowed to ascend the new trail only, hence the name Greenline Climbing Trail. Bike riders are required to descend the old trail section.
As our State Forests become increasingly crowded by people looking for recreational experience, it's up to the user groups to work together with managing officials to mitigate conflicts. The DNR provides a means to accomplish this by holding user group meetings for Capitol Forest and special conflict resolution meetings as required.
Looking forward, the DNR is proposing to build another shared use trail in Capitol Forest near Mima Falls Trailhead to enable additional loop opportunities. Phil has applied to the Recreation and Conservation Office (RCO) for grant funding for this new trail. If you would like more information on how you may assist with supporting RCO Grants, contact Phil Wolff at phil.wolff@dnr.wa.gov.
The new trail was completed in September 2018 and is about 2 miles long. Joan expects to see an increased horseback rider use of the Greenline Trail and the trails it accesses.
While the trail section is relatively short, it is an important step forward, making the trail safer for all concerned. It illustrates what can be accomplished by caring people who seek solutions to resolve issues between different recreational user groups.
Upcoming BCHW Activities and Events
October 26 18th

Annual Winery Ride & Costume Prize Ride in Zillah, WA
More events are listed at http://bchw.org/lnt/main/upcoming_events.htm
Back Country Horsemen of Washington is dedicated to keeping trails open for all users, educating stock users in Leave-No-Trace practices, and providing volunteer service to resource agencies. To learn more about BCHW go to www.bchw.org Keep up with BCHW and issues and events we are following on our state Facebook page www.facebook.com/public.bchw
Back Country Horsemen of Washington (BCHW), is a 501 (c) (3) organization with 32 chapters across the state dedicated to: keeping trails open for all users; educating horse users in Leave-No-Trace practices; and providing volunteer service to resource agencies.