Introducing Horses and Riders to Mounted Shooting
Cowboy mounted shooting is a sport that is beginner friendly. There are a lot of opinions on how to introduce horses to gunfire, but at our barn we like starting them with cap guns. This begins first on the ground, then progresses to on horseback at a walk and trot. Using cap guns, we are able to shoot indoors and gradually introduce horses to more and more noise while also teaching new competitors about gun safety and how to ride patterns.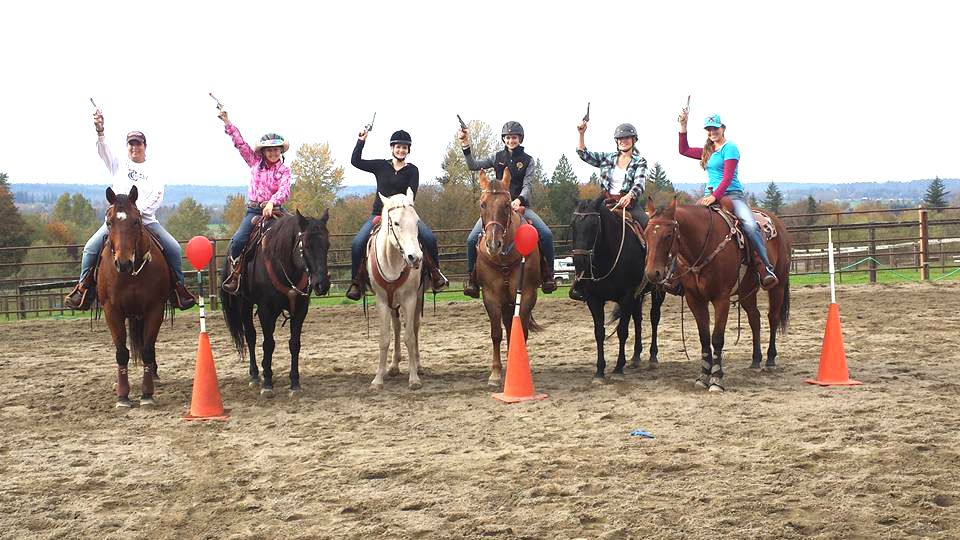 Shoots in the Pacific Northwest start in May with the 2nd annual Pendleton Roundup Shoot May 6-8. This is followed by the Washington State Championships in Cashmere, WA May 13-15; the Western Washington Mounted Shooters Sharp Shooter #1 in Sedro Woolley May 21-22; and the Oregon State Championships in Terrebonne, OR May 27-29th. If you would like to watch some of the fun visit www.cmsaevents.com for videos and a club near you. If you want to follow mounted shooting live visit www.zocproductions.com for a live feed of major CMSA events.
Stay tuned to our public Facebook Page: WESTERN WASHINGTON MOUNTED SHOOTERS (all CAPS). 
Club Website: www.WesternWashingtonMountedShooters.com, or
Or call or email Karen Plumlee, Secretary, WWMS, 425 985-8321 or missionfarrierschool@hotmail.com for more information
WWMS members vary from kids to adults, and from the recreational shooter to the serious National and World competitor, so there's a spot for everyone. We are a friendly group, and enjoy introducing the sport to others. Please feel free to contact us at any time, and come join the addiction that is Cowboy Mounted Shooting!!! www.WesternWashingtonMountedShooters.com