Washington State Woman Ranks Nationally in Cutting
How long have you been riding?
I started riding when I was about 8 years old, so about 27 years. I rode horses so I could move cattle and later got my own horse. I did some barrel racing while attending college.
Tell us about your horse.
Lefty is a 2010 gelding, Cats Merada x Miss Freckles Mate. He's a finished cutting horse. He originally came from the 3-year-old sale in Fort Worth, Texas and was shown as a 4-year-old in the Northwest by Tim Johnson and was owned by George Talkington. Lefty was the 2014 Washington Cutting Horse Association (WCHA) Open Derby Champion and the 2014 British Columbia Cutting Horse Association Open Derby Champion. He had just over $11,000 in lifetime earnings when I purchased him.
Do you have a trainer?
Nina Lundgren is my trainer. She owns and operates, Bonina Ranch with her husband Bob Lundgren in Eltopia, Washington.
What does it take to get to this level of competition?
I learned about the sport of cutting when I entered Bonina's Never Rode a Cutter class in 2015. I started showing in the spring of 2016.
The key to competing and doing well is finding a great horse that you get along with in the show pen. I purchased Southpaw Merada, aka Lefty, from George Talkington in July 2016. In 2017, I set a personal goal to make it to the NCHA Mercuria World Finals in Fort Worth which meant I was going to have to travel outside our local shows. Prior to each show I send Lefty to Nina for a 1 week tune-up. Between showing and working full-time I was only able to get about four practice sessions in with my trainer the entire season.
I attended mini-clinics with Kenny Platt and Matt Budge at the Bonina Ranch and learned on the go. Each run was a new experience and I took away one or two things each time to work on for my next run. I asked other trainers for advice and attended a Las Vegas cutting show where I watched some amazing horses. I grew up playing sports and coaching so I'm able to learn new skills quickly.
Making it into the Top 15 entails hauling to as many shows as possible which is more difficult for riders in the Northwest as we have fewer show opportunities. I am blessed to have a horse that doesn't take a lot of constant training and has stayed healthy for me throughout the entire season.
What's your day job and how do you make time for your horse?
I work for Douglas County PUD in East Wenatchee, Washington, Monday through Friday from 8:00 to 5:00. Lefty usually gets the week after a show off, before he goes back to Nina's for his tune-up. There were many times between shows that Lefty stayed at the trainers because the shows were back to back.
Tessa's and Lefty's accomplishments for 2017:
Cascade Cow Cutters $2,000 LR (Limited Rider Division) Champion
Cascade Cow Cutters $2,000 LR Series 1 & 2 Champion ($1,000 prize money)
Washington Cutting Horse Association $2,000 LR Champion
Oregon Cutting Horse Association $2,000 LR Champion
Montana Cutting Horse Association $2,000 LR 5th Place
Northwest Regional Series $2,000 LR Champion ($1,000 prize money)
Area 1 $2,000 LR Champion (includes Oregon, Washington, Idaho, & North Alaska)
11th in the World for $2,000 LR (NCHA Mercuria World Finals)
Tessa was in Texas competing Lefty at the NCHA Mercuria World Finals in Fort Worth, Texas, when this article was written.
Originally Published January 2018 Issue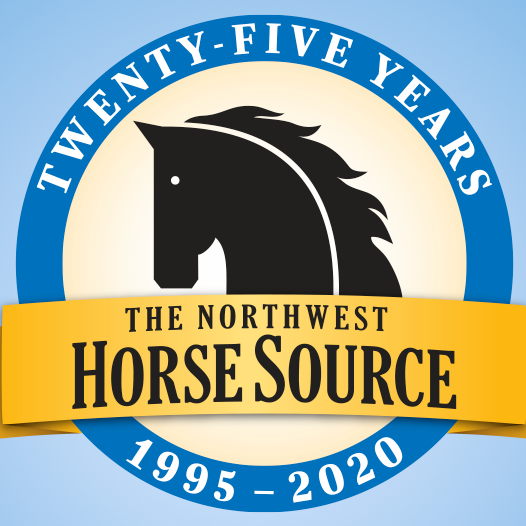 The Northwest Horse Source is an independently owned and operated print and online magazine for horse owners and enthusiasts of all breeds and disciplines in the Pacific Northwest. Our contemporary editorial columns are predominantly written by experts in the region, covering the care, training, keeping and enjoyment of horses, with an eye to the specific concerns in our region.