Northwest cowhorse competitor shares favorite pieces of tack for competition
Photos and article by Karen Pickering
Tack won't make a trainer anymore than clothing defines a man, but quality gear does make a difference. At the NWRCHA Show, April 14-17 in Lynden, WA, I had the opportunity to see many talented horses and get the inside scoop on a variety of tack items favored in cowhorse competition.
Northwest Reined Cowhorse Club president Dave Diehl and his wife Linda are veteran competitors who stay busy nearly every weekend during show season. Linda spent a few minutes explaining the different bits and bridles making a difference for their horses.
Prior to a rundown on tack, Linda shared some of her journey to the cowhorse industry. Besides 4-H and some showing as a youth, she was intrigued by cowhorse competition and grew up watching talent such as Steve Metcalf, Bruce Gilcrest, LaRae Fletcher-Powell, Dean McCann and felloe non-pro competitor Terry Christianson. She once commented, "When I grow up one day, this is what I want to do."
That One Day was a long time in coming. For nearly fifteen years horses didn't factor much into Linda's life. Then she married Dave in 1994. Through a friend of Dave's, team penner Roger Braa, the Diehls were re-introduced to the cowhorse world. Then Linda fell in love with one of Braa's horses—"Flashinic." She purchased the talented gelding and began showing in 2001. Aptly named, Flash drew a crowd when he worked a cow and won over $80,000 in Lifetime earnings between riders Linda Diehl, Debbi Sangunetti, and Roger Braa. A seasoned competitor, the horse proved to be a wonderful teacher. He's now retired and minding futurity prospects at Square Diehl Ranch.
The Diehls ride often—as much as 6 times per week—and Linda stressed the importance of keeping their horses fit for showing. Besides working full time, they keep busy managing a small breeding operation and attending shows.
Pictured are a few pieces from the Diehl's collection of show gear: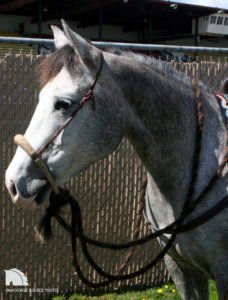 Sheza Hallion wearing a Bill Black 5/8 hackamore and hanger. A favorite, it was won at the NWRCHA Futurity and has lots of life- mecate is of the highest quality and never gets stiff.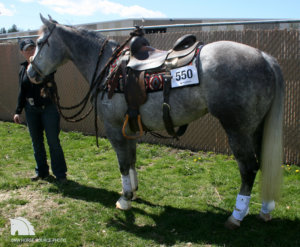 Sheza Hallion under a Roo Hide cutter and Yucca Flats Pad; saddle is old worn-out and perfect. Yucca flat pads are hands down the top choice in fancy show pads.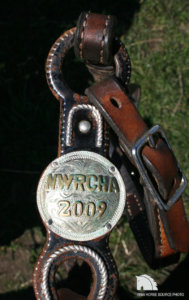 This is a Franco Silversmiths Bit, kind of like the old snake side shanks with a modified "A' port, double crickets, and NWRCHA year end award conchos. A nice looking favorite horses seem to like.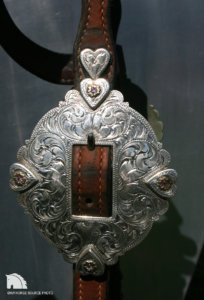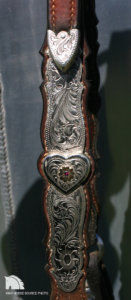 This is a Broken Horn one ear headstall circa 1984. Old school and very popular with the ladies.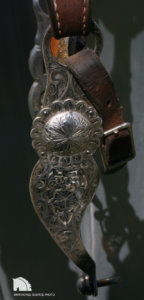 Fleming marked "Santa Paula" bit with San Joaquin mouth piece. This bit is sterling with lots of filigree. It has a copper hood on the port. This is my favorite of our collection.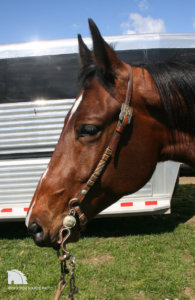 Chic Zan Nic wearing custom 1 ear head stall by Steve Guitrone with custom  brand conchos by Kim Kelly silversmith and the Franco NWRCHA year end bit.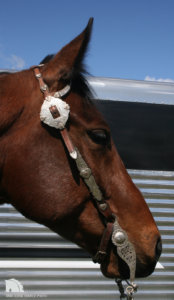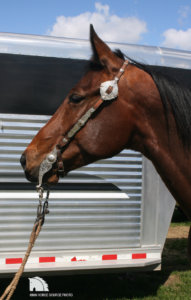 Chic Zan Nic wearing the Broken Horn 1 ear headstall and Flemming Santa Paula bit. Very Fancy.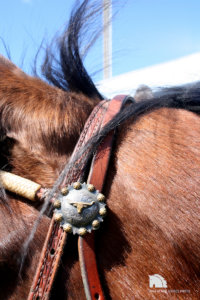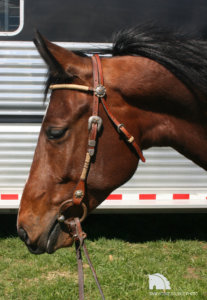 Chic Zan Nic wearing Martin head stall with braided rawhide brow band, long horn conchos and Avila smooth snaffle—our luckiest rig. This is pretty, functional and has collected quite a few futurity checks. (Flashinic won this 2nd year showing him. Marked a 75 down the fence).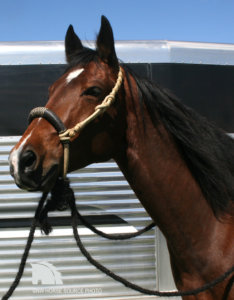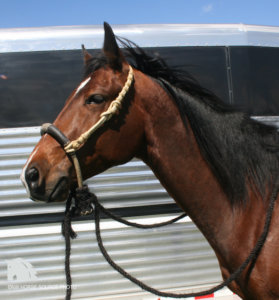 Chic Zan Nic wearing a Guitrone 5/8 show hackamore and braided rawhide hanger. Very attractive " jaquima" rig.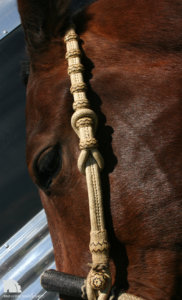 Museum quality braided rawhide hackamore hanger. This hangar was braided in Steve Guitrone's shop by a braider in his mid-eighties. I have seen no others like it. It is 26 or better plait and feels like a snake. Each rawhide strand is 1/16 of an inch or smaller. It's absolutely beautiful and fully functional. This is my favorite piece of tack.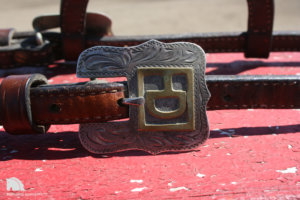 Custom head stall buckle by Kim Kelly silversmith, includes brand on fine silver.
Published June 2011 Issue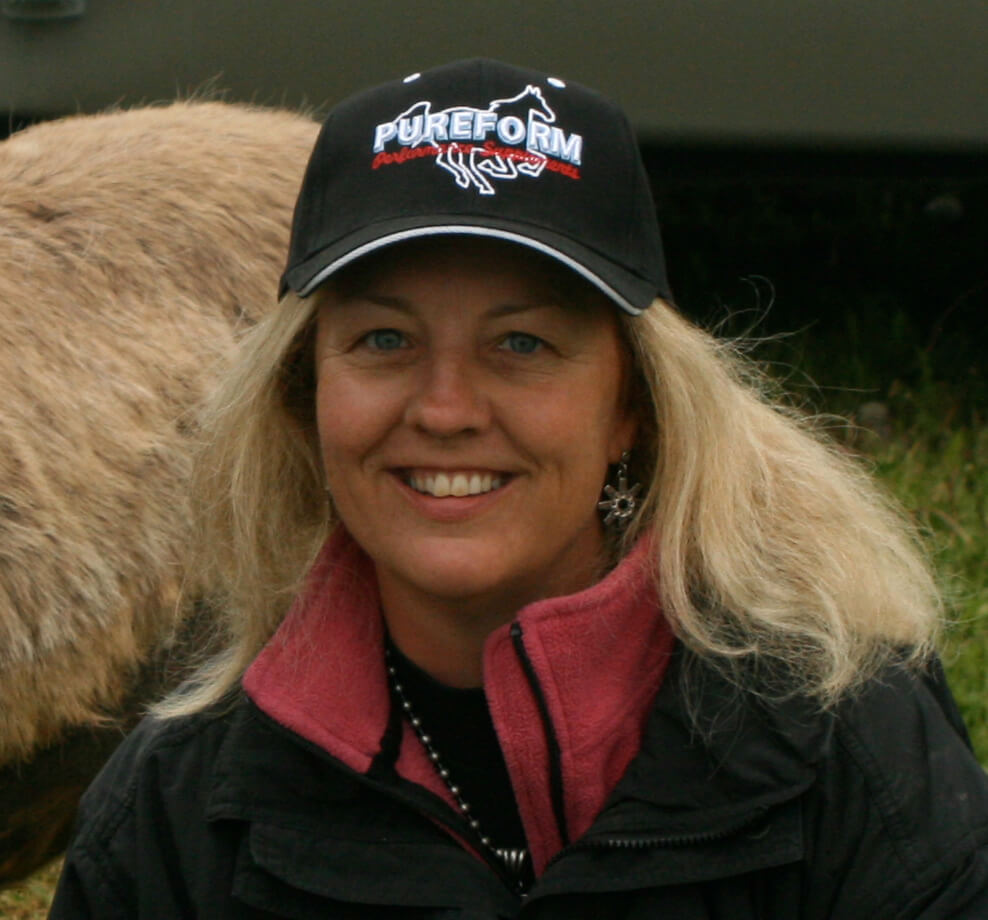 Owner/Publisher Karen's lifelong love of horses began at a very early age when she wore out a couple of rocking horses before convincing her parents to get her the real thing. That ill-tempered bay gelding, Brandy, was a challenge for the young horsewoman, but it drove her ambition to become a horse trainer. After attending Canyonview Equestrian College's Horsemanship Program, Karen realized she needed work that was a little more lucrative than training, so she took a job with Customs Brokerage to pay the bills. There, she discovered an affinity for computers and a talent for creating informative, entertaining newsletters. The Northwest Horse Source began as such a letter in December 1995, with a distribution of 1000 copies for its 12 black and white pages.  Now 25 years later, it's an online magazine and website with a reach of over 10,000 per month and growing! Not bad for the results of one woman's dream to work with horses!
Today, Karen remains involved with every aspect of the magazine and treasures the community of thousands who share a common passion. Somewhere in the wee hours of the early mornings and late evenings, she still finds time to care for April, her gorgeous and sweet-tempered Quarter Horse.