In the Service of our Veterans
By Karen Pickering
On Saturday, May 26 I found myself at the Bellingham Memorial Day Parade. A small group of local veterans from Veterans of Foreign Wars Post 1585, led by John Ferdon, boarded a beautifully decorated wagon owned by Paul and Gail Nelson of Reinbow Ranch.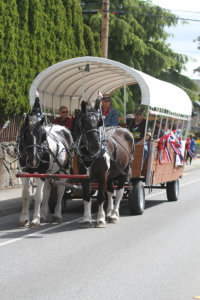 The Nelsons have volunteered three of their horses for riding during the monthly Veterans Night the first Saturday of the month held at Faith Equestrian Center on Lynden-Birch Bay Road in Blaine, WA. Paul Nelson is a Vietnam Veteran who earned a Purple Heart for wounds suffered in combat. The Veterans that rode in the wagon ranged from pre-World War II (China Seas) to those currently serving. Paul and his wife Gail bring these beautiful North American Spotted Draft Horses to serve local Veterans and their families.
Nelson's team navigated the commotion of the parade in stride. A Black Hawk helicopter flew overhead, fire engines, horns, traffic…these horses handled it beautifully! It really is amazing how docile and kind these big horses are. They seemed totally unflappable.
I love the draft breeds as they just seem to be a little quieter than your saddle horses, generally speaking. Of course, lots of handling, riding, and/or driving doesn't hurt either. Horses were really meant to have a job.
Over my lifetime I've had the privilege of getting a taste of several different sports such as reining, cowhorse, sorting, extreme trail and recently, driving. There's just nothing like being outside riding or driving your horse. Embracing today's performance horse can be as challenging as running down a cow or trail riding in the hills. The world just looks different from the back of a horse (or from behind one).
If you're a serious competitor you might want to check out this month's cover story about a great show/competition facility in Moses Lake, WA. Grant County Fairgrounds has one of the nicest show facilities in Eastern WA. Read their story on page 6.
Finally, in observance of Independence Day on July 4th, take a moment and thank a veteran for his or her service. Because of these soldiers we enjoy our freedom. Have a wonderful month of July and remember to ride!
Quote: Appreciation is a wonderful thing: It makes what is excellent in others belong to us as well.
Voltaire – 1694-1778, Writer and Philosopher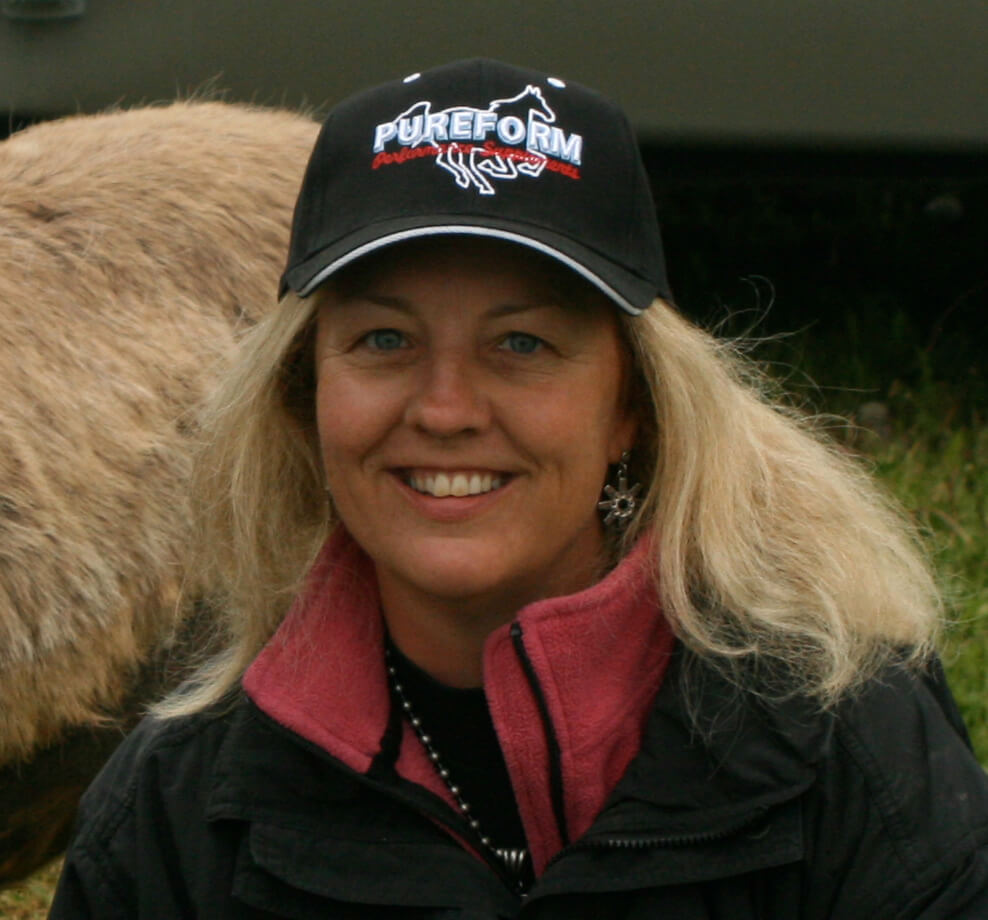 Owner/Publisher Karen's lifelong love of horses began at a very early age when she wore out a couple of rocking horses before convincing her parents to get her the real thing. That ill-tempered bay gelding, Brandy, was a challenge for the young horsewoman, but it drove her ambition to become a horse trainer. After attending Canyonview Equestrian College's Horsemanship Program, Karen realized she needed work that was a little more lucrative than training, so she took a job with Customs Brokerage to pay the bills. There, she discovered an affinity for computers and a talent for creating informative, entertaining newsletters. The Northwest Horse Source began as such a letter in December 1995, with a distribution of 1000 copies for its 12 black and white pages.  Now 25 years later, it's an online magazine and website with a reach of over 10,000 per month and growing! Not bad for the results of one woman's dream to work with horses!
Today, Karen remains involved with every aspect of the magazine and treasures the community of thousands who share a common passion. Somewhere in the wee hours of the early mornings and late evenings, she still finds time to care for April, her gorgeous and sweet-tempered Quarter Horse.