A Generous Gift Enriches Whatcom County Equestrians
by Aliena Hook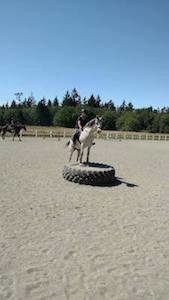 As you emerge from wooded trails into an open cross-country field you encounter jumps and obstacles for all levels. You can then cool down in the large outdoor arena featuring sand footing and training equipment, or train your horse to enjoy jumping into and running through water in the water complex. These are just some of the opportunities at Sunset Farm Park, located in Blaine, Washington. Sunset Farm is a one of a kind local hotspot for equestrians of all disciplines. The 70-acre park includes trails, fields and training areas designed with riders in mind. But it's not just a place for riders to enjoy, it has also become a gathering place and a community with a unique history.
The property was formerly known as Sunset Farm Arabians, owned by breeders Kay and Don Lowery. After Don passed away, Kay decided to sell her farm. In 1993 Kay donated half of the farm's value to Whatcom County Parks and Recreation. But there was a catch. Kay's stipulations were that the land be developed into an equestrian park and that "Sunset Farm" be within its name. Kay passed away in 1996, but her generosity and forward thinking will never be forgotten by the local equestrian community.
Since its creation, Sunset Farm has been run almost entirely through a network of donors, volunteers, and the community and non-profit organization of The Friends of Sunset Farm. Volunteers organize various activities including dressage and jumping clinics and shows, work parties, and community gatherings in benefit of maintaining and expanding the park.
Eventing enthusiasts come from throughout the area to practice on the cross-country course. Most recently Sunset Farm held its summer all-ages camp in which clinician and trainer Meg Finn coached participants in cross-country schooling and training for the weekend while riders and horses camped out, enjoyed each others company and made new friends in the equestrian world.
Sunset Farm has become a local staple of community and friendship built on the foundation of love of the sport and love of horses. For more information on Sunset Farm Park, events and how to get involved please visit their website at http://www.friendsofsunsetfarm.org and be sure to follow them on Facebook.
Originally Published September 2017 Issue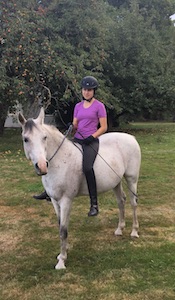 Aliena Hook grew up in the Northwest and discovered horses at a young age while attending a birthday party. Beginning with her first rides and through many years of training, Aliena has strived to develop her own way of training based on natural horsemanship and focusing on the bond between humans and their horses.
When she's not riding, she is writing. Aliena is currently working on her first book about her rescue horse Orion, and the issues surrounding the horse slaughter industry.
Aliena lives and works in Bellingham, WA and owns two Arabian geldings that she trains and learns from on a daily basis. She is a senior at Western Washington University, and hopes to pursue the careers of both trainer and writer in the near future. Contact her at alienafreerider@gmail.com or through Facebook.