A very expensive lesson in proper braking
by Karen Pickering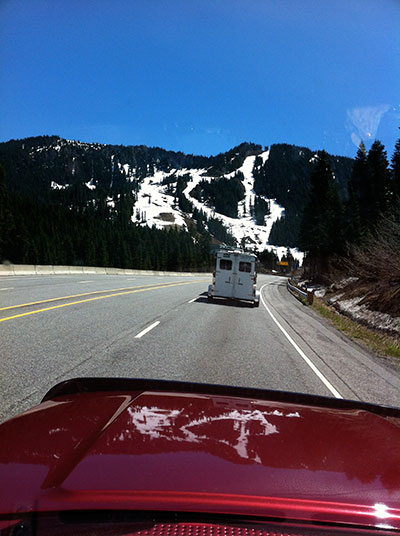 (June 22, 2013) – It was an absolutely splendid weekend—riding horseback around Lake Wenatchee with friends made for a relaxing, fun time. Our base was Stonewater Ranch, a faith-based horse camp for kids learning to find their way in the world through the help of horses. From there we ventured out in the hills near Plain, WA.
On the trip over, a group of four of us caravanned together. It was my first trip over a mountain pass with my new living quarters trailer so I was a little nervous about pulling such a heavy load. I've pulled the pass in the same truck with a camper and two-horse bumper pull so I was fairly confident it would go well. Little did I know what was in store for me on the way home.
After a final ride at the end of the weekend, we packed up and heading out by 2:30 PM after a fuel stop. By about 3:45 we headed into the pass. It was coming down the other side that I noticed something smelled hot. My first mistake, as it turned out, was trying to keep pace with the two other rigs in front of me. They weren't going fast enough for the gear I was in so I chose to ride the brakes. I figured trailer brakes ensured there would be no strain on the truck's brakes.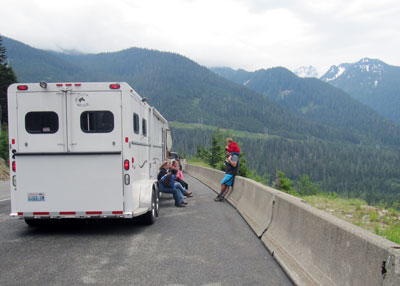 Soon smoke was billowing out from under the hood and all around the front end of the truck. The smell of burning metal, rubber and brake pads was sickening—and terrifying! I geared down, stood on the brakes, pushed the manual lever on the trailer brakes and finally came to a stop on a wide turnout coming down the pass.
Stevens Pass is a 6% grade—a pretty significant hill! I know I should have geared it down and gone slower. I guess I was just tired and not concentrating on driving for the conditions. Honestly, it never pays to ignore your instincts.
I recently purchased US Rider travel insurance so now I would put it to the test. I've always carried AAA but thought US Rider was more of a horse friendly company so it would be a good decision.
First crisis? No cell service. I had no way to call anyone. My friends had continued down the mountain out of sight and I certainly knew they were not going to come back up. I put on the parking brake, put the truck in gear, set emergency flashers and got out to set the wheel chocks and reflective triangle.
I sat there for nearly two hours. No one stopped to help. I'm sure everyone assumed I had cell reception and would call for help. I was getting super worried and scared. I was alone with a horse and no way to communicate with anyone. Then the thunder and lightning started, followed by a downpour.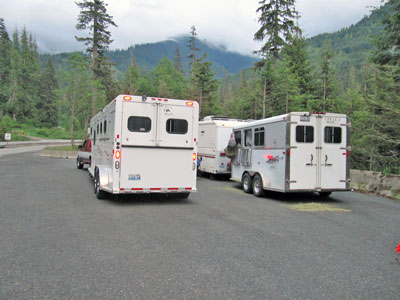 Finally a lady pulled over to see if she could help. Her cell phone happened to work so I was able to call US Rider. I was able to get through fairly quickly but I had a hard time understanding the person on the phone. It sounded as though it was a call center in India. When they asked me for the cross street I knew I was in trouble. Fortunately, Kay, the lady that stopped, happened to have a GPS. While waiting for US Rider to call back I called my husband and tried to reach my friends who were on their own adventure. At 6:00 PM Wendy and Nicole, one of our caravan vehicles, returned to stay with me. Kay called her husband to come and help and they provided KFC for dinner while we waited for the tow truck. At 6:30 a Forest Service officer stopped to see if we were okay. We explained what had happened. Kay and her husband Ron couldn't really leave as they'd left their number as a contact for US Rider. "Even as I was thankful for the incredible folks that had helped, I wondered how things could get any worse.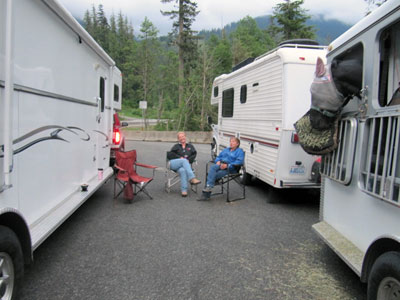 The Forest Ranger said I should try and make it down the hill now that my brakes were cooled off. I was super scared to try this but Ron got in and said he would ride with me down the hill. I got in, used the trailer brakes and first gear and got down the road to the next wide spot. The forest ranger followed me with flashing lights so we would get down safely. Still no brakes, but we were able to get stopped with trailer brakes and gearing way down.
So, there we sat. Kay and Ron finally went on their way once they knew we were safe and I had someone to stay with me. The forest ranger headed back up the hill (As no-one had cell reception in our new spot) to call US Rider for me as we hadn't heard anything. He finally called a towing company that would come and get me, but they had to fabricate a gooseneck hitch that would work to pull my trailer.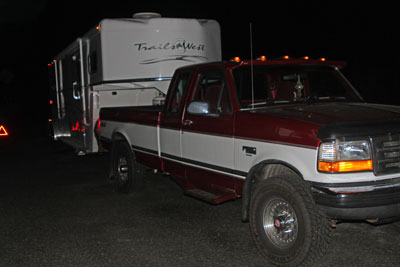 At 11:00 I sent Wendy and Nicole on their way. The forest ranger said he would stay with me until the tow trucks came. Yes, that is meant to be plural—we needed one for the truck and one for the trailer! Since my coverage would only take me 100 miles (and I was 144 miles from home) I had both the truck and trailer towed to Sky River Equestrian Center in Sultan. We rolled in to Sky River at about 11:45 PM.
I unloaded one very tired horse, put her up in the luxury stall and went out to sleep in the trailer—thank goodness for a LQs. Meanwhile my husband had driven two hours to come and meet me. He left me with his car and turned around to drive the truck home. There was enough brake to stop the truck but he wanted to drive home when there was no traffic in the middle of the night.
We ended up with over a $500 bill to fix the truck brakes (that was with my husband doing all the labor). It ended up being a very expensive lesson and a huge loss in confidence with the US Rider Insurance. I sat on that pass with no help for nearly 8 hours. The towing company had never heard of them and had to negotiate a rate to get me down off the mountain. A good lesson in all the things you must consider when breaking down outside of cell service.
Is travel insurance really worth it? I paid a little over $200 for the insurance and it was probably a $1,000 tow bill so from that perspective, yes. BUT I could have made it off the mountain much faster by calling friends to come and get my trailer so my horse was safe and not standing inside for so long.
I have mixed feelings about travel insurance now… On the upside, if you're going to break down it's great to have a LQs trailer to eat, have a bathroom, and get warm. Can't beat that! I remain grateful for the kindness of strangers, and grateful we made it home safely in the end.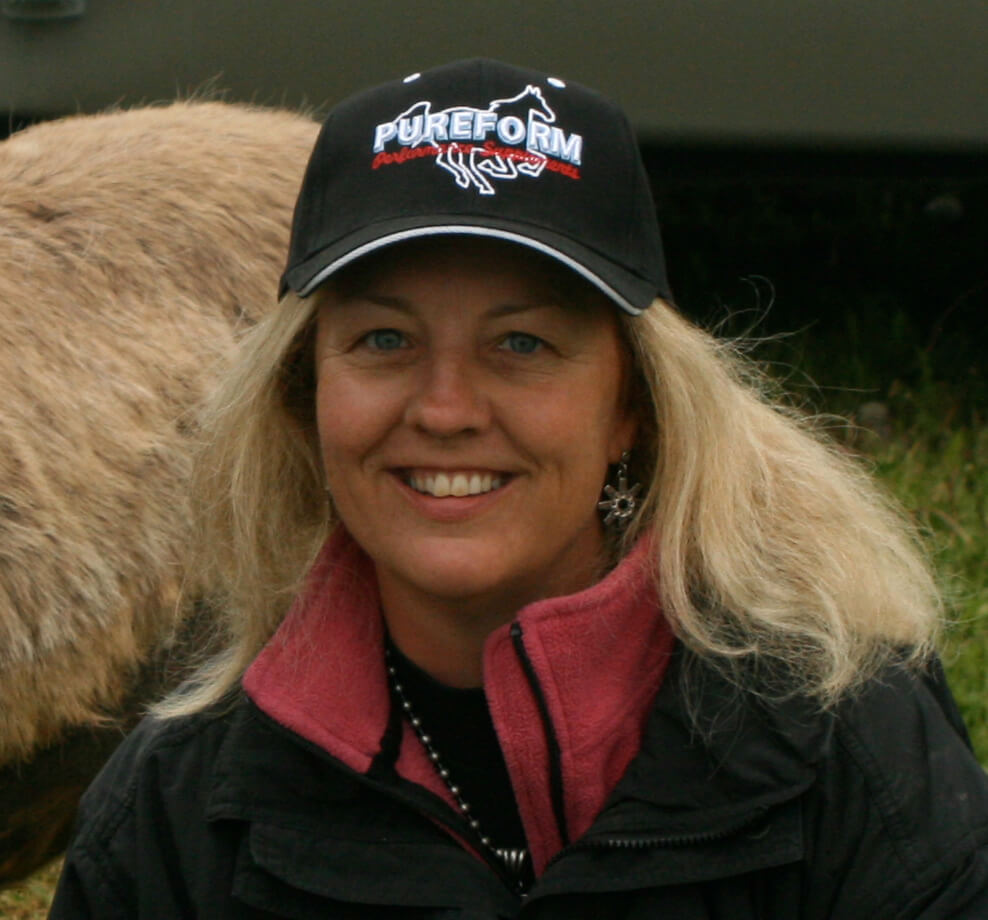 Owner/Publisher Karen's lifelong love of horses began at a very early age when she wore out a couple of rocking horses before convincing her parents to get her the real thing. That ill-tempered bay gelding, Brandy, was a challenge for the young horsewoman, but it drove her ambition to become a horse trainer. After attending Canyonview Equestrian College's Horsemanship Program, Karen realized she needed work that was a little more lucrative than training, so she took a job with Customs Brokerage to pay the bills. There, she discovered an affinity for computers and a talent for creating informative, entertaining newsletters. The Northwest Horse Source began as such a letter in December 1995, with a distribution of 1000 copies for its 12 black and white pages.  Now 25 years later, it's a print and online magazine and website with a reach of over 10,000 per month and growing! Not bad for the results of one woman's dream to work with horses!
Today, Karen remains involved with every aspect of the magazine and treasures the community of thousands who share a common passion.