Caring for a Horse Facility Never Ends
By Kim Roe
My late husband Theo was a commercial fisherman. Like all responsible fishermen he spent lots of time, money, and effort maintaining his boat. He fished out of Alaska and would head north every spring when Bristol Bay was still iced up and the boatyard was covered in snow to spend weeks preparing the boat for fishing season. 
Theo dreamed of getting a fancy new aluminum boat with all the comforts of home. His boat was an outdated fiberglass-hulled vessel that he salvaged as a 17-year-old high school student. The boat had sunk in a storm in shallow water and the owner wanted to dump it. He happily took Theo's offer.
Theo fixed up that old boat and fished it for more than 30 years. Many of his peers had comfortable, spiffy boats––and impressive mortgages. Theo knew that we would be paying on a new boat long after he retired, so he kept fishing the old boat, and kept his business profitable.
Theo and I were a good match––running and maintaining a training barn is similar to keeping a fishing vessel afloat. Our independent natures and tolerance for hard work complemented each other. We both understood that taking care of your "ship" comes back in security and is a necessary part of being self-employed.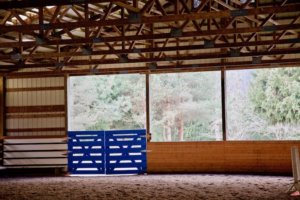 Nearly all the money you make in the horse business (and all your spare time) goes into maintaining, repairing, and upgrading your facility. I continually dream of new improvements to my farm, and I work hard to keep it as nice as I can for my horses, myself, and my boarders. Luckily, horses don't care about fancy––they care about good feed, clean water, and room to move. They care about access to other horses and attentive caretakers.

Sometimes I dream of a "dependable" job with health benefits and a retirement plan. But for now, I'll keep mowing, painting, weed-eating, fixing fences and most importantly––riding and caring for horses. I'm thankful for every minute of it.

Enjoy our Training and Facilities issue. I'm excited to have the distinguished Lynn Palm joining us for four months of Trainer's Corner articles beginning this month. I hope you enjoy her wisdom as much as I do.

Let me know how we are doing and feel free to send me your stories. The NW Horse Source is here for you. kim@nwhorsesource.com

<!-comments-button-->