by Allison Trimble
There are many reasons a person would decide to build their house and barn on acreage. My husband and I recently made that decision for our family and horses, and I am working with a number of clients who are doing the same. The process can be overwhelming. I hope I can help simplify it for others considering this path.
Financing
This is where the process begins. I cannot emphasize enough how important this is to do before seriously looking at property or house plans. There will be enough stress in this process; don't add more with unnecessary longing for unattainable properties or house plans.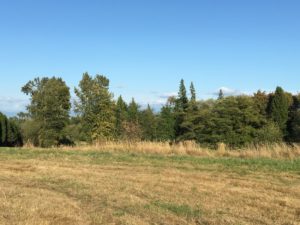 Raw land is not financed the same as a residence. Typically, land is purchased with cash, an owner contract, a land loan, or it's wrapped up in a construction loan. If offered, an owner contract will usually require 20-50% down payment with a 3 to 5-year call. Interest rates and amortization can vary. Land loans through a bank are nearly always 25-30% down with a 3 to 5-year term. No matter which option you choose, the first thing a construction loan will do is pay off the note on the land so that the bank is in first position to lien the property in the event of default.
This is why many people try to close a purchase with a construction loan. The catch in that process is, many sellers are unwilling to wait the 90+ days it could take to get all the steps done before a land loan will fund. All of the site prep bids and house plans and permits need to be finalized before a construction loan will close. This can be time-consuming and sometimes unpredictable. At some point nearly all builds will require a construction loan, so knowing the process is important from the start. There are lenders who offer as low as 0%-5% down construction loans, but programs can vary. The construction loan will generally roll over into some sort of adjustable rate mortgage (ARM), so a plan for refinancing after the final occupancy permit is completed is often preferable.
A special side note for us horse lovers wanting acreage: there is a cutoff with conventional construction loans underwritten by Freddie Mac or Fannie Mae that will not allow construction loans on property over 20-25 acres. I know, it feels ridiculous, but the assertion is that there are not enough comps on that size acreage, and final financing has the same caveat. My husband and I are purchasing 57 acres, and our workaround was to pay cash, then apply for a lot line adjustment to include our build site. Now our home will sit on a 13-acre piece of land rather than 40+ acres. That was possible because our property was two parcels.
If that's not possible, NW Farm Credit Services or portfolio lenders like Washington Federal offer construction loans and long-term financing on large acreage, but rates, down payment and financing requirements can be prohibitive for regular folks. My suggestion is to stick to 20 acres or less, or search for properties with large acreage that are already in multiple parcels. Subdivision is also a possibility, but can be costly and takes an average of two years in many places.
Building Budget
Preapproval for a construction loan will identify a build budget. From that approval amount, start assigning it to land cost, site prep, and home and barn construction. This will only be a rough estimate because for the right land, the house can be downsized. Or, if the budget leaves room, there could be more room for home upgrades. The amount of the loan typically cannot be changed after it funds, but there will be a cushion built in of 10%, on average, for potential overages. If too much is borrowed, that amount will be unused and sit as equity in the property, so an accurate budget is important.
Representation
Take time to find a good realtor. It is helpful if they have building and farm experience, but even more important is a curious, problem-solving mind, a strong work ethic and moral code, and that they communicate well. Get references and meet in person. Be clear and realistic in your desires, and follow through on your end so your realtor can do his or her job.
Only a small part of the real estate process is finding the land. The realtor does a lot of heavy lifting in the negotiating process and in all the things that can pop up on the way to closing. I often tell people that I don't know what bizarre circumstance is going to come at us in this process, but there will be something, and it will be frustrating and hard. We will get through it together.
Now that there is financing, a rough budget, and a loose plan, it is time to go shopping!
Published in October 2016 Issue
Allison Trimble has a Bachelor of Science in Animal Science from Cal Poly, SLO. After her graduation in 1999, Allison started Coastal Equine and has been training and competing in cowhorse, reining and cutting events. She has had marked success in the show pen boasting many titles and championships.
Willfully Guided is an educational program based on Allison's training process. For more information visit: www.willfullyguided.com
Allison is also a Realtor specializing in horse properties, hobby and commercial farms, and family housing. She combines her experience in the horse industry with her lifelong involvement in real estate to help clients find their perfect property. Learn more at www.coastalrealtywa.com