There are many wonderful things about spring — but trying to keep your horse clean and his skin healthy isn't one of them. The list of seasonal challenges includes:
Plenty of rain
Mud everywhere
Remnants of the winter coat trapping dirt, moisture, and sweat
Insect irritation
Long coats, warm days, and lots of moisture keep fresh air, oxygen, and sunlight away from the horse's skin. Dirt trapped deep in the coat irritates and breaks the skin. Organisms can also flourish in this environment.
Exercise, deep grooming, and nutritional support for shedding is an integral part of any plan to keep skin healthy at this time. Nothing beats the job a good grooming vacuum can do, so by all means invest in one if you can.
The plus side of warm weather is you can bathe the horse. To prepare, use a curry to remove surface mud and loosen dead hair. If you have a vacuum, use it as the next step. Also carefully go over the skin to identify and remove ticks as well as any scabs you may find in order to expose the underlying skin to air and cleansing. An herbal shampoo (eucalyptus, for example) can offer many unique benefits.
You can do touch-ups between baths using sprays or a salve with the same kinds of ingredients. Spring grooming is definitely a time-consuming job, but you can cut the work and maximize results with the use of the correct topical herbs. Here are some herbs to try:
Aloe Vera Juice has emollient properties that help soothe skin. A member of the lily family, aloe vera has been described in writings dating back to 2100 B.C., and was used across the globe by ancient Greeks, Romans, and Egyptians, as well as Indians and Chinese.
Calendula helps ease discomfort caused by temporary skin irritation. This is the common marigold, whose use dates back at least to the 15th century when the flowers were used topically on skin irritations.
Coconut Oil helps maintain the moisture content of the skin through medium chain fatty acids that protect against moisture loss through the pores on skin. Coconut oil also supports a normal skin microbiome.
Eucalyptus Essential Oil helps maintain normal skin flora. It is a tree indigenous to Australia.
Jojoba Oil contains natural fatty acids that promote healthy, strong hair, and is packed with vitamins important for hair and skin health.
Lemon Eucalyptus Essential Oil shields and soothes insect bites with emollients and protective support while maintaining normal, healthy skin flora. The lemon eucalyptus grows in temperate and tropical northeastern Australia, and the essential oil is extracted from the leaves and twigs.
Lavender Essential Oil helps reduce oxidative stress. The aromatic evergreen is native to the Mediterranean and was traditionally used to support an intact skin barrier.
Oregon Grape Root supports normal cellular turnover in skin. The holly-like bush is native to Western North America, particularly the mountainous Pacific Northwest.
Rosemary Extract is an astringent that provides antioxidant protection. The evergreen shrub is indigenous to the Mediterranean.
Tea Tree Essential Oil helps soothe and dry temporary skin irritations and helps maintain a normal skin microbiome. Tea tree oil has a long history of use by the Native Australian population and was first described in writing in the 1700s.
White Willow Bark has a topical astringent action. It has been used in China and Europe dating back to 400 BC.
Uckele Health & Nutrition offers formulas that promote healthy skin. 
Tea Tree Tonic Shampoo is perfect for the horse in wet, humid conditions to support smooth, healthy skin and a strong, glossy coat for a clean, happy horse. Contains tea tree and eucalyptus essential oils that promote smooth, healthy skin the natural way. Together, they support healthy skin microflora. White willow bark and other topical astringents dry and soothe skin. Aloe Vera may help ease discomfort associated with temporary skin irritations. Non-detergent, non-stripping, free of artificial colors.
Tea Tree Tonic Salve is also perfect for the horse in wet, humid conditions.  This gentle, all-natural salve helps maintain smooth, healthy skin with soothing, drying support and a tough protective shield. It can be applied directly to bug bites and abrasions and may help ease discomfort from skin irritation. Contains 11 herbs and essential oils including tea tree oil, St. John's Wort, and echinacea. Suggested minimum trial period is 3 applications.
Tea Tree Spray. Use this all-natural spray in between baths to support healthy skin microflora. Gentle astringent action helps dry and soothe skin. Wormwood, chaparral and twelve other herbs and botanicals provide antioxidant protection and emollient support to help ease discomfort associated with temporary skin irritations. Perfect for hard to reach places. Dries clear and leaves no residue. Suggested minimum trial period is 3 applications.
View the full May 2020 edition here.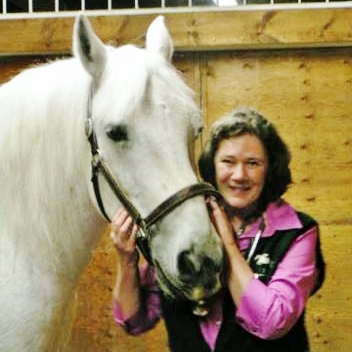 Dr. Eleanor Kellon, staff veterinary specialist for Uckele Health & Nutrition, is an established authority in the field of equine nutrition for over 30 years, and a founding member and leader of the Equine Cushings and Insulin Resistance (ECIR) group, whose mission is to improve the welfare of horses with metabolic disorders via integration of research and real-life clinical experience. Prevention of laminitis is the ultimate goal. www.drkellon.comMcMillanBros.HiBid.com