Reining and Dressage Stable a Haven for Washington Amateurs
by Catherine Madera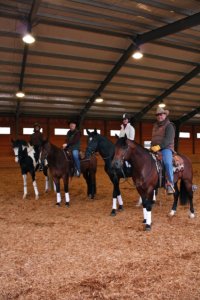 The equestrian community isn't unlike a high school cafeteria sometimes: English people stay together, western people stay together, and there's plenty of attitude between the two groups. At Sky River Equestrian Center in Sultan, Washington, no such cliques exist. The disciplines of dressage and reining are equally studied and appreciated. 
Owners Kevin and Wendi Montgomery are used to breaking the unwritten rules of horseback riding, starting with the age at which they began pursuing their passion. Wendi, a retired pediatrician, loved horses as a youth but was told by her mother, "I'm sorry, we're city people." Though work and family took all Wendi's time in the years that followed the horse bug never died. When their daughter asked for a horse five years ago, the Montgomery's plunged into a new world that would eventually birth an exciting venture.
Kevin, a physician at Northwest Weight Loss Surgery Center, might never have gotten on a horse had his daughter not given up riding after an injury.
"I thought, 'gee, that looks kind of fun,'" says Kevin who admits being scared at first.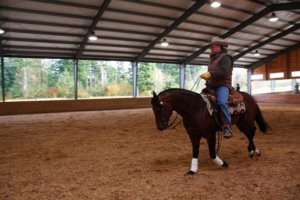 When he met reining trainer Darren Stancik Kevin found a valuable friend and mentor who not only schooled him in horsemanship skills, but helped him find suitable mounts to pursue his chosen sport of reining.
"When you start out you don't understand how much work is involved," says Kevin, who initially watched a lot of DVDs to educate himself. He adds, "If you really want to ride you need to find someone to help. Trying to teach yourself is pretty difficult."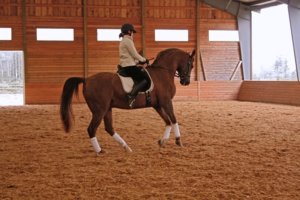 While Kevin honed his skills, Wendi was busy learning the art of dressage from trainer Catherine Reid. Reid, a USDF bronze and silver medalist, also helped ensure Wendi found suitable mounts to further her education. That the Montgomerys enjoyed differing equestrian pursuits was never an issue. Open minds and the desire to learn and have fun in a relaxed environment are priorities for this couple.
"You're more open to making changes when you're new to riding; you don't have the mentality of 'this is the way I've always done it,'" says Kevin.
The Montgomerys had such an open-minded attitude when they purchased Sky River Equestrian Center, a highly versatile, multi-purpose stable approximately an hour northeast of Seattle. With a total of 46 stalls available for long or short term boarding, spacious paddocks, separate reining and dressage arenas, and 50,000 spectacular neighboring acres for trail riding, the possibilities are endless. The facility has a heated tack room and conference center and is also well set up for rehabilitating horses post surgery. Staff lives on site to manage horse care and boarding.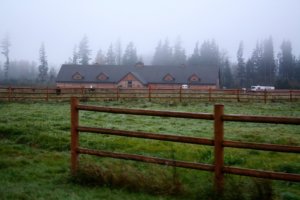 "We want a growing, thriving business of both reining and dressage," says Kevin, who hopes the Center will be a "drama-free" zone where like-minded people can find a supportive equestrian community and feel comfortable. Boarders may be adults new to horseback riding, have an interest in showing their horse, or simply desire easy access to unlimited trail riding in a stunning location. All are welcome.
"I went through surgery training and the last thing I wanted was to be yelled and screamed at," says Kevin of the environment he valued as a new rider. "It's fun to get together and just ride."
Kevin rides at least three times a week and reserves Saturday mornings for riding with Stancik and other non-pros from the Washington Reining Horse Association. Both he and Wendi show as amateurs. Kevin hopes Sky River Equestrian Center will become a valuable resource for northwest reining clubs in the future.
Stancik and Reid are each respected, winning, professionals in their respective disciplines and offer clinics, lessons, and training based out of the Center. Like the clients they support, the two trainers maintain a comfortable, supportive camaraderie.
"I've often told my reining students to take dressage lessons," says Stancik, who once worked with Bob Avila. "There are a lot of correlations between the two disciplines."
Stancik knows what he is talking about. The AQHA champion has coached many NRHA, AQHA, Youth and Non-pro champions over 20 years of working in the reining horse industry.
"We aren't antagonistic toward each other," says Reid, who won multiple championships in 2011 with her young Hanoverian, Skywalker. "I look forward to sharing ideas between dressage and reining."
To learn more about how Sky River Equestrian Center can support your horsemanship goals, or for additional information on Darren Stancik and Catherine Reid visit: www.skyriverequestriancenter.com or call 425-870-4674. Better yet, come to the barn warming on January 28 from 1-5 p.m. and see this first class facility yourself.
Published January 2012 Issue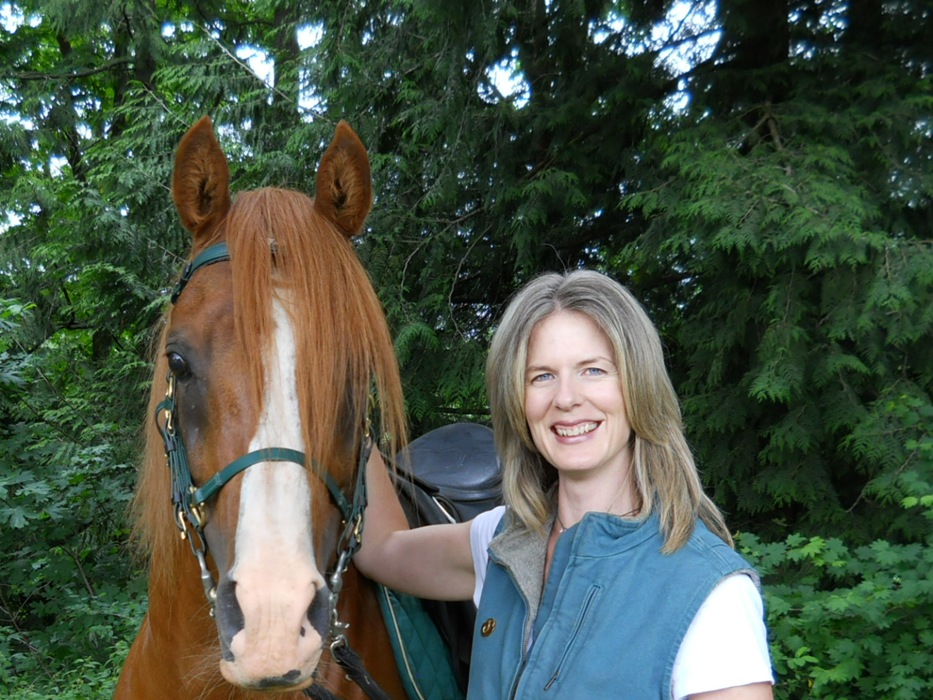 Catherine Madera served as editor of the Northwest Horse Source for five years. She has written for numerous regional and national publications and is a contributing writer for Guideposts Magazine and the author of four equine-related books. She has two grown children and lives with her husband and three horses in Northwest Washington.