Two Tough Horses Age Gracefully
Adult Category:  Mary Lou Langley and Slick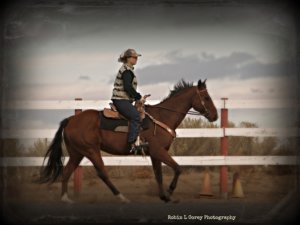 Slick is my 23-year-old AQHA bay gelding; my daughter ran him in barrels and pole-bending. He competed in 4-H and high school equestrian team. Slick was always a willing partner and he loves to run. His name is appropriate as he was so slick around those barrels. He was a little out of control and often came in the arena on his back legs, but that little girl could ride and he won her many 1st place ribbons and took her to the pay window for a check, as well. He was dependable and you could count on him to always give you his best. Three years ago Slick got hurt. He ripped an inner thigh muscle on his right hind leg and it hung down like a watermelon. I was devastated by his injury as he was ruined and might never run again, but being a licensed massage therapist worked on him for 2 years. In February of 2012 a girl asked if she could leg Slick up and use him for one event (barrels) on high school equestrian team. I told her no promises that he will stay sound, but we could try. He carried her through 3 district meets and a gold medal. She ended up winning all–around high point at State Finals; Slick taught her to never give up. This girl is now in college and misses him to tears. In May I called my daughter and asked her if Slick is sound would she like to ride him again? She said YES! So, a 21-year-old women and a 23-year-old horse loaded up and went down the road. In August, Slick ran at the Omak Stampede and performed a respectable run. That night my daughter got hurt and Slick came home, but he wasn't retired. After surviving cancer and a back fusion surgery, it was my time to ride Slick. In October I went to my first show and he restored my confidence. Though legally blind with macular degeneration, I ran barrels and left everyone standing which is incredible. I also ran poles and even though it was a slow time we ran clean and hopefully Slick wasn't too embarrassed to carry an old lady like me. He still has his speed and I received a football-sized bruise on my leg to prove it. He ran so fast in one event, I popped up and hit the swells.  I am thankful I didn't fall off! Who is Slick? He is a talented, loving horse that takes care of whoever it is riding him, including me. I am so thankful that he is in my life; he makes me feel alive and productive. Slick has also taught me to forgive, to never give up and to dream big because miracles are possible.
Youth Category: Carlyn Weatherill and Regret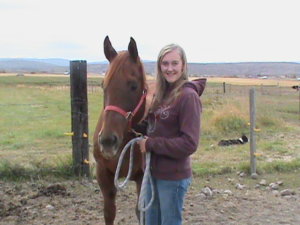 My mom bought Tattoo's Boy, or "Regret," in Bellingham as a two-year-old in 1989. That was six years before I was even born. My sister Crystal told me that Regret instantly became a member of the family with his winning personality. Regret did not prove to be a show horse, but he did become a favorite on the trails around the Mount Baker area. When I was almost a year old, my family decided to move back to Eastern Washington and we took Regret with us. Shortly after returning to the east side, Regret had an accident and sustained an injury which, even after treatment, became seriously infected. After spending six weeks at Washington State University's large animal hospital and enduring surgery on a hind leg, Regret came home. He spent three months in a stall with antibiotics and daily treatment. Even with close observation and tireless care and effort, Regret's flexor tendon and sheath had adhered together, resulting in permanent lameness. This, however, did not stop Regret from remaining an active equine.
After losing my pony Snickers, Regret became my favorite mount and my very first Quarter Horse. At five-years-old Regret seemed very big to me and I guess he was. Regret took me on many adventures both in the arena and on the trails. I rode Regret for several years until I decided that I wanted to show horses. My mom told me that when the veterinarians at Washington State University examined Regret's injury, the recommendation was to euthanize him. I only wish I knew who the student vet was that suggested another option; I'd like to thank her. By the time we got home from Pullman in the legendary 1996 snow storm, Regret had already undergone surgery at the suggestion of this student vet. Regret was nine-years-old when he had his accident and since then nearly eighteen years have passed. He will be twenty-seven in May, a "grand old man" you might say. Regret still enjoys an occasional ride on the John Wayne Trail and a life of leisure with his geriatric pal Jeff and three other equine friends, all thanks to one student vet who had the compassion to save a horse she somehow knew still had a mission in life—to become a little girl's new pal after losing her pony.
Published December 2012 Issue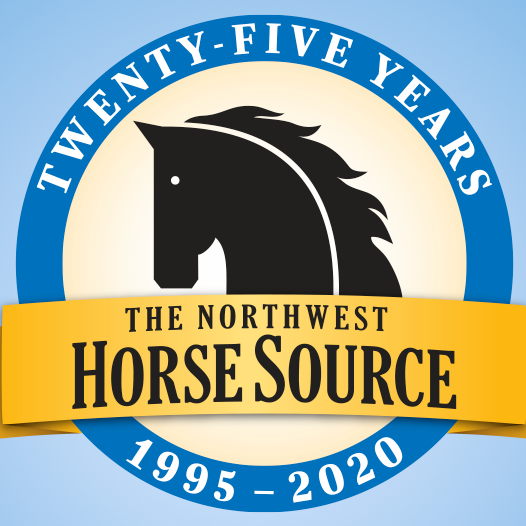 The Northwest Horse Source is an independently owned and operated print and online magazine for horse owners and enthusiasts of all breeds and disciplines in the Pacific Northwest. Our contemporary editorial columns are predominantly written by experts in the region, covering the care, training, keeping and enjoyment of horses, with an eye to the specific concerns in our region.