Meet Two Very Special Senior Horses
Thank you to all the readers who shared stories. Each one was special, but the two below stole our hearts. Congratulations Ellen Archer of Priest River, ID and Alatia Babin of Nampa, ID. Honorable mention essays from Bonnie Hammond, Silverdale WA and Courtney Kimpel, Rexburg, ID are posted online: www.nwhorsesource.com.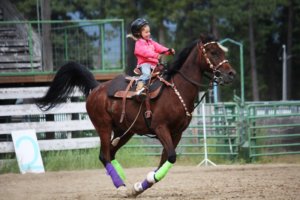 Adult Category: Ellen Archer and Foxy  
A call from a friend to help with her mare's three-month-old colt (he was more than she could handle) turned into a lifelong love of 25 years. Foxy made an impact on everyone and everything around him.
Growing up he would play tag with me in the fields behind my house or pick up his bucket swinging it back and forth till it was just right and he could flip it on his head and trot around the pasture. When the balance of the bucket dropped he would turn and kick it across the field then gently trot over to pick it up and start the whole process again. His funny but gentle personality never stopped.   
He was the horse that everyone watched when we entered the arena to run our gaming events or to team pen. Foxy would always know what speed he needed to go for whoever was there. My son and my niece wanted to compete the same day and I only had one horse. Both kids were only six and seven. Foxy would ever so gently take them through their class barely trotting the patterns, but never missing a beat!  We would rush outside and change from the tiny pony saddle to my saddle and rush back in for my class. His Arabian beauty with the tail in the air and fire breathing nostrils would flare as we ran our class. That day we came home with 3 trophies!   
Foxy always gave his all when he competed. Never once did he let me down; his heart wouldn't let him.  We won countless awards. He eventually injured his back fetlock and was retired from competing at age 18. He was used as a trail horse for young kids and new riders as he was ever so gentle, never letting them get scared and always nuzzling them to let them know it was alright. 
This past December my husband and I started a second family with two young girls five and ten. Foxy was their first horse, quickly teaching each child what it took to ride him with his patience and big heart as the girls would tug on the reins while kicking at the same time. This last year he came back out of retirement to teach the girls gaming. Each child gained confidence by riding him. The little one loved to race him through the patterns as her main mount. As the crowds held their breath, Foxy's 5-year-old rider would race back across the finish line with her contagious smile. He won her many awards this past year.
Foxy is known by many, many people in the northwest. He not only helped me in my life, he helped many others and will always have a special place in everyone's hearts. He was humanely euthanized 10/12/2011 at 25 years old.
Asset Afire aka: FOXY
5/28/1986 to 10/12/2011
It is common for owners to rehome a senior horse when the animal loses its youthful athleticism. Foxy was fortunate to be loved by his family until the end. His story is rare, but bears testimony to the value of an aged horse friend. Thank you, Ellen, for this great story. Another special senior horse was not so fortunate. Read his story in our online edition.
Youth Under 18 Category: Alatia Babin and Dee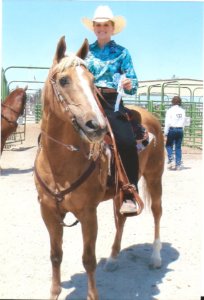 April Quincy Dee is probably the best thing to ever happen to me. I was three-years-old when she was brought out to my grandparents' house. Ever since I was able to ride her, I did, just a blonde girl on a beautiful palomino Quarter Horse mare.
At age ten we entered 4-H together. I had already learned to ride on her and then I started learning to show. We started showing together my first year in 4-H. I didn't know much about it at all, but I realize now that it improved my riding entirely. Thanks to her past experiences, I didn't have much to worry about besides myself. I wasn't one of those kids who cared to place in every class; it didn't matter to me as long as I was on her back.
4-H turned into the biggest thing in my life. It was heartbreaking to know I would no longer be able to use her, although I soon realized that there was an up-side. I got my new horse and, from experiences with Dee, it was somewhat easier for me to work through his vices and ride. The other wonderful thing about not riding her anymore was that I get the pleasure of just hanging out with her, even though I miss riding her like crazy! I can't see why people say horses are pointless if you cannot ride them because that is sure not the case with Dee.
I love spending time with her: just being in the pasture, grooming, taking walks, and, better yet, watching her excitement flare at the noise of a rice cracker bag, then watching her eat them all up! Dee taught me everything. She got me ready for my next horses and built up my confidence one ride at a time. She taught me to connect with an animal, good days or bad. She has been there for better or worse and been exactly what a best friend should be. I will forever ride and live to ride, searching for that next step into the horse world. After twelve short years, and more to come, after numerous experiences, this thirty-year-old mare is the building block behind my life and who I am today. I owe it to her. Whether she is with me or not, she will always be close to me.
"I still look at you like the stars that shine in the sky…"
-Taylor Swift
Thanks for reminding us, Alatia, that old horses are a gift to cherish and they touch our lives forever.—Catherine Madera, editor.
Published December 2011 Issue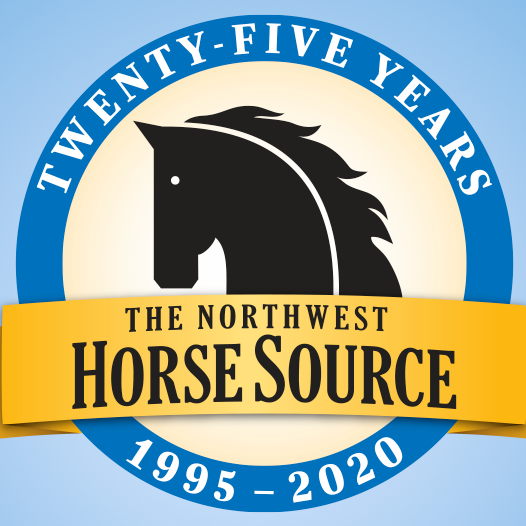 The Northwest Horse Source is an independently owned and operated print and online magazine for horse owners and enthusiasts of all breeds and disciplines in the Pacific Northwest. Our contemporary editorial columns are predominantly written by experts in the region, covering the care, training, keeping and enjoyment of horses, with an eye to the specific concerns in our region.