Find the Sweeter Side of Life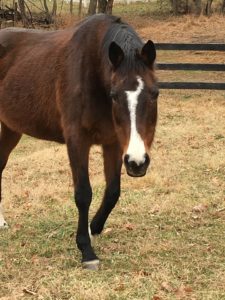 Dillsburg, PA—February 13, 2018—When Darcy Woessner first locked eyes with a badly maimed, starved and broken-spirited mare in the kill pen of a local horse auction, it wasn't the riding horse she had expected to buy. But when the mare's one good eye looked into hers, she knew it was the horse she was meant to own.
"I got hit by a ton of bricks, is what happened," Darcy said. "She was telling me something, I just didn't know what it was."
Darcy learned the horse had been an endurance riding competitor before injury had sent its life into a tailspin much like her own. Darcy's thriving career in international commerce had folded with the dot-com bust, then her husband's company had folded, and her own attempts at independent consulting work for businesses and nonprofits failed to hit its stride. Like that broken-bodied mare, Darcy too was a soul searching for a saving grace.
While nursing the horse back to health, its inherently sweet nature inspired Darcy to name her Reeses, after the popular candy. Reeses' injuries left her permanently sightless in one eye, and unable to be used as a riding horse, but her extraordinary gentleness and ability to connect with people, especially women and children, inspired Darcy to look for a new direction for her own future, too.
"It finally dawned on me why I'd gotten her. I had the perfect therapy horse. Although Reeses is a no-nonsense horse, she's also gently maternal. She loves other animals and is really tuned into to their energy, and her innate abilities with humans are remarkable."
In 2008, with Reeses as her muse, Darcy started Project Horse Empowerment Center in Purcellville, Virginia. The mission of Project Horse was to "help clients build self-esteem, develop and improve interpersonal relationship skills and promote emotional healing," and operates through referrals from mental health professionals, psychiatrists, Loudoun County social services, schools, and word of mouth through clients and their families.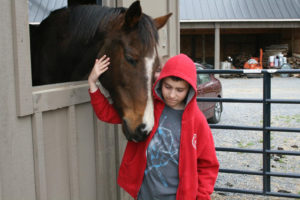 The center that Reeses inspired has since helped not only people but dozens more horses in need. All along, she says, the big-hearted mare left nearly for dead knew exactly what she was doing: "She brought us right where we needed to be."

So when Darcy noticed Reeses having difficulty finding safe and satisfying places to scratch some of the itchy spots on the blind side of her fine-skinned face and neck, she turned to Cynthia Garry, the Dillsburg, Pennsylvania creator of the ScratchnAll® pads.

Like Darcy, Cynthia had found inspiration through a horse. When her own gelding wanted to scratch or rub an itch, she worried about his pursuit of relief leading to injury from a splinter or nail, or to equally costly damage to a paddock gate or stall door.

Cynthia's solution, first for her horse and now for an unlimited array of farm (and zoo) animals, were durable, interlocking scratcher pads that were easy to install, flexible enough to bend around corners, and offered 212 points of relief, from soft to firm, that also touched key acupressure areas.

The super soft ScratchnAll® pads were exactly the gift Darcy wanted to give the mare who had given her so much: "Reeses, who went blind in her left eye, bumps into the corner of her stall (near her door) on the left side. We put the super soft ScratchnAll pads there and we no longer have to worry about her injuring herself. When she bumps them, she remains calm and doesn't startle as she did when that hard corner was exposed. Plus, I don't have to worry about the pads coming off or her chewing on them (like some foam bumpers)."

"These are the best, and safest, scratching solution for animals on the market today. I imagine other horse, and animals lovers, would find this useful, too."

ScratchnAll®, the veterinarian-used and –approved durable scratcher pad manufactured by Animent® and used by domestic and exotic animals large and small, has been named an official vendor with equestrian and livestock wholesaler Intrepid International. Each pad is made of durable hard or 'soft touch' nubbed rubber with 212 stimulating acupressure points, and the interlocking design makes installation easy on flat surfaces or corners. The unique interlocking shape can create grids best suited for each animal's enrichment needs. Each Made In America pad weighs 10 oz., measures 6″ x 5″ x 1″ and is made with an elastomer that is FDA-compliant, safe, durable, bends around corners, interlocks like a puzzle, and is accompanied by stainless steel hardware for mounting.

"ScratchnAll offers a safe, effective choice in self-scratching that will not harm the skin, face or eyes. The small, durable nubs on each scratcher pad offer a comfortable, satisfying and non-irritating way for animals to relieve itching while massaging key acupressure points. The pads give animals a safe place to scratch anytime they feel the urge. That's why ScratchnAll is leading the way in multi-animal scratchers," says Cynthia.

Learn more about ScratchnAll® high quality pads for barns, stables, homes, kennels and zoos, read more testimonials from satisfied users like Darcy and Reeses, and order yours now at www.scratchnall.com and on Facebook.

Founder Cynthia Garry is often asked "how did you ever get into this?" This is her story – click here to listen: https://soundcloud.com/user-117983170/the-story-of-scratchnall

<!-comments-button-->