A Lifetime of Friendship and Business Ventures
by Karen Pickering, NWHS Publisher
This picture depicts one of the greatest adventures of my lifetime. I was 29 years old and had just lost my father a few months prior. My friend T (Theresa) pushed until I agreed to be a part of Wagon Train '89.
This past Saturday my friend Judy Kinna and I spread T's ashes on the trail. It was a cold day on horseback. T passed away in January; life has been too busy, but we finally got together and had a small memorial on her behalf. It makes me sad that life goes by so fast. I'm fiercely determined not to let time pass without having more adventures. How tragic it would have been if T had not begged me to go on this trip, riding all the way from Blaine to Olympia on horseback.
I've always been an entrepreneur at heart. My dream was to someday work with horses and this trip was just the start of my journey. We designed and printed T-shirts to sell, offsetting the cost of the trip. I think we made about $1500. We also had some generous sponsors and great bosses who gave us 3 weeks off and the use of a motorhome. I sure wish we had the cell phone technology we have now for pictures and immediate posting to social media. It's amazing how much has changed in the 28 years since then.
T and I had business ventures over the years. We ran a tanning salon, sold Superfeet custom molded orthotics in our own business called Feet Relief, and operated a website service when I started the magazine in 1995. While things didn't always pan out, we never quit following our dream. Even though we ended up going in different directions, we were friends to the end.
I've outlasted two companies working for someone else (the company was sold twice) so I never had delusions that a job was permanent. While a small business can be overwhelming it's an indescribable joy when you look back over a lifetime. This December we'll be celebrating 22 years. I hope you've enjoyed being a part of my dream!
While things are changing with print you are still able to get access to all our years of articles online. We're working on this project now—unearthing years of great content celebrating local talent and great stories. We've had some amazing contributors over the years, and with heartfelt thanks we hope to bring you many more.
I hope you enjoy our Senior Horse Issue. We celebrate those special horses in our lives. Read the story on page 6.
Have a great December, Merry Christmas, and ride… even if it rains! We're tough here in the Pacific Northwest!
Quote: "We do not remember days, we remember moments." ~ Cesare Pavese
Originally Published December 2017 Issue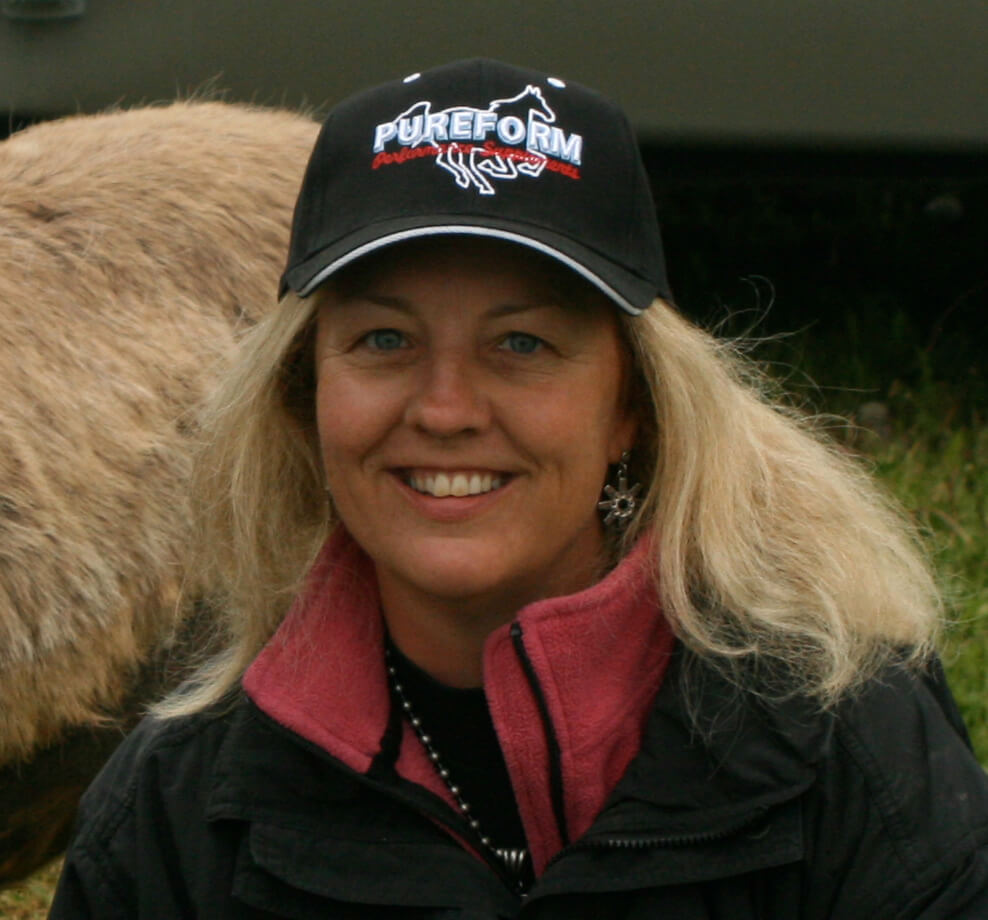 Owner/Publisher Karen's lifelong love of horses began at a very early age when she wore out a couple of rocking horses before convincing her parents to get her the real thing. That ill-tempered bay gelding, Brandy, was a challenge for the young horsewoman, but it drove her ambition to become a horse trainer. After attending Canyonview Equestrian College's Horsemanship Program, Karen realized she needed work that was a little more lucrative than training, so she took a job with Customs Brokerage to pay the bills. There, she discovered an affinity for computers and a talent for creating informative, entertaining newsletters. The Northwest Horse Source began as such a letter in December 1995, with a distribution of 1000 copies for its 12 black and white pages. Since then, it has grown into beautiful, all-gloss magazine with the largest coverage of any free equine publication in the Northwest – a distribution of over 14,000 copies and over 500 locations monthly. Not bad for the results of one woman's dream to work with horses!
Today, Karen remains involved with every aspect of the magazine and treasures the community of thousands who share a common passion. Somewhere in the wee hours of the early mornings and late evenings, she still finds time to care for April, her gorgeous and sweet-tempered Quarter Horse.