Helping Horses and Children Grow Together
by Allison Trimble, Willfully Guided Horsemanship
There are many things I am passionate about, but none so much as the care and development of horses and children. Recently I had an opportunity to combine the two. 
The Washington State Livestock Coalition is an organization that steps in and helps when there are reports of animal neglect. They are a group who serves as advocates by monitoring the care of livestock, assists in times of need and natural disaster, and educates the public on proper animal care. In February, 25 horses and 50 goats were seized from a farm in Centralia, WA. Regardless of the contributing factors, the owners were not taking care of the animals sufficiently, and the authorities intervened. The horses were Appaloosas and there were pregnant mares, and stallions of all ages. The Livestock Coalition treated, gelded, and re-homed as many as possible, but during the seizure there was some scuttlebutt. A known killer buyer was assisting in the relocating, and the fear was that the animals were being taken to slaughter. This was not the case.
I was contacted by Buster Smith and asked if I wanted to help design and participate in a program that would take some of the healthiest horses from that group and rehabilitate, train and then compete on them at the end of a TBA time period. This was an opportunity to highlight the real mission of the Livestock Coalition as well as bring attention to a serious issue. I have enormous respect for Buster, so it was already an honor that he was asking. I was even more interested when he outlined his idea of each of us trainers taking on an understudy and teaching them to train and compete on the horse. We decided to name the program Project H.O.R.S.E – Hope, Outreach, Rehabilitation, Service and Education. Along with myself, Cory Hutchings, Kari Williams, and Travis Logan are participating at this time.
The three horses for Cory, Kari and me arrived in the evening on Saturday, May 11th. They were unhandled and still quite underweight. The poorest of the three was to be my new steed. I spent much of the evening sitting in their pen, thinking. With some help from my father, I named him after the horse in the novel of Don Quixote: Rocinante. I encourage you to look up the meaning.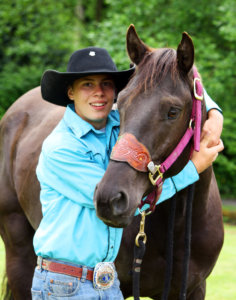 Many of you know that I have been learning to rope. The family who opens their arena for us to rope in have two boys they have taken in, in addition to their own children. Preston is a 14-year-old 8th grader who literally ropes circles around me every weekend. Knowing it would improve his roping, I had been asking him to take me up on my offer to help teach him more of the finer points of horsemanship. That same weekend he accepted my offer. I had anticipated having my assistant, Jordan Crabtree, do the work on Rocinante, but the idea of using this as the opportunity for Preston was perfect. Monday morning we introduced the two, and Jordan and I have been working together to teach Preston.
With help from my Purina Nutritionist, Gina Fresquez, we gave Rocinante an initial body condition score of a 3, and taped him at 1000 pounds with a 1200 pound target weight. Don Beckman, our vet, agreed to donate his dental work and aged Rocinante as a 3-year-old, coming four. From the beginning, we videoed Preston and Rocinante's  journey. In the first two weeks we put nearly 30 pounds on him, got him halter broke and started him under saddle. Yesterday's episode ended with Preston loping Rocinante for the first time. It is amazing to watch them grow and bond. This is a special horse with a great mind and a willing nature. He now gets a shot at life with a kid who is excited about the work. These are very inspiring and hopeful things to witness.
Animal neglect and child development are two very hot topics. I try my best to stay out of discussions regarding issues that I am not directly working to improve, but this is one I am deeply connected to. I would like to invite you to follow along with this journey either through Facebook at www.facebook.com/pages/Allison-Trimble-Willfully-Guided-Horsemanship or on our YouTube channel at www.youtube.com/willfullyguided.
Published July 2013 Issue
Allison Trimble has a Bachelor of Science in Animal Science from Cal Poly, SLO. After her graduation in 1999, Allison started Coastal Equine and has been training and competing in cowhorse, reining and cutting events. She has had marked success in the show pen boasting many titles and championships.
Willfully Guided is an educational program based on Allison's training process. For more information visit: www.willfullyguided.com
Allison is also a Realtor specializing in horse properties, hobby and commercial farms, and family housing. She combines her experience in the horse industry with her lifelong involvement in real estate to help clients find their perfect property. Learn more at www.coastalrealtywa.com