Northwest Company Builds State-Of-The-Art Environmentally Friendly Horse Farm
By Catherine Madera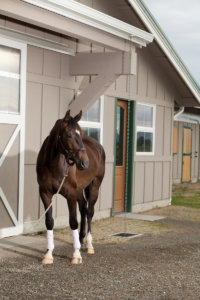 Radio Flyer Wagons don't last long at Michelle Seaver's home. When two of her young son's favorite toys were run over in the driveway it became a family joke, one that became the unassuming name of a magnificent Warmblood breeding and training facility in Mount Vernon, Washington: Red Wagon Farm.
Michelle had long nurtured a dream of raising Dutch Warmbloods so when the Seavers got the chance to purchase 55 acres adjacent to their home they began planning a "friendly" facility—both to the environment and in the type of horse they planned to produce.
After designing "green" barns and arenas with the help of Equestrian Design Facility, Michelle was ready to find a builder who could put the pieces of her dream together; one who could create something more durable than a Radio Flyer. She found her partner in Mount Vernon based Spane Buildings.
Established in 1945, Spane Buildings has built a remarkable quantity and variety of structures. In an era of impersonal online shopping and construction megastores they offer an uncommon level of customer service and attention to detail.
"I always tell people to look at the competition and compare the product with what we can offer," says Jim Spane, the second generation of this family owned company and current president of Skagit/Island Counties Builders Association. Spane hires the best in the industry and stands behind the work 100%. The company's impressive list of awards is testimony to its commitment to quality. If a customer can conceive it Spane is ready to tackle it promises their motto, "The Basics and Beyond." Red Wagon Farm definitely fell into the beyond category.
"We've done many other horse barns and arenas," says Spane, "but nothing with the size and detail of this place."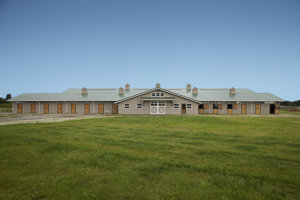 Work on Michelle Seaver's dream began in September 2010 and was finished in May of this year. Spane Buildings did everything, turning an empty site into a turnkey horse operation that includes two arenas, two barns, and fenced pastures. The 24-stall main barn at Red Wagon Farm is not only beautiful—down to every detail—it is functional and environmentally friendly. All stall fronts are made of untreated bamboo which is extremely durable and non-toxic to horses.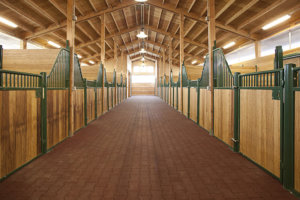 The farm includes other unique details such as recycled plastic fencing, skylights, opaque walls and panels for more light and GGT footing in the 228×72 indoor arena. The footing has added mag dust that absorbs water from the air nearly eliminating the need to water. While Seaver says going green is an investment up front the payback comes down the road with lower maintenance costs and longevity. She is similarly committed to the principles of raising sound horses. The 19 Dutch Warmbloods at Red Wagon Farm, some imported from Holland, live in a low stress environment where turnout is mandatory. Foals are handled from birth and training is never rushed.

"We want to breed sane, happy dressage horses with amateur-friendly personalities," says Meghan Valenti, head trainer.

According to Jim Spane going green is important to many customers. The Spane team installed geothermal water heaters at Red Wagon Farm and is willing to work with any client to build or customize a building from state-of-the-art  barns, bungalows, equestrian facilities, commercial, residential, or agricultural structures, to the basic box structure of a pole building. All foremen are employed by the company and are skilled, committed craftsmen.

"Our people are the kind that can't sleep at night until something's right," says Spane.

According to Michelle Seaver, they got it right at Red Wagon Farm. Outside of making tack room doorways a bit larger—something she only discovered after maneuvering an extra large wagon in and out—she says she wouldn't change a thing about her Spane built facility.

"I'm really happy with Jim and every person on the Spane team."

For more information on how Spane Buildings can serve your equine or general building needs visit them on the web: www.spanebuildings.com or call: (800) 310-2136.

For additional information on Red Wagon Farm including details about their first open barn visit: www.rwfwarmbloods.com.

Published September 2011 Issue

<!-comments-button-->