fills more UNBRIDLED movie seats than all other films combined!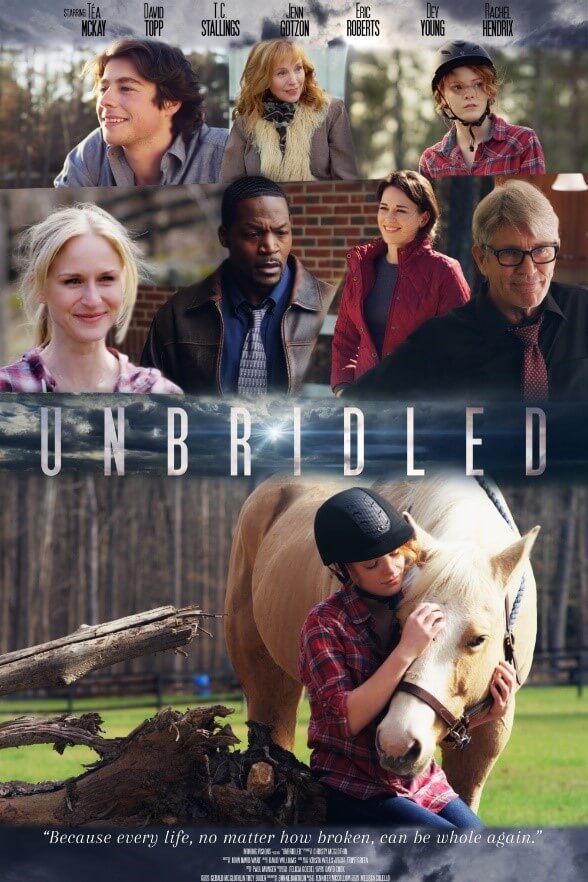 PLEASANT, MICHIGAN (May 6, 2018)— A real life horse named Blaze upstaged the charity film screening of UNBRIDLED at Celebration Cinema in Mt. Pleasant, MI on April 25, one day before National Help A Horse Day (April 26) during the special 7:00 pm Eastern Time charity movie screening.
Moviegoers were intrigued and amused as they walked up to the ticket box office only to brush up against Blaze (pictured below) who was also waiting in line to see the movie based on real-life stories of horse centers, including benefactor HopeWell Ranch of Weidman and Remnant Fields of Midland, MI, that pair abused women with rescued horses, resulting in mutual healing.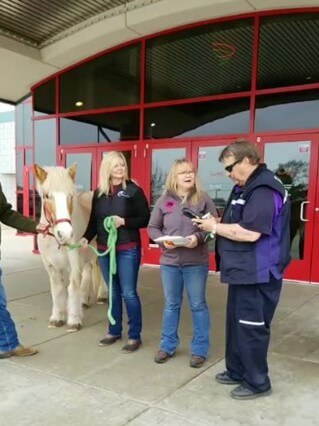 The screening was preceded by remarks by HopeWell Ranch director Jodi Stuber (pictured left talking to FedEx driver delivering film to the theater) to the overflow crowd in the packed auditorium that drew more patrons than all other films combined. Ms. Stuber talked about HopeWell Heroes including horses and human volunteers.

UNBRIDLED, set for nationwide release this summer, stars Eric Roberts (The Dark Knight), T.C. Stallings (War Room), Rachel Hendrix (October Baby), Jenn Gotzon (Frost Nixon) and introduces sex-trafficked teen Sarah, played by Tea McKay, whose "journey of healing evokes tears that transcends into heartfelt joy," says the film's producer Christy McGlothlin.  UNBRIDLED Trailer

Unbridled Executive Producer Troy Buder also produced Queen of Katwe with Lupita Nyong'o. Producer Christy McGlothlin & HopeWell Ranch Director Jodi Stuber.

UNBRIDLED MOVIE PRODUCER CHRISTY MCGLOTHLIN has nine children, including a special needs child, yet still finds time to make movies and host her online TV Talk show, Mommy Talk Live! Her first film, A LONG WAY OFF (Robert Davi, Jason Burkey), was a modern re-telling of the Prodigal Son story.

Her latest movie, UNBRIDLED, has won numerous film festival awards including the prestigious EQUUS WINNIE Award. Christy lives in Raleigh, NC with her husband Jerry and their children.

For NBC Television coverage of Unbridled Director John Ware go to:

https://www.facebook.com/jdware2/videos/10214908146519624/

CONTACT: To schedule an interview, contact co-Executive Producer Gerald McGlothlin at 919-437-0001 or email jerry@specialguests.com or HopeWell Ranch Directory Jodi Stuber at 989-289-0465 info@hopewellranch.org.

<!-comments-button-->