New product line is formulated to support gastric health and proper pH in horses. 
Shoreview, Minn. [July 24, 2017] – Purina Animal Nutrition's new product line is formulated to support gastric health in horses. Outlast™ Gastric Support Supplement, Race Ready® GT and Ultium® Gastric Care horse feeds are available at participating retailers.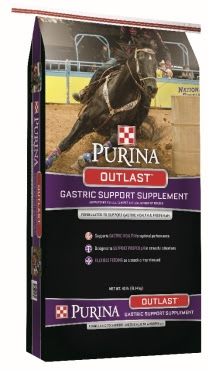 Research shows up to 90 percent of active horses experience gastric discomfort, affecting health, attitude and performance.[1] Purina's Gastric Support products contain a proprietary seaweed-derived blend of natural and bio-available calcium and magnesium in a unique honeycomb structure that allows for a greater buffering capacity to support gastric health and proper pH.
"Horses evolved as grazing animals, designed to consume forages 18 to 20 hours a day. To support this grazing behavior, the horse's stomach consistently secretes stomach acid, which is naturally buffered by bicarbonates in saliva, and is produced as the horse chews," explains Robert Jacobs, Ph.D., research equine nutritionist at Purina Animal Nutrition. "In modern management practices, however, horses spend more time confined and eat distinct meals, leading to less chewing, less saliva and less buffering of acid in the stomach."
In a fasting state, a horse's stomach maintains an acidic pH of 2. In-vitro and in-vivo research trials demonstrated Outlast™ Supplement to quickly and effectively buffer natural and simulated gastric environments to a physiologically normal pH of 6.
"We've done a significant amount of lab work at the Purina Animal Nutrition Center, as well as in multiple university trials to better understand how Outlast™ buffers the equine stomach," says Jacobs. "Compared to some of the competitive products on the market, Outlast™ Supplement acts more quickly, lasts longer[2] and has a significantly higher buffering ability[3]."
In field trials around the country and research trials at the Purina Animal Nutrition Research Farm, more than 200 horses consumed more than 95,000 feedings of Outlast™ Supplement. Purina ambassadors competing and training across all disciplines were among those participating in field trials.
"Our ambassadors and field trial participants have reported improved body condition and appetites, as well as better overall attitude and more relaxed horses when supplemented with Outlast™ Supplement," says Mary Beth Gordon, PhD, director of equine research and new product development at Purina Animal Nutrition.  "Additionally, horses notorious for girthiness and grinding teeth showed improvement, even in stressful situations."
Designed for flexible use, Outlast™ Supplement can be fed as a snack or top dressed on a daily ration. Ultium® Gastric Care and Race Ready® GT horse feeds both contain full rations of Outlast™ Supplement when fed as directed. Additionally, Ultium® Gastric Care and Race Ready® GT are formulated with optimal fuel sources and a proprietary yeast-derived beta glucan to best support the unique needs and immune function of the equine athlete.
Purina Outlast Supplement, Ultium Gastric Care and Race Ready GT are all part of Purina's gastric health program to help horse owners recognize and manage gastric discomfort in their horses. For more information about Outlast
™ 
Supplement and other feeds
and the Purina
®
 Equine Gastric Health Program, visit 
www.FeedOutlast.com
.
Purina Animal Nutrition LLC (www.purinamills.com) is a national organization serving producers, animal owners and their families through more than 4,700 local cooperatives, independent dealers and other large retailers throughout the United States. Driven to unlock the greatest potential in every animal, the company is an industry-leading innovator offering a valued portfolio of complete feeds, supplements, premixes, ingredients and specialty technologies for the livestock and lifestyle animal markets. Purina Animal Nutrition LLC is headquartered in Shoreview, Minnesota, and a wholly owned subsidiary of Land O'Lakes, Inc.
[1] Murray, M.J., Schusser, G.F., Pipers, F.S., et al., 1996. Factors associated with gastric lesions in Thoroughbred race horses. Equine Vet J 28, 368-374.
[2] Gordon, ME, Vineyard, KR, Andrews, F. HR 212. 2016. LSU titration study (Published in abstract form in the 2017 Equine Science Society Proceedings as: The effect of a natural-source mineral supplement on gastric juice pH in horses.)
[3] Jacobs, RD, Gordon, ME. HR 246. 2016. Purina Outlast pH comparison.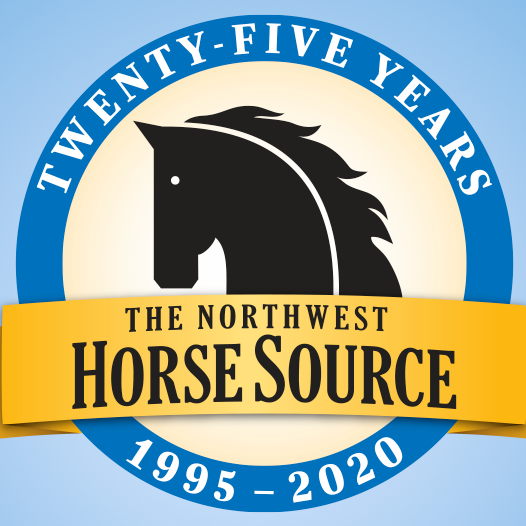 News from the horse industry. Sharing today's information as it happens. The Northwest Horse Source is not responsible for the content of 3rd party submissions.