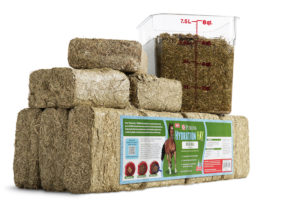 Since we launched Purina® Hydration Hay™ in early 2013, we have had numerous reports of horses benefiting from the combination of quality hay immersed in water for an all-in-one meal. Horses during transport, at horse shows, in the veterinary clinic, during cold snaps and more were staying hydrated and healthy from this innovative product. But with most things at Purina, we love to rely on hard numbers and scientific experiments. We had completed a lot of manufacturing trials and field study work, but wanted to follow it up with a controlled experiment looking at hydration in horses, especially during transport, comparing Hydration Hay™ to long-stem hay. In conducting the study, we collaborated with a colleague of Dr. Vineyard's at Texas A&M University-Commerce, Dr. Jackie Wahrmund. We felt the high Texas heat was a perfect place to test Hydration Hay™ in action. I am happy to report that the data is now in and it's very "cool." In summary, horses eating Hydration Hay™ before, during and after transport averaged a 3.3L higher water intake than horses eating long-stem hay; horses in the Hydration Hay™ group during the first (higher ambient temperature) haul had lower rectal temperatures during transport; horses in the Hydration Hay™ group had lower respiratory rates by the end of the trailer ride compared to horses eating long-stem hay; and horses in the Hydration Hay™ group had a trend for lower packed cell volumes during transport. For more information about this study and a link to save $10 on Purina Hydration Hay Blocks, please visit purinahorse.blogspot.com.*
*This link is no longer active at the time this article was added to our website in 2018.
Published January 2014 Issue
Purina Animal Nutrition LLC (www.purinamills.com) is a national organization serving producers, animal owners and their families through more than 4,700 local cooperatives, independent dealers and other large retailers throughout the United States. Driven by an uncompromising commitment to animal excellence, Purina Animal Nutrition is an industry-leading innovator offering a valued portfolio of complete feeds, supplements, premixes, ingredients and specialty technologies for the livestock and lifestyle animal markets. Headquartered in Shoreview, Minn., Purina Animal Nutrition LLC is a wholly owned subsidiary of Land O'Lakes, Inc.