How to Safely Include a Horse in Your Special Day
by Jasmine Cyphert
Many engaged horsewomen imagine riding into their wedding ceremony on horseback. I had that opportunity last August and rode my black mustang gelding Weston in a long white dress. He walked proudly and stood calmly in front of all our closest friends and family. Everyone was in tears, and smiles, as my horse stood like a prince while my soon-to-be husband helped me off and down the aisle we walked. The inclusion of Weston added to the magic and emotion of our wedding. By preparing carefully, it was a smooth success. However, the situation is filled with the potential for a nightmare: covering a horse in a flowing white "curtain of death," a jittery rider, loud noises, and many strange people, smells, and sights. I want to share how to plan and prepare for the big day so it is a smooth success.

Location, Location, Location
Location should be your first consideration when deciding to include your horse. Outdoors with some privacy for your guests is best. Many state parks will allow permits for horses in a wedding. Ranches, fields, beach, community centers and even some churches also have beautiful outdoor areas to ride through. If it is not your property, make sure you get permission and consider manure management.
A Trusty Steed
Choosing the right horse is the most important decision. A well broke horse that is trusting and mellow, will tolerate mounting and dismounting in an unusual dress, and not spook or bolt is the best choice. I chose my favorite horse, Weston. He is very steady and perfect under pressure.
Make sure you practice prior to the big day as your horse is probably not used to being ridden in dresses. I recommend finding a thrift store dress that has the feel of the real one so you can save your wedding gown. Let your horse get used to the way you look in a dress and how it feels while carrying you. He needs to be comfortable with all the noise and feel of the material both standing and walking. Long before the wedding ride right up to the area you will be married in and again once it is decorated. Ride the actual planned course at the speed you will be entering.
Allow me to stress speed of entry. I witnessed a bride gallop up to the wedding and continue right on past, the horse's mouth as wide open as the guests! She finally got him stopped and it was a great wedding, one she and her guests will never forget. I recommend walking into the ceremony to keep the horse calm in a strange environment. Walking also allows the build-up of emotion by allowing guests to enjoy your appearance. Seeing all the smiling faces and tears will be your memory forever. 
Dress for Success
The right dress for riding, one that fits your wedding style, is important. Do you prefer a western theme or Southern Belle? Some thought should go into the shape of the dress. Unless you plan on pulling that mermaid style gown to mid-thigh to ride in or going side saddle, knees together, I highly recommend something that flows freely over the horse's hind quarters.
Wearing shorts under the dress to protect your legs is a life saver and can add grip for bareback. I do recommend using a saddle, english or western, if you don't usually ride bareback. The saddle will give you support in case the horse gets nervous or spooks. Be careful not to get hung up on the horn mounting and dismounting. Bareback makes it easier to slip off and adds to the romance of the day. However, bareback is harder to stay on if you have any behavioral worries. Ride in the saddle you use every day; no one will notice anything but you during the wedding.
Assistants

A good assistant is essential. They will bathe the horse and get him tacked up and ready while you are getting hair, make-up and dress put together. Assistants will also be needed for mounting, holding the horse steady, and helping you get settled on the horse and stay clean. You will need a mounting block to mount safely in a heavy wedding dress.
Make sure you go over any extras you want on your horse such as ribbons or glitter. Find a good horseman or woman as an assistant; don't trust it to your best friend. They may show up in heels, and not understand the importance of a tight cinch! I had three helpers and they were amazing. Remember, the day should be about you.

Ceremony Details

During the ceremony does your horse have a role? Are you both taking vows horseback and will you want headers (people who stand at each horse's bridle and steady them if need be)? Do you need an assistant to take the horse back to his stall after you dismount? How about manure management? The last thing you want to be worried about is picking up horse manure on your big day. Also consider timing of photographs to include your horse, if desired.
Riding your horse into your wedding can be an amazing experience, one you'll treasure forever. Planning and preparation will allow this to stay a wonderful stress-free day for you, your horse, and the wedding guests.
Published June 2012 Issue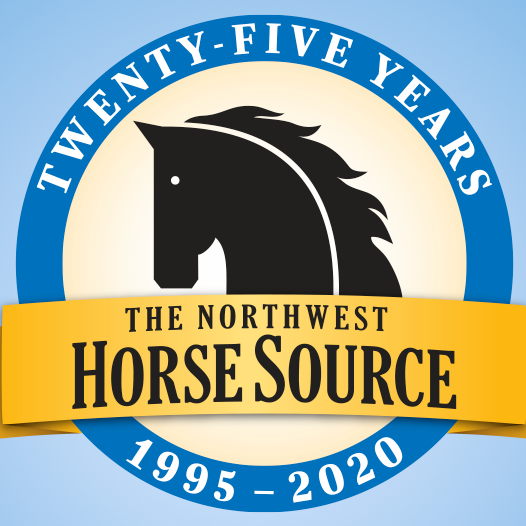 The Northwest Horse Source is an independently owned and operated print and online magazine for horse owners and enthusiasts of all breeds and disciplines in the Pacific Northwest. Our contemporary editorial columns are predominantly written by experts in the region, covering the care, training, keeping and enjoyment of horses, with an eye to the specific concerns in our region.