Pilchuck Veterinary Hospital Celebrates 50 Years of Excellence
by James Bryant, DVM, Diplomate ACVS
Pilchuck Veterinary Hospital has entered its 50th year of service to the western Washington equine community. In that time, veterinary medicine has come a long way in how we diagnose, treat and manage our equine patients. In some ways, however, not so much has changed.
This 50-year milestone seems like a good time to reflect on what we have learned and improved in the management of performance horses, and what horse owners should consider when selecting the best veterinary care.
Five decades ago, veterinarians relied upon visual inspection and palpation skills for the diagnosis of lameness. Over time, and in some cases, we were able to use local anesthesia to further isolate the source of pain. With the advent of diagnostic tools such as digital radiology, ultrasounds that can be used stall-side, MRI units for horses, and nuclear scintigraphy (bone scans), the manner in which we diagnose lameness appears to have changed significantly over the last 50 years. While these technologies all allow for more accurate diagnosis and treatment, a veterinarian's hands, eyes, ears and deductive reasoning are still the mainstays of evaluation.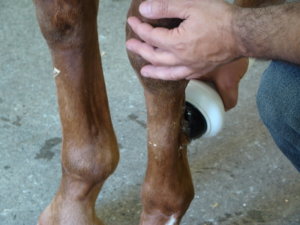 Our options for treatment also have changed considerably in the last 50 years – and especially the last 15. A good example of this is pin firing to treat bowed tendons, which was used to stimulate inflammation, thereby creating increased blood flow to the area for healing. Now, we use shockwave therapy and products such as platelet-rich plasma (PRP). The goals of these treatments are the same, just using different tools. 
Another major advance in how we handle equine joint injuries has come in the form of arthroscopic (minimally invasive) surgery. This type of surgery is now performed routinely in people and horses (and dogs and cats, too). Arthroscopic surgery actually got its start with horses, because of the trauma associated with the original procedures in which veterinarians had to open up the joint to look inside. The old approach unfortunately resulted in post-operative scar tissue and lameness, and did not always result in return to athletic function. As pioneers of arthroscopy, equine veterinarians were able to offer a minimally invasive approach that could return the horse to full athletic function.
Not only has the equine veterinarian's knowledge base changed over the past 50 years, but the horse owner's has also. The Internet allows the horse owner to research the diagnosis, learn about treatment options and make an informed decision, as well as virtually connect with and gain feedback from other horse owners.
Along with the ever-increasing number of diagnostic and treatment tools available, the cost of veterinary care has also increased. With this comes the need for the horse owner, as consumer, to be an advocate for what is best for your horse for future performance.
Consider the following questions for your veterinarian: What diagnostics are needed, and what can we expect? Which tests may not actually be necessary? Is this a new treatment or older one (e.g., bute vs. stem cells)? What are the costs? What are the success rates? (Hint: Any treatment with "a 100% success rate" should raise a red flag.) What are the complications/positives and negatives? How long has the veterinarian been doing these treatments? Lastly, be prepared to openly discuss your financial limitations.
Equine sports medicine has seen some dramatic changes in the past 50 years; however, the essence of the veterinarian's role has not changed. Our goal has always been to keep your equine athlete and partner performing at its best for the horse's and your enjoyment.
"As a trainer of Hunter/Jumper performance horses, I depend on a strong support team to keep my horses healthy, sound and happy to compete. I have been a [PVH] client since 1996 and in my opinion as far as veterinary care in the Northwest, none compare to the services provided by Pilchuck. In my business I must be able to have open and honest communication with the horses' health care provider. Even though Dr. Bryant is our vet, he incorporates all the resources available at the clinic, which include traditional and alternative medicines. When one of our horses had a bone infection, which should have ended her career, Dr. Bryant and the Pilchuck staff worked diligently to aid in her complete recovery. She has been back in competition for four years now and has no intention of retiring." – Clare Warren, owner/trainerArchway Equestrian Sports, LLC.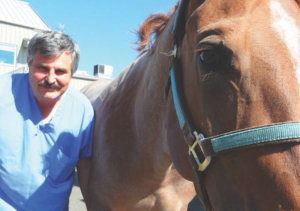 Dr. James Bryant leads Pilchuck's Equine Performance Sports Medicine Institute. Reach the PVH equine department at 360.568.3111; pilchuckvet.com. Located in Snohomish, WA.

Published July 2013 Issue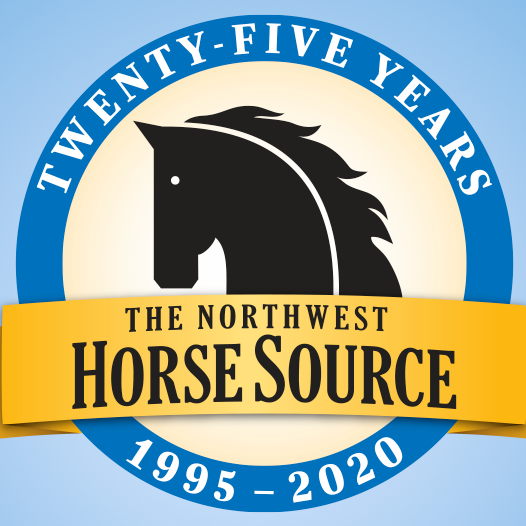 The Northwest Horse Source is an independently owned and operated print and online magazine for horse owners and enthusiasts of all breeds and disciplines in the Pacific Northwest. Our contemporary editorial columns are predominantly written by experts in the region, covering the care, training, keeping and enjoyment of horses, with an eye to the specific concerns in our region.