Northwest Mounted Shooters Bring Home the Honors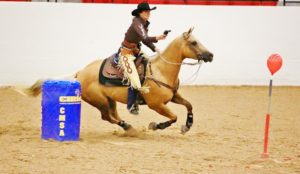 The Cowboy Mounted Shooting Association completed the year by hosting the world competition in Amarillo, Texas. Western Washington Mounted Shooters had seven members who traveled to Worlds this year. Members who brought home the honors included Brent Patterson, Reserve Champion Senior Men's 3; Carissa Kirk who took 4th place in a tough Ladies 2 class and 4th in the Double Down; Bre Coston who took 4th in the Eliminator and Angie Harkness who also brought home a check in the Eliminator. Thirty competitors from around the Pacific Northwest traveled to compete in Texas this year, proving once again that some of the toughest competitors come from right here in our own backyard. And these folks are always willing to lend a hand to help new shooters get started in the sport.
Mounted shooting is a timed event where competitors navigate one of sixty courses, shooting ten balloons using two single action .45 caliber pistols. All competitors start as a level 1, making this is an easy sport to get into. You simply need a well broke horse that can neck rein; we'll teach you the rest. The new competition year for Western Washington Mounted Shooters is just beginning. We will be hosting some small introductory clinics, so stay tuned to our public group Facebook Page: Western Washington Mounted Shooters.
Club Websites: www.WesternWashingtonMountedShooters.com, or
Or call or email Karen Plumlee, Secretary, WWMS, 425 985-8321 or missionfarrierschool@hotmail.com for more information. Also go to http://www.cmsaevents.com/events/ to check out events in your area.
Published in December 2015 Issue
WWMS members vary from kids to adults, and from the recreational shooter to the serious National and World competitor, so there's a spot for everyone. We are a friendly group, and enjoy introducing the sport to others. Please feel free to contact us at any time, and come join the addiction that is Cowboy Mounted Shooting!!! www.WesternWashingtonMountedShooters.com