A Northwest Treasure for Horse Events
by Karen Pickering
Last weekend (May 5th) I escaped for a short visit to one of the nicest equestrian facilities in the Northwest––The Oregon Horse Center. I've heard many good things about this facility but had never been there. It was so much more than I expected! This particular weekend was one of the largest shows Oregon Horse Center (OHC) has hosted. The Western States Stock Horse organization was renting two arenas.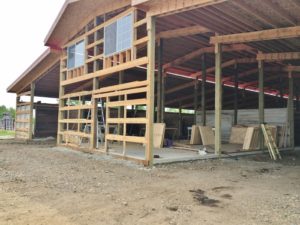 The beautiful thing about OHC is you have nearly 5 acres of arenas, stalls, seating, offices and restaurant under one roof. Even the regular boarders have a covered area under the same roof to ride under while shows are going on. This expansive property includes yet another arena and boarding facility next door. Plans include a new boarding barn under construction right now and a large cross-country course.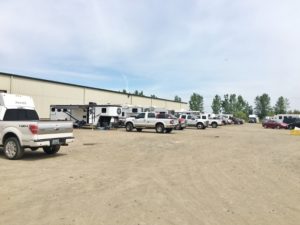 It seems that nearly every breed and/or discipline uses this event center. The staff is amazing, helpful and knowledgeable. They have their own facility photographer, Chris Sloan, and each team member takes pride in their specific duties around the place. The facility has a show office exclusively for the use of the organization renting the space, seating for over 500, and over 75 RV spots with power and water. There is plenty of room to maneuver big living quarter trailers and convenient bathrooms with showers outside near the RV parking.
OHC is known for its incredible mountain trail course they put up every spring and fall in the largest indoor arena. Also, the Eugene Pro Rodeo is held here over the 4th of July weekend on the rodeo grounds next to the main complex. It's absolutely amazing how much can be accomplished in one place. Most fairgrounds can't compare to this venue.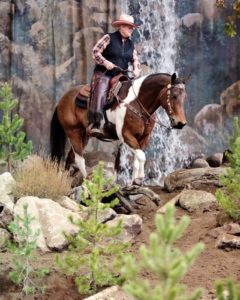 Competing in Indoor Mountain Trail Course. Photo courtesy of Oregon Horse Center, Chris Sloan Photography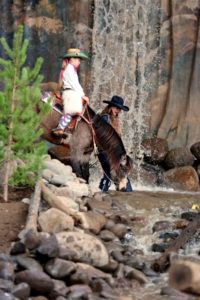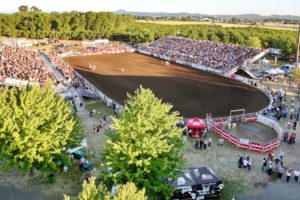 Oregon Horse Center is privately owned. Major Defoe is an industrious entrepreneur who decided to build a facility along I-5 that rivaled all other facilities in the state. Major came up with the design and uses his vast knowledge from owning several different businesses to keep this place running smooth and efficiently. His family showed horses for many years, so he understands the needs of running such a venue. His experience has helped him create something unique which benefits horse owners throughout the Northwest.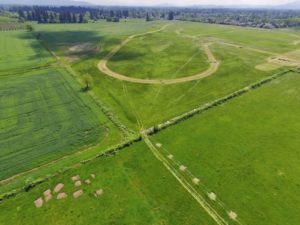 Major started this project with the building of the rodeo grounds in the 90's. In 1999 he started building Oregon Horse Center, taking two years to complete the first phase. He has since added a second arena for smaller venues next door as well as a recently added beautiful cross-country course for the eventing crowd. The big course is 1750 meters and a smaller course at 1050 meters. There are over 18 obstacles with adjustment for 3 different heights. They even have a small practice course with a water obstacle.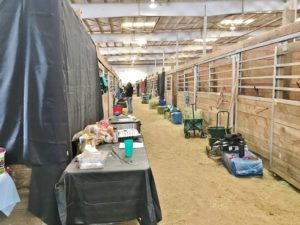 Major says he is most proud of the fact that this project was done privately. No government grants or outside sources funded the project. Major loves his job and works at this seven days a week, and he receives no salary. However, the facility is profitable and self-sustaining. He has kept the price for renting the facility very affordable and much lower than competing fairgrounds. Because this facility specializes in horse events it is best suited for area shows and competitions.
Major is proud of his staff. It takes at least 10 to 15 people to keep this operation running smooth. The uniqueness of the OHC keeps people coming back and developing friendships. It's easy to do under one roof where your stalls, warm up arena and competition are held in one building. This popular venue is booked nearly every weekend!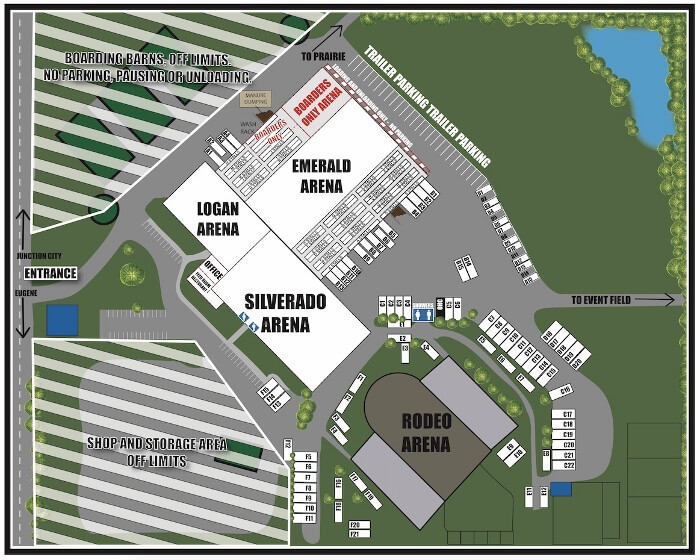 The central location, affordability and friendly atmosphere keep people coming back. Major says his biggest challenge is coming up with new stuff to offer. He always researches and listens to suggestions for new things to do. It's a growing atmosphere that inspires friendships and brings the horse community together. He's made such an impact on the horse community that people have come from around the world to see his facility.
One man with a dream, an incredibly supportive horse community and amazing staff make this place a destination spot for horse people. Consider Oregon Horse Center for your next equestrian event. Visit www.OregonHorseCenter.com or call (541) 689-9700.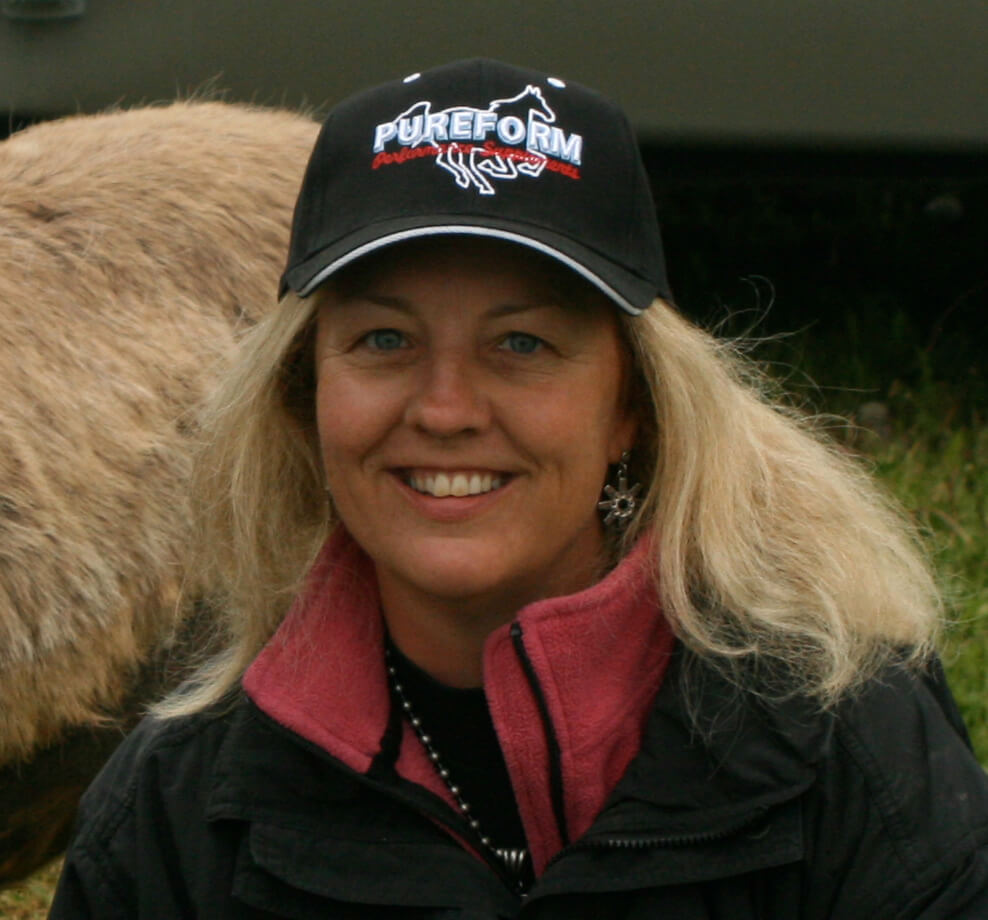 Owner/Publisher Karen's lifelong love of horses began at a very early age when she wore out a couple of rocking horses before convincing her parents to get her the real thing. That ill-tempered bay gelding, Brandy, was a challenge for the young horsewoman, but it drove her ambition to become a horse trainer. After attending Canyonview Equestrian College's Horsemanship Program, Karen realized she needed work that was a little more lucrative than training, so she took a job with Customs Brokerage to pay the bills. There, she discovered an affinity for computers and a talent for creating informative, entertaining newsletters. The Northwest Horse Source began as such a letter in December 1995, with a distribution of 1000 copies for its 12 black and white pages.  Now 25 years later, it's an online magazine and website with a reach of over 10,000 per month and growing! Not bad for the results of one woman's dream to work with horses!
Today, Karen remains involved with every aspect of the magazine and treasures the community of thousands who share a common passion. Somewhere in the wee hours of the early mornings and late evenings, she still finds time to care for April, her gorgeous and sweet-tempered Quarter Horse.