How to Keep Your Pasture Grasses Healthy
by Eleanor Blazer
Few things are prettier this time of year than watching horses graze on a beautiful pasture. To maintain forage, as well as the view, it's important to do what you can to keep grass plants healthy. Just like horses pastures need proper nutrition.
Fertilizer can provide the nutrients which the soil may be lacking, but just what do the numbers mean? Commercial fertilizer products will have three numbers, for example: 23-10-22. The first number represents the nitrogen content; the second the phosphorus and the third is potassium. Each of these ingredients provides a specific nutrient needed by plants.
Nitrogen promotes leaf growth. It stimulates growth of new pasture seedings and assists with re-growth after grazing. Nitrogen is an important component of chlorophyll, the element that makes plants green.
Phosphorus promotes root and stem growth; it strengthens the plant. Grass varieties have fibrous root systems and are able to extract phosphorus already present in the ground. Phosphorus will not easily leach from the soil. For these reasons, the phosphorus included in a fertilizer will have a low number.
Potassium increases plant vigor and helps maintain a healthy plant. It aids in the plant's ability to tolerate stress (heat, drought, cold and intense grazing). Potassium also helps the plant fight off disease. Potassium is very soluble and will leach from the soil. The amount in a fertilizer mix developed for pasture will be high.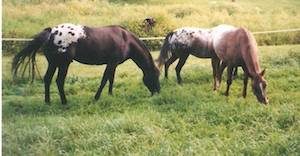 Administering a soil test can help you determine the type and amount of fertilizer needed to provide the lacking nutrients. According to the Ohio State University Extension, horses do not need to be removed when applying granular fertilizer. Avoid any spills of fertilizer where a horse could eat enough of the material to be toxic. The OSU Extension does recommend horses be removed from the pasture if liquid fertilizer is used. In this case, wait until rain washes the fertilizer off plants before placing horses back on the land.
If you have a limited amount of money to spend on pasture management use that money to insure the pH is correct. Grasses need a pH level of 6.0 to 7.0. No matter how much fertilizer is applied, if the pH is incorrect the plants will not utilize the nutrients in the fertilizer and you will be wasting money on it. Lime is used to correct a low pH. The best way to know if you need lime is to conduct a soil test.
Lastly, to maintain pasture health use good grazing practices. Horses should be removed from the pasture when the plants have been grazed to a height of 2 to 2 ½ inches. Continuous close grazing will kill plants. A minimum of 30 days rest should be allowed for the pasture to recover – this time will be longer if a drought occurs.
---
For information about caring for and feeding horses take the online courses Stable Management and Nutrition for Performance Horses taught by Eleanor Blazer. Earn certification or work toward a Bachelor of Science degree in equine studies. Go to www.horsecoursesonline.com for more information.  Visit Eleanor's web site at www.thewayofhorses.com
---
Originally Published July 2014 Issue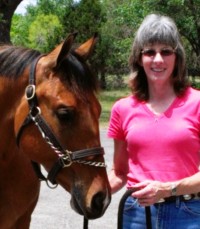 Eleanor Blazer was raised training and caring for horses. She learned to ride and care for the horses her family bought and sold. Many of these horses required improved nutrition when they arrived for training. Eleanor's experience and research has benefited both horses and horse lovers in the field of equine nutrition. An equine nutrition consultant, based in Bulverde, Texas, she keeps busy doing equine nutrition consultations, conducting seminars, and speaking to youth groups about horse care and nutrition. Eleanor is the author of the syndicated column The Way of Horses. She has more than 20 years experience helping and being a mentor to those wanting to know how to provide the very best care and nutrition for our special friend – the horse.