Not Just For Horses – Using Sweet PDZ Stall Refresher Outside the Barn
By Jennifer Roberts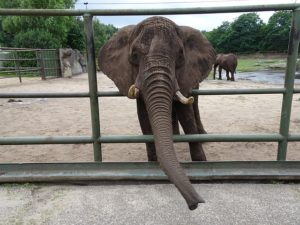 Did you know that Sweet PDZ isn't just for use on straw and wood shavings? And it certainly isn't just for horses! After all, isn't ammonia really just "ammonia;" whether a dog, cat, horse or elephant is producing it? Sweet PDZ is very effective in neutralizing and eliminating dog and cat urine and feces odors. It also works well to neutralize and eliminate what some folks refer to as, "doggie" odors. Sweet PDZ works equally as well on grass and astro-turf as it does in horse stalls.
Old dried spots, or recent and moist areas can be treated for odor simply by sprinkling Sweet PDZ over the soiled area. Sweet PDZ granules will work safely on all types of carpets and flooring, furnishings and fabrics. 
This makes it a great addition to dog kennels, rabbitries and litter boxes.
And, it's easy to use! Sprinkle Sweet PDZ in the area where odors are noticeable and let it sit until the odors have been eliminated. Depending on the concentration and amount of ammonia and odors that are present, it may take Sweet PDZ minutes or several hours to perform effectively. Just allow a reasonable time for Sweet PDZ to work, and then vacuum or sweep it up. It's safe to use on grass, and in fact will compost to a natural fertilizer… you can leave it right there!
A few years ago, a dog kennel named Bark-a-Bout in Shelby Township, MI, gave us a call, they have about 200 dogs at this facility, with 12,000 square feet of synthetic turf rather than grass. The owner, Michelle called as the odor was getting way to out of hand. She had read a lot about Sweet PDZ and wanted to give it a try for a large event she was hosting.

According to Michelle, it was a lifesaver! "My event was a huge success thanks to Sweet PDZ! The product is truly amazing. My staff and I are in awe of how much of a difference it made, in such a short time.  It's so nice to walk into the play yards and not be embarrassed. "

If you have dogs, cats, chickens or horses (or any animal for that matter), give Sweet PDZ a try!

… And, as a quick side note… Sweet PDZ does indeed work for elephants! The Hope Elephant Sanctuary in Hope, ME, used it to effectively control ammonia before they sadly closed their doors in 2014.

Sweet PDZ has been keeping stalls healthy for 33 years and counting and continues to be the leading horse stall freshener on the market. This organic (OMRI Listed), non-toxic mineral captures, neutralizes and eliminates harmful levels of ammonia and odors.  Sweet PDZ is a far superior alternative to lime products for ammonia removal and moisture absorption. For more information, as well as a dealer locator, visit SweetPDZ.com.

<!-comments-button-->